Dutch Oven Recipe Round-Up
Cast iron Dutch ovens are known for making some of the most delicious meals, from slow roasted meats to your favorite fruit cobbler. Plus, you can flip the lid over and use it to cook bacon, eggs, or pancakes while cooking potatoes in the pan for a delicious outdoor breakfast! Today we're sharing a couple delicious recipes to try for your next camping trip, along with tips on how to care for your Dutch Oven.
Dutch Oven Care
We know how it goes, after a camping trip you come home with a dirty Dutch Oven to clean. We try to rinse it at the campsite after it has cooled off, but when you get home you can wash it better. Here's how:
Soak it. Fill it with hot water and a little bit of soap.
Scrub it. Try using our Camp Chef Chain Mail Scrubber (#1126) and Camp Chef Cast Iron Cleaner (#9136).
Dry it. This is important to prevent rust. Simply use a paper towel.
Season it. Simply use our Camp Chef Cast Iron Conditioner (#7345).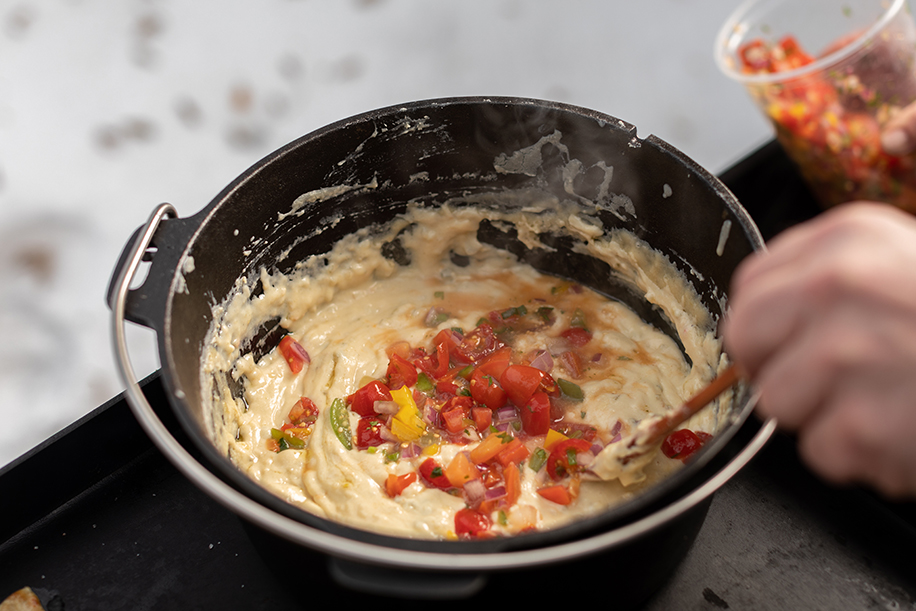 This delicious blend of cheeses is ready to be dipped with veggies, bread, or chips. Try using it as a topping for nachos, tacos, or burritos!
Sharp White Cheddar Cheese Dip
Ingredients:
16 ounces extra sharp white cheddar cheese, shredded
8 ounces pepper jack cheese, shredded
8 ounces cream cheese, cut into cubes and softened
2 Tbsp Kirkland Butter (#1723)
1 shallot, diced
1 jalapeño, seeded and diced
2 Serrano peppers, minced
1 1/2 cups half and half or evaporated milk
1/3-1/2 cup white wine
Instructions:
First, heat a Camp Chef Dutch Oven (#2405) over medium-high heat, then melt the butter. Saute the shallot, jalapeno, and Serrano peppers until soft, then add the garlic and cook until fragrant.
Next, mix cornstarch with a bit of water to make a paste and mix into the pepper mixture.
Then, add white wine and cook until some of it has cooked out. Stir in the cream cheese until smooth.
Now, reduce the heat and slowly add the shredded cheeses. Once they are melted, enjoy!
Adapted from: https://www.campchef.com/recipes/sharp-white-cheddar-cheese-dip/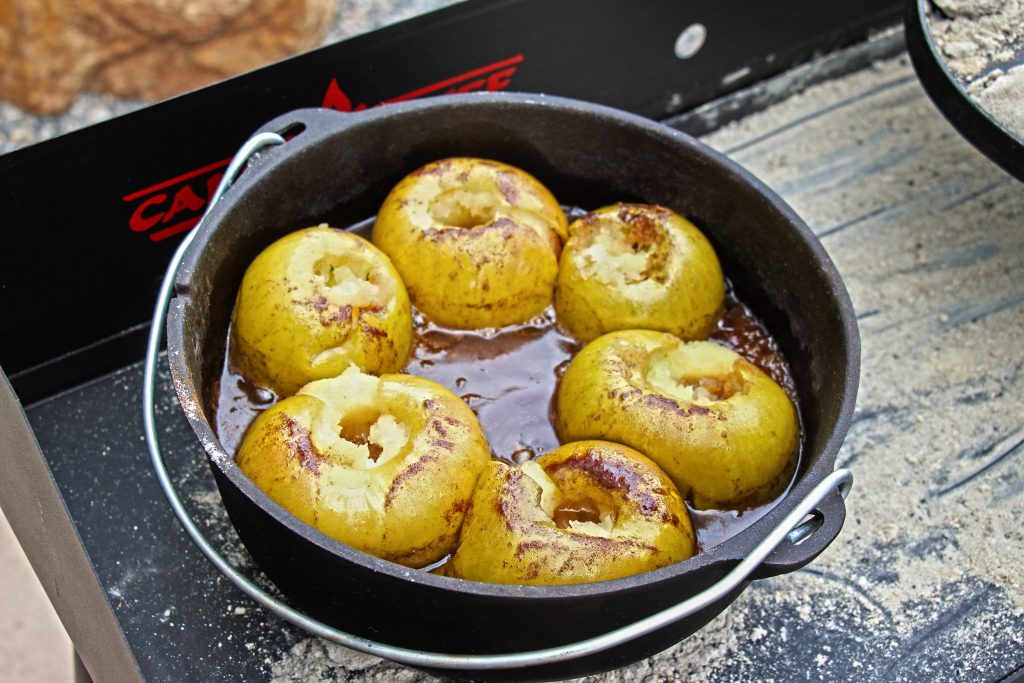 Serve these deliciously easy Caramelized Apples with a scoop of vanilla ice cream on top.
Dutch Oven Caramelized Apples
Ingredients:
Instructions:
First, core the apples and remove all seeds.
Then, set the apples along the out edge of a Camp Chef Dutch Oven (#2405).
Carefully fill the center of the apples (about 3/4 full) with brown sugar, sprinkling any remaining sugar in the center of the Dutch oven.
Now, add a slab of butter on top of each apple, again adding any remaining to the center. This will create a caramel sauce.
Next, generously sprinkle the Cinnamon-Vanilla Sugar over top.
Cook for 35 minutes over coals, or until apples are soft.
Looking for more Dutch Oven recipes?
Comments
Dutch Oven Peach Cobbler - Alisons Pantry Delicious Living Blog - […] Dutch Oven Caramelized Apples […]