7 New Ways to Serve Chicken Tenders
Foster Farms Fully Cooked Country Style Chicken Tenderloin Fritters (#6214) are all-natural breast tenderloins for great taste and exceptional quality. They are fully cooked and lightly breaded and seasoned, so all you have to do is heat and serve! Anne Metzler in Riverton, WY shared, "We love these breaded chicken tenderloins plain, but we've also been known to cook them, slice them, and eat them on a salad."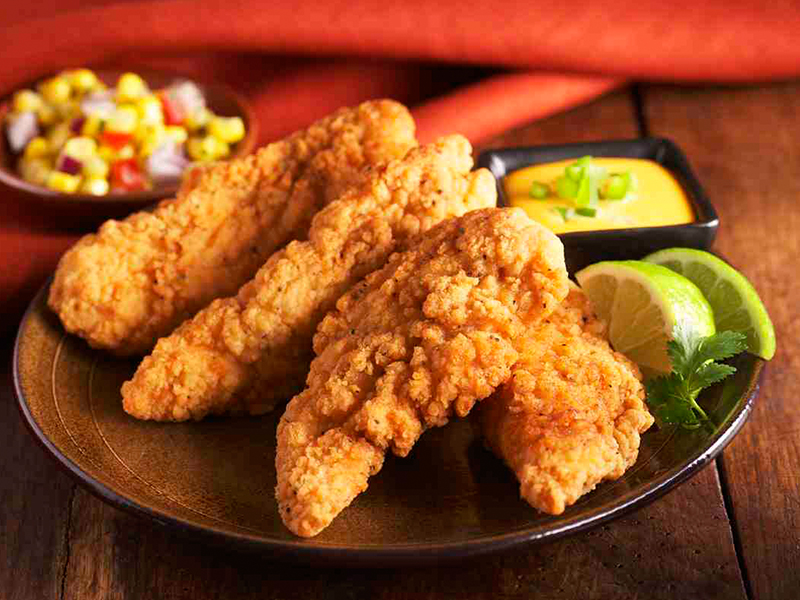 Breaded chicken tenders are for adults too! Try these new ways to serve Chicken Tenderloins for easy meals everyone will enjoy.
7 New Ways to Serve Chicken Tenders
Slice and serve on a green salad with Asian dressing.
Dunk them in your choice of Cornaby's Savory Sauces, and serve over rice.
Turn it into breakfast by slicing into chunks and topping on waffles along with sliced Daily's Sausage Links, crumbles Daily's Precooked Bacon (#4835), and Log Cabin Syrup (#1590).
Slice strips into chunks. Toss in Minor's Zesty Orange Sauce (#2989) and serve over rice.
Coat in buffalo sauce and wrap in a Receta De Oro Flour Tortilla (#4970) with lettuce, Tillamook Shredded Cheddar Cheese (#1866), and Rosie's Ranch Dressing.
Stack strips on a Rocky Mountain Bread Co. Hoagie Bun (#1988) with lettuce and tomato for a crispy sandwich.
From Catalog #7, 2020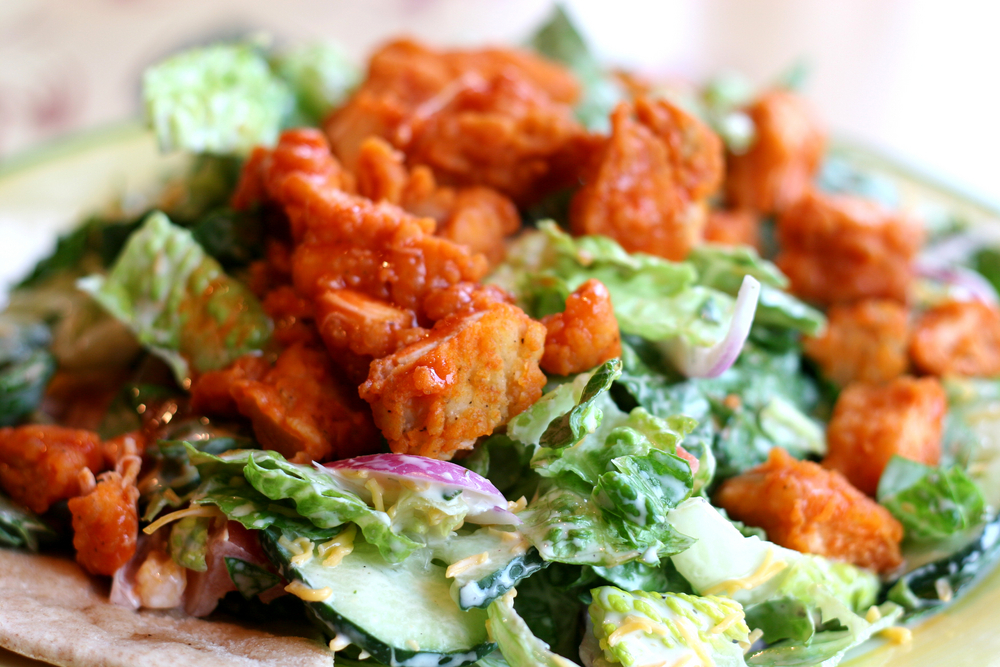 Crisp romaine lettuce tossed with Rosie's Ranch dressing, red onion, cucumber, cheese and cheese topped with crispy chicken tenders coated in buffalo sauce.
Easy Buffalo Salad
Ingredients:
Instructions:
First, prepare the ranch by mixing the seasoning with milk and mayonnaise. Let set in refrigerator about 30 min to 1 hour.
Then, preheat oven to 450 ° F. Line a Crestware Baking Sheet (#4020) with a Crestware Silicone Baking Mat (#8436) for about 20-25 minutes.
Once the chicken tenders are done, cut them into 1-inch chunks and toss in the buffalo sauce.
Assemble the salad by tossing the romaine, cheese, cucumber, red onion, and cranberries in the prepared dressing. Top with the chicken tenders and add more dressing if desired.
If you like this recipe, try these!
Comments