Jill's Loaded Baked Potatoes
Have you tried our bulk bacon?
Jill Miller from Meadow, SD shared this delicious recipe with us using the bulk bacon. "Bulk Bacon (#3297) is our favorite item! We use it for everything – yesterday I made loaded baked potatoes (mix ranch dressing and mayo, spread on potatoes that you have precooked, then top with cheese, bacon and chives and bake until all is warmed through). Today we had pancakes, bacon and eggs. So many uses 🥓 ❤️"
More Succulent Side Dishes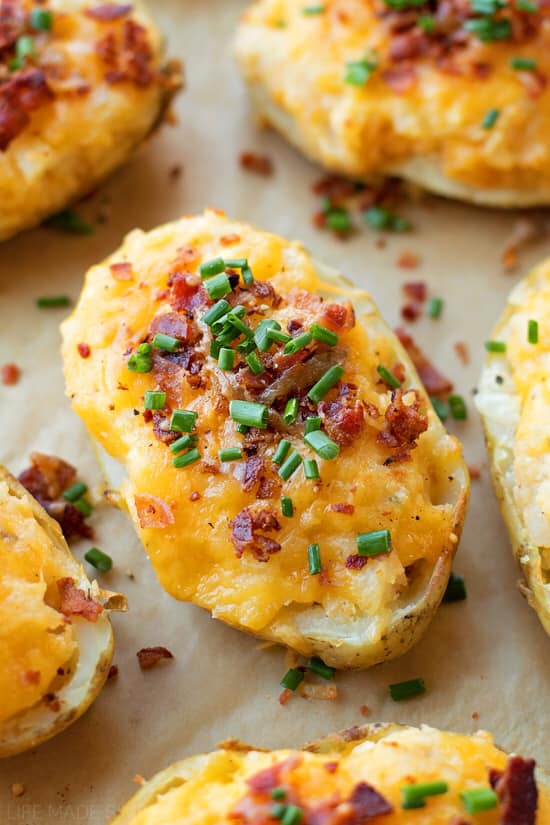 Whether you're having a big party or a small get together, Loaded Baked Potatoes are the perfect side dish for any occasion.
Jill's Loaded Baked Potatoes
Ingredients:
Instructions:
Preheat oven to 400 degrees.

Wrap potatoes in foil prick with a fork and place on a lined baking sheet. Place in the oven and bake for 1 hour or until tender.

Remove from the oven and allow to cool for 10 minutes. Reduce oven to 350 degrees.

Using a knife, cut each potato in quarters.

In the small bowl add the mayo, dry ranch packet, and garlic powder. Mix until combined.

S

pread mixture over all cut sides of the potato wedges. Sprinkle your cheese over the top.

Cook and crumble your bacon and sprinkle over the potatoes.

Place in the oven and bake for 20-25 minutes or until the cheese is melty. Remove from the oven and sprinkle with the chives (optional). Enjoy immediately.
Comments
Holiday Glazed Ham - Alisons Pantry Delicious Living Blog - […] Dirty Mashed Potatoes, Funeral Potatoes, or Loaded Baked Potatoes. […]