Holy Shrimp!
Can these recipes be low carb?
Yes! Shrimp Scampi is already low carb, just use zoodles or riced veggies instead of pasta. For the Tacos, use your favorite low-carb tortilla, or substitute with a romaine leaf for a lettuce-wrap taco.
If you like sea food, try these recipes:
For our fellow seafood fans, there is no such things as too many fish tacos. So, these Zesty Fish Tacos are great to make when you have extra fish sticks laying around! And, they're quicker than fast food.
Next up, this Heavenly Halibut is another simple fish recipe that will have dinner on the table in less than 15 minutes!
Another dish we love is this Soy and Ginger Shrimp en Papillotes. You will have dinner ready in a flash! Plus, it's full of flavor and fun to open the little Papillotes packet with the flavorful steam.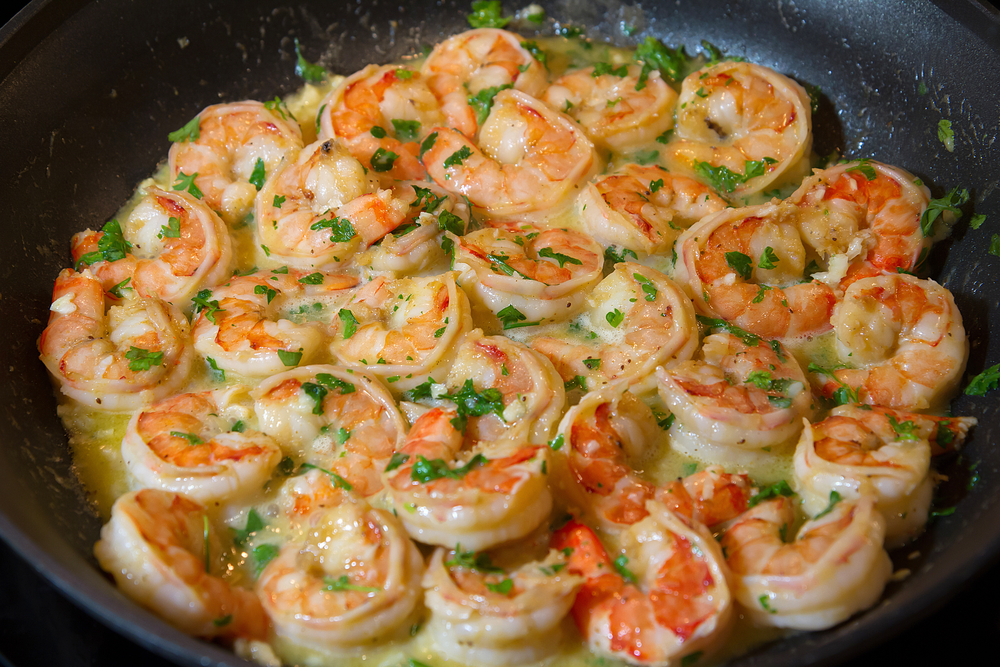 Garlic Butter Shrimp Scampi
Garlic Butter Shrimp Scampi can be served as an appetizer or the main dish, served over your favorite pasta. For a low carb option, try it over zucchini noddles. Regardless of how it's served, this dish is bursting with flavor and ready in 10 minutes!
Ingredients:
Instructions:
Heat olive oil and 2 tablespoons of butter in a large pan or skillet. Add garlic and saut̩ until fragrant (about 30 seconds Р1 minute). Then add the shrimp, season with salt and pepper to taste and saut̩ for 1-2 minutes on one side (until just beginning to turn pink), then flip.
Pour in wine (or broth), add red pepper flakes (if using). Bring to a simmer for 1-2 minutes or until wine reduces by about half and the shrimp is cooked through (don't over cook your shrimp).
Stir in the remaining butter, lemon juice and parsley and take off heat immediately.
Serve over rice, pasta, garlic bread or steamed vegetables (cauliflower, broccoli, zucchini noodles).
Recipe Notes: For an easier option, try using about 4 Tbsp Chef Shamy Garlic Butter W/Parmesan & Basil (#8124) in place of the butter, garlic and parsley.
Adapted from: https://cafedelites.com/garlic-butter-shrimp-scampi/
Costa Vida Baja Shrimp Tacos
We're all about finding the perfect copy cat recipes around here, and these Shrimp Tacos do not disappoint! Not only are they #droolworthy, but this recipe uses a lot of kitchen essentials! It can be Taco Tuesday every night, if you really wanted it to be.
Ingredients:
3 Tbsp unsalted butter, softened
1 tsp honey (#1148)
1/4 tsp red pepper flakes
1 lime, juice only
Salt (#1146), to taste
2 tsp fresh cilantro, chopped
1 lb. shrimp (#1545), shelled, deveined, any size
Flour or Corn Tortillas
Romaine Lettuce, Shredded
1 mango, thinly sliced
1 avocado, thinly sliced
2 limes, cut into wedges
1 jalapeno pepper, sliced into thin rings (optional)
Instrctions:
In a small bowl, mix together the first 7 ingredients (through cilantro) until incorporated. Heat up a sauté pan until just before smoking.
Add the honey butter mixture; let melt. Add the shrimp. Sauté until cooked through and beginning to brown.
Warm the tortillas.
Place some of the shrimp into each tortilla. Spoon some of the remaining butter over the top of the shrimp. Add the shredded lettuce and top with fresh mango and avocado.
Serve with fresh lime wedges and a side of jalapenos, if desired.
Recipe courtesy of Geoff Alter, Costa Vida. https://fox13now.com/2014/02/12/shrimp-tacos-02-12-14/
Comments
Copycat Texas Roadhouse Steak Rub - Alisons Pantry Delicious Living Blog - […] Costa Vida Baja Shrimp Tacos […]
3 Uses for Diced Avocados - Alisons Pantry Delicious Living Blog - […] Baja Shrimp Tacos […]
Avocado Shrimp Salad - Alisons Pantry Delicious Living Blog - […] Shrimp Scampi […]
Popcorn Chicken: 4 recipes - Alisons Pantry Delicious Living Blog - […] Costa Vida Baja Shrimp Tacos […]
Laidback Meals for the Low-Key Dad - Alisons Pantry Delicious Living Blog - […] Baja Shrimp Tacos […]
Chili Verde Pork - Alisons Pantry Delicious Living Blog - […] Baja Shrimp Tacos […]
Copycat Cafe Rio Sides - Alisons Pantry Delicious Living Blog - […] Baja Shrimp Tacos […]