Oven S'mores Dip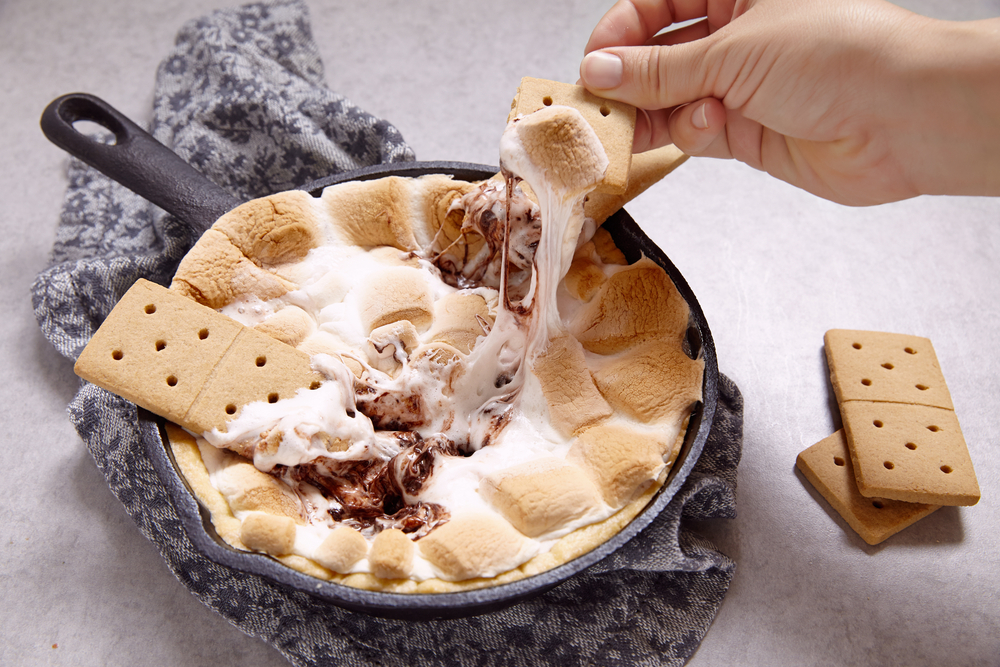 This simple Smore's Dip is a great way to enjoy s'mores year-round without having to smell like a campfire all night! It is loaded with toasted mallows and deliciously melty chocolate and will be the perfect easy addition to any party spread.
Oven S'mores Dip
Ingredients:
Instructions:
First, preheat oven to 450° F. While the oven is heating up, place a skillet (#1128) in for about 5 minutes to warm.
Next, remove the warmed skillet from the oven and grease with butter. Add chocolate chips, then top with cut mallows.
Then, bake for 5-7 minutes or until the marshmallows start to brown. Serve immediately with graham crackers.
Adapted from: https://www.ifyougiveablondeakitchen.com/2017/06/17/how-to-make-smores-dip/
Homemade Graham Crackers:
These crunchy, golden brown crackers are the perfect addition to your S'mores Dip if you don't have Graham Crackers on hand.
Ingredients:
Instructions:
First, line 2 cookie sheets (#4020) with parchment paper (#1153) then set aside.
Mix the flour, sugar, cinnamon, baking soda, and salt in a large bowl (#7756). Then, add the dry ingredients until the mixture has the same consistency as course bread crumbs. This can also be done in a blender or food processor.
In a separate bowl, mix together the milk, honey, and vanilla.
Next, add the milk mixture to the flour to form a soft, sticky dough.
Cover in plastic (#6127) and chill for 1 hour.
Remove from fridge and roll the dough out to 1/4 in thick on a well-floured surface. Preheat oven to 350F.
Then, using a pizza wheel (#1662), cut the dough into 2×5″ rectangles. Lightly score the dough with a knife down the center lengthwise, then in half across. In each scored box, use a fork to prick the dough- this will be similar to the classic graham cracker look.
Carefully place dough onto prepared cookie sheets and bake for 10-12 minutes, depending on how crunchy you lihttps://www.alisonspantry.com/dawn-food-film-wcutter-12×2000-eachke them to be.
Adapted from: https://www.biggerbolderbaking.com/homemade-graham-crackers/
More Delicious Dip Ideas:
Comments
Triple Onion Dip with Toasted Pretzilla Bites - Alisons Pantry Delicious Living Blog - […] Oven S'mores Dip […]