3 Ways to Get Cheesy With Naan
We are constantly looking more new and creative ways to get our kids to try new things, and we are finding that they love our Stonefire Naan bread. Plus, they make appetizers and lunch easier for the busy mom with all the simple ways you can use this yummy Naan.
More recipes for our fellow Cheese Lovers:

This ultimate Bacon Grilled Cheese will become a kitchen staple that your kids will love.
Naan Grilled Cheese with Bacon
Ingredients:
Instructions:
Divide shredded cheese and bacon between 2 pieces of the Naan – bubble side down.
Place the remaining 2 Naan on the top so the bubble side is up.
Preheat a frying pan over medium heat, add the butter to the pan and melt.
Add the Naan grilled cheese and flip immediately to coat both sides of the sandwich with butter.
Let cook until bottom is golden brown (approx. 5- 7min.) and then flip sandwiches and continue to brown for another 5- 7 min. or so, making sure the cheese is nicely melted inside.
Remove from pan to cutting board, let cool for one minute, and then cut into halves. Serve with fry sauce.
Adapted from: https://www.stonefire.com/recipes/mini-naan-grilled-cheese-bacon/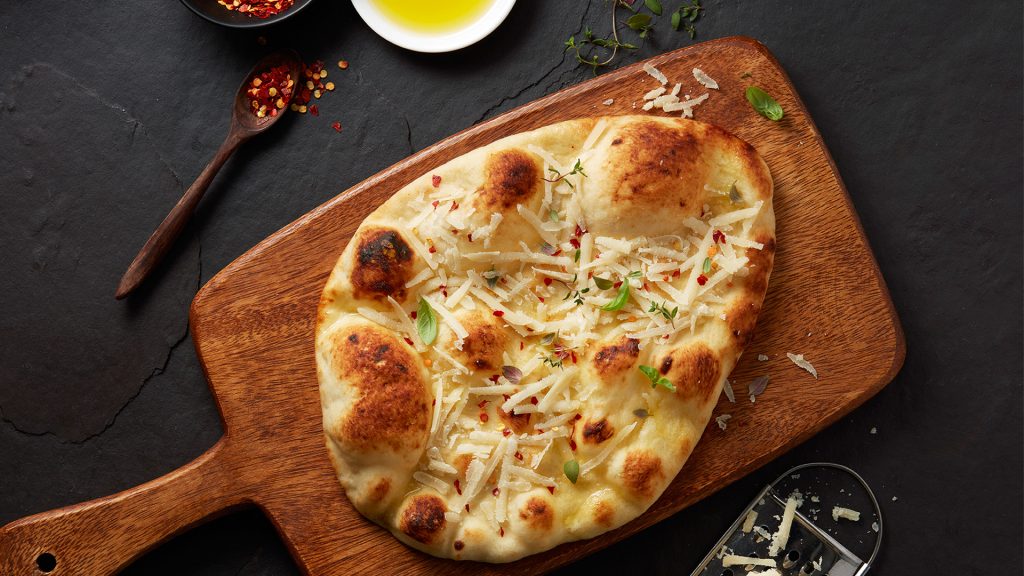 This simple Naan recipe is the perfect appetizer or addition to your favorite soups and salads.
Warm Naan Topped with Oil and Cheese
Ingredients:
Instructions:
Preheat oven to 400 °F
Place Naan on a lined (#8436) cookie sheet (#4020), brush with oil and sprinkle with the cheese.
Place in the oven for 3-5 minutes, or until Naan begins to brown.
Remove from oven and top with the chili flakes and the chopped herbs. Enjoy!
Adapted from: https://www.stonefire.com/recipes/warm-naan-topped-olive-oil-cheese/
These Naan Chips and Cheese Dip make a great last second appetizer for a party. Everyone will come back for more.
Naan Chips and Cheese Dip
Ingredients:
Instructions:
Preheat oven to 350.
Cut naan into strips.
Place on a lined (#8436) cookie sheet (#4020) and drizzle with oil.
Then, bake 10-15 minutes or until crisp. Remove naan and set aside.
Heat cream cheese in pan. Add cheddar, constantly stirring, until melted and smooth.
Salt if needed.
Serve immediately with naan strips
Adapted from: https://www.stonefire.com/recipes/beer-cheese-dip-naan/
Comments
Grilled Chicken Naan Wrap - Alisons Pantry Delicious Living Blog - […] 3 Ways to Get Cheesy With Naan […]
Pork Reuben - Alisons Pantry Delicious Living Blog - […] Naan Grilled Cheese with Bacon […]
Mini Jamaican Beef Phyllo Bites - Alisons Pantry Delicious Living Blog - […] Naan Chips and Cheese Dip […]