Slow Cooker Chicken Burritos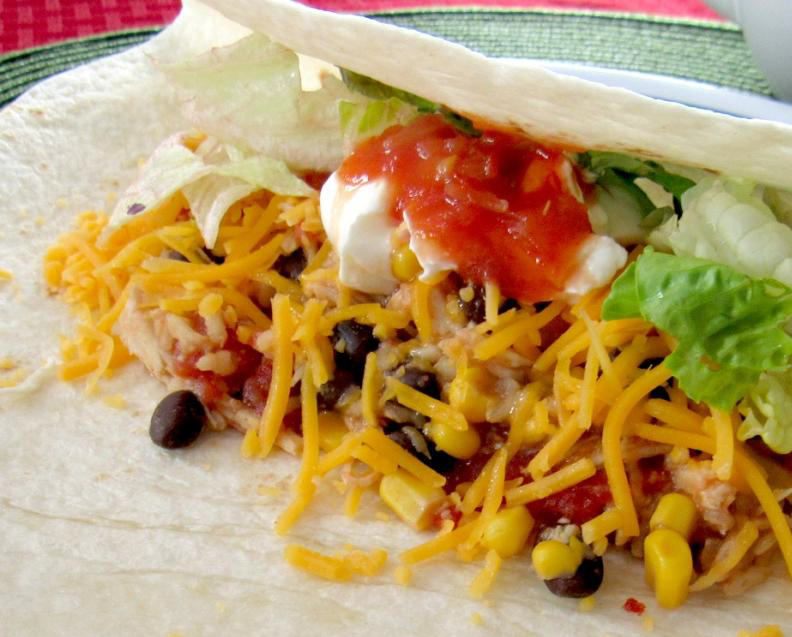 This simple recipe from our Alison's Pantry Rep Glenda Burton takes just minutes to pull together. Simply toss the ingredients in your slow cooker, set it and forget it. Your family will love the tender chicken simmered in a flavorful mix of fresh AP spices combined with tasty black beans.
More than just a burrito!
You heard us right! This recipe can make everyone happy by serving it over rice, in a warmed tortilla, or even over crunchy tortilla chips to make chicken nachos. Not to mention, slow cooker chicken is an excellent food for freezer meals. Just toss it in a freezer bag, and pull it out when you're ready to use! But, above all, each person can add their favorite toppings to create a dish everyone will love.
Are you a fan of Mexican Food?
In reality, most people are. Check these recipes out, we think you'll like them.
In addition, we gathered some of our favorite slow cooker recipes.
Slow Cooker Chicken Burritos
Ingredients
Directions:
First, line crockpot with Pan-Saver Liner (#1089). This will save you a mess to clean up later!
Next, add chicken breasts, rice, tomatoes plus liquid, broth, and spices. Cover and cook on low 3-4 hours – checking rice periodically. Add liquid as needed.
After that, shred chicken breasts and add corn and beans; cook 1-2 hours longer or until rice is done.
Finally, serve on tortillas with favorite toppings and your favorite fruits from AP
Recipe From: Glenda Burton
Suggested toppings:
While this recipe is delicious as is, no burrito is complete without its toppings. Some of our favorites are shredded cheese (#1860), sour cream, diced green onions, mango (#2655), lettuce, guacamole (#9247), salsa. In addition to these, you can top your burrito with enchilada sauce for a Cafe Rio Smothered Burrito vibe.
Comments