Rock Your Crock Pot: 5 Recipes Your Family Will Love
Rock Your Crock Pot: 5 Recipes Your Family Will Love
If you're a busy mom, odds are your crock pot isn't tucked away gathering dust. The crock pot has been a mealtime lifesaver for decades. Alison's Pantry has some easy tips and tricks to breath some new life into this beloved kitchen tool, along with 5 simple slow cooker recipes that your family will love.
The "danger zone" isn't a Top Gun reference when talking about safely using your crock pot. Attempting to cook frozen meat in the slow cooker can keep food in the 40 to 140-degree range too long which could allow bacteria to grow. The potential bout of food poisoning isn't worth the time saved if you haven't thawed the meat beforehand. Stick to the oven or pressure cooker when cooking frozen meats.
Overfilling your crock pot affects your cook time and could potentially keep foods in that dreaded danger zone mentioned above. You won't have a meal when you expect it as well, which isn't great with a home full of hungry tummies. The best rule of thumb is to only fill your crock pot ½ to ⅔ full. Most recipes will specify what size crock pot should be used.
Dairy products have a tendency to break down in the crock pot and curdle. Eww. Add the heavy cream, milk, or yogurt at the end of your cook time.
Take a few extra minutes to brown your meats before sticking them in the crock pot. Browning locks in that lovely 'meaty' flavor giving your dish more depth. This also applies to any vegetables or spices in your dish. Sauteeing your meats and vegetables will take your dish from flat to flavorful, so it's worth the extra effort.
PanSavers
can keep that stoneware looking squeaky clean without using any elbow grease, plus they make clean-up a snap! Made to fit slow cookers from 3-6.5-quart size, they'll save you from soaking your stoneware to remove those stubborn food bits. It's also important to remember that extreme changes in temperature can damage your stoneware, so as tempting as it may be to prepare your meal in the ceramic liner and put everything in the fridge—don't do it! Not only will a cold stoneware liner slow your cook time, but it could crack if heated too quickly.
Now that you have a few slow cooker tricks up your sleeve, it's time to get to the fun part. Some savory dishes, some sweet but all delicious; these 5 recipes will take your slow cooking to the next level. For best results use a 6-quart crock pot. Happy "slow" cooking!
Download our FREE Slow Cooker Recipe Book!
Alison's Pantry will help you out of your dinner doldrums by providing simple-to-prepare, restaurant-quality food, right to your kitchen. Hop on your laptop or tablet to order online and find your local representative.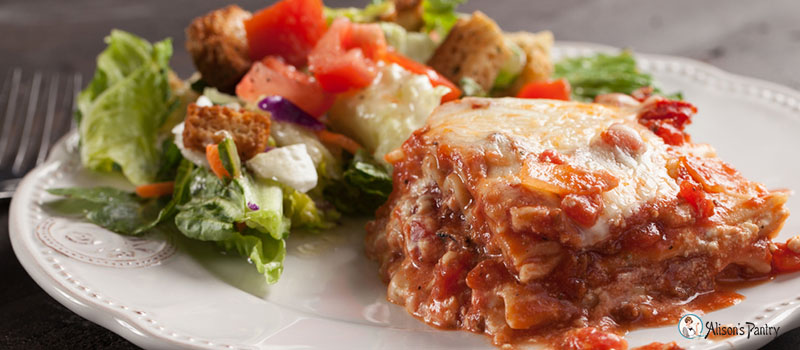 In a deep skillet heat up a tablespoon of olive oil on medium heat.

Add onions, garlic, salt, oregano, garlic powder, and onion powder.

Cook until the onions are translucent.

Add ground meat and broccoli.

Brown the meat and break apart the broccoli into smaller pieces as it cooks.

Add the olives, tomato sauce, diced tomatoes and cottage or ricotta cheese and remove from heat.

Scoop a thin layer of the meat sauce into the bottom of the slow cooker.

Place a layer of lasagna noodles over the sauce. Break noodles to make them fit.

Spread a thin layer of parmesan and mozzarella cheese over the noodles.

Repeat the sauce, noodles, and cheese layers until they are used up.

Place lid securely on the slow cooker and cook on low for 4-5 hours.
Chicken Quinoa Veggie Soup
Combine onion, carrots, garlic, chicken stock, kidney beans, tomatoes, basil, oregano, bay leaf, ground fennel, and 1/2 teaspoon each salt and pepper in a 6-quart slow cooker.

Top with chicken.

Cover and cook until chicken is cooked through, on low for 7 to 8 hours or high for 4 to 5 hours.

Discard bay leaf. Remove chicken, and shred meat; return to the slow cooker.

Stir in quinoa, spinach, and green beans.

Cover and cook until quinoa is tender, 30 to 40 minutes.

Add the rest of the salt. Pepper to taste.
Pumpkin Spice Slow Cooker French Toast
1 loaf Texas Toast, cut in cubes

6 eggs

2 cups whole milk

1 T. vanilla

2 T. brown sugar

2 t. AP pumpkin pie spice

8 oz. cream cheese, cubed
In a medium bowl whisk eggs, milk, vanilla, brown sugar, and pumpkin pie spice.

Place cubed texas toast and cream cheese in a lined or well greased crock pot.

Pour egg mixture over bread and toss until the bread is well coated making sure the cream cheese is evenly dispersed throughout.

Let sit while making the crumble.

In a small bowl mix brown sugar, flour, and spice.

Add cubed butter and mix with pastry cutter until it forms a fine crumble.

Sprinkle over the bread.

Cover and cook on low for 3-4 hours.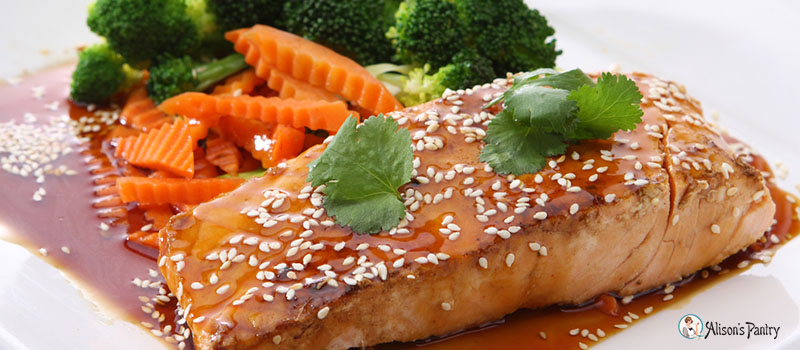 Asian-style Salmon with Vegetables
Place vegetables in the slow cooker, then lie the salmon on top of the vegetable.

Mix the soy sauce, water, cornstarch, brown sugar, red pepper flakes, ginger and garlic in a small bowl.

Pour mixture over the salmon and vegetables.

Cook on high for 4 hours.

Salt to taste and serve over rice.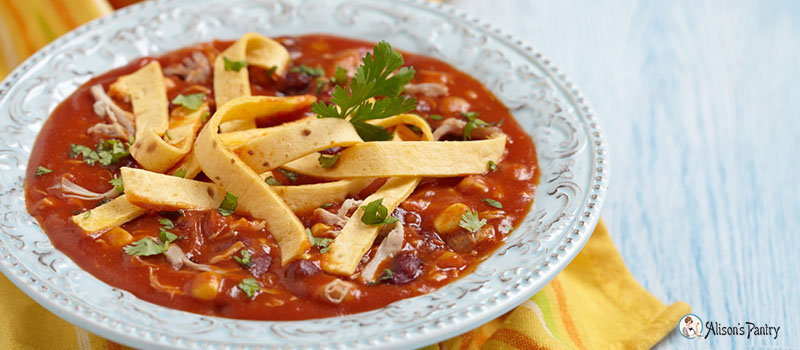 In a skillet heat up a tablespoon of avocado or vegetable oil on medium high heat.

Cook onion, garlic, jalapeno, cilantro, onion powder, garlic powder, cumin, chili powder, turmeric, and cayenne, if desired, until onions are translucent and the spices fragrant.

Place the black beans, diced tomatoes, and chicken breasts in the slow cooker and cover with chicken stock.

Add the cooked onions and garlic, and the kosher salt, stirring until well mixed.

Cook on low for 6 hours or until chicken is tender.

Remove chicken from slow cooker, shred and return to the slow cooker.

Serve with mexican blend shredded cheese and tortilla chips.
Download our FREE Slow Cooker Recipe Book!
Alison's Pantry will help you out of your dinner doldrums by providing simple-to-prepare, restaurant-quality food, right to your kitchen. Hop on your laptop or tablet to order online and find your local representative.