Strawberry Rhubarb Pie
Enjoy a homemade buttery pie crust filled with a sweet and tart strawberry rhubarb filling for National Strawberry Rhubarb Pie Day. Don't forget to finish it off with a scoop of vanilla ice cream!
We can't think of a better way to use strawberries and rhubarb fresh from the garden than with one of our favorite pies. But, if you don't have any on hand, feel free to use Dole Chef-Ready Cuts Diced Strawberries (#2832). Since this item is frozen, we suggest first thawing it out and getting rid of any excess moisture to prevent a soggy pie. is June 9th.
Tips for pie crust:
Use cold butter. This will ensure you get a deliciously flaky crust.
Don't add all the water at once. Start with the minimum amount the recipe calls for, then slowly add more as needed.
Chill the dough. This will help you from overworking it.
Before adding the crust, chill the pie pan. This will help the crust keep the shape you want.
Cook until golden brown. To get the flakiest crust, allow it to get a little browner.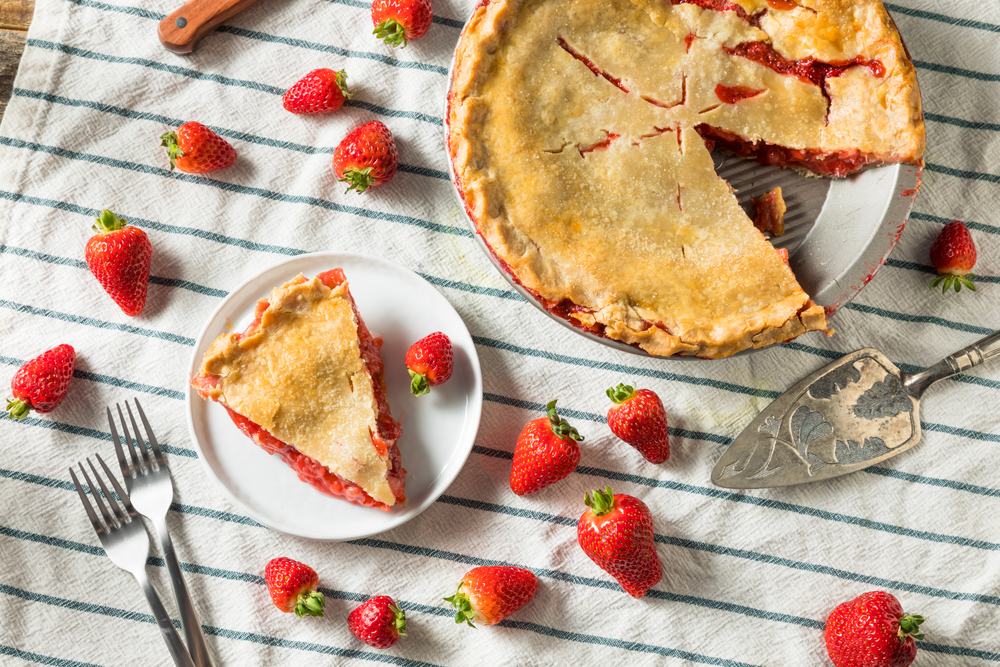 Enjoy a homemade buttery pie crust filled with a sweet and tart strawberry rhubarb filling.
Strawberry Rhubarb Pie
Ingredients:
Pie Crust:
Filling:
Instructions:
First, prepare the pie crust by adding the flour, salt, sugar and butter to a bowl. Use a pastry cutter to cut the butter into the mixture until there are small pea-sized chunks. Then, add 4 Tbsp of the ice water (without the ice!) and mix, adding 1 Tbsp of water at a time until the dough begins to form into clumps. Now, use floured hands to roll the dough into a ball. Divide it in half, and flatten it into disks. Wrap with Crystal Wrap Foodservice Film (#6127) and place in the fridge for at least 20 minutes.
For the filling, combine the strawberries, rhubarb, sugar, flour, vanilla and orange juice. Stir until evenly coated, then set aside.
Preheat oven to 400F.
Now, carefully roll each portion of the chilled pie dough on a floured surface to be about 12 inches across. Place one in the bottom of a pie pan, making sure it's pushed out into the corners of the dish.
Then, scoop the filling into the crust, making sure you leave the liquid in the bowl (otherwise you'll get a soggy crust!). Add butter slices on top of the filling, then place the second dough round on top. Use your fingers or a fork to seal the edges, then trim off the excess dough. Now, carefully cut slits in the top for steam and brush the top with the whisked egg yolk.
Place the pie pan onto a Crestware Cookie Sheet (#4020), then back for 35-40 minutes or until the crust is brown. Allow to cool on a Crestware Cooling Rack (#1145) before serving.
Adapted from: https://sallysbakingaddiction.com/strawberry-rhubarb-pie/
Calling all pie lovers!
Comments
Key Lime Pie Tarts - Alisons Pantry Delicious Living Blog - […] Strawberry Rhubarb Pie Lemon Meringue Pie Classic Blueberry Pie SharePinTweet0 Shares 0Shares Share on Facebook Share on Twitter Tags:…