Tips and Tricks for Pulled Pork
There's something about summer that makes us crave pulled pork sandwiches. The soft, fluffy buns, naturally hickory smoked pulled pork, tangy barbecue sauce….makes your mouth water, right? Tender pulled pork is much-loved on a sandwich, but it's also delicious in a wide variety of other meals.
We're sharing some tips and tricks for enjoying Double L Ranch Meats Smoke Craft Pulled Pork in more ways. Choose from a mildly seasoned smoked version or smoked and smothered with barbecue sauce:
Tips for heating:
Since both of our Double L Ranch Meats Pulled Pork products are fully cooked, simply heat through on the stovetop, in a crock pot, or in a foil-covered pan in the oven.
Serving Ideas
Its unbeatable flavor and tender texture make pulled pork a stellar meat in so many meals. We love it rolled into chimichangas or loaded onto baked potatoes by the spoonful. Check out this list of 20 Easy Dinner Ideas Using Pulled Pork from Make the Best of Everything for some finger-licking good recipes.
For Low Carb ideas, click here.
Sauced:
Pulled Pork Sandwiches- see recipe below!
Pulled Pork Sandwiches ready in under 30 minutes- no Crock Pot required!
Easy Pulled Pork Sandwiches
Ingredients:
Instructions:
First, heat the meat with desired method. Try placing it in a saucepan with a little bit of chicken base (#1038) to help not dry the pork out. Cook until heated through, about 10-15 minutes.
Once heated, divide the meat between the 4 buns. Drizzle with savory sauce and other toppings, if desired. Enjoy!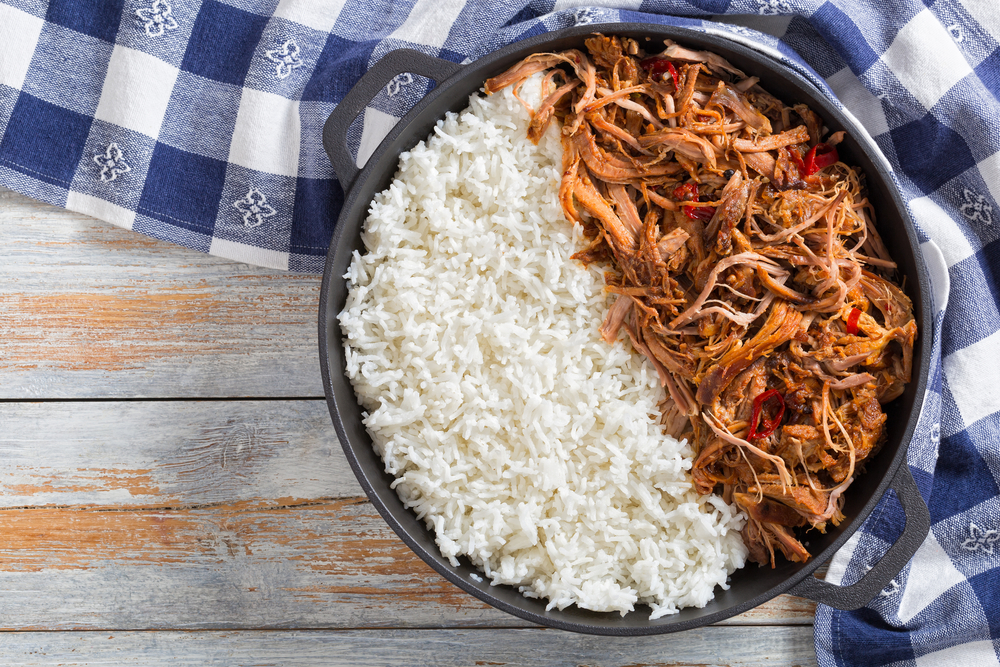 Sweet Chili Pork and Rice is an easy way to use leftover pulled pork.
Sweet Chili Pork and Rice
Ingredients:
Instructions:
First, heat the oil in a frying pan.
Then, saute the onions and chile until tender and add the pork. Fry for about 5 minutes.
Now, add the water and brown sugar and bring to a boil. Reduce the heat and allow to simmer for 4 to 5 minutes for the sauce to thicken.
Serve over fresh rice.
Adapted from: https://www.food.com/recipe/sweet-chilli-pork-241585
Try these!
Comments