Low Carb Ways to use Pulled Pork
Have you ever had a new diet commitment crash and burn before it really gets off the ground because you anticipated weeks of boring, flavorless, too-healthy-tasting meals? Sometimes "diet meals" seem so confining and un-fun to us! We feel like we've hit the jackpot when we find foods we already love work within our diet plans. Pulled Pork is one of our favorites because it can be used in a wide variety of meals and it's so convenient (read: we can enjoy a non-cold-cereal meal on a night with soccer practice and music lessons!) Double L Ranch Meats Pulled Pork (#1677) even works for popular low-carb and keto diets.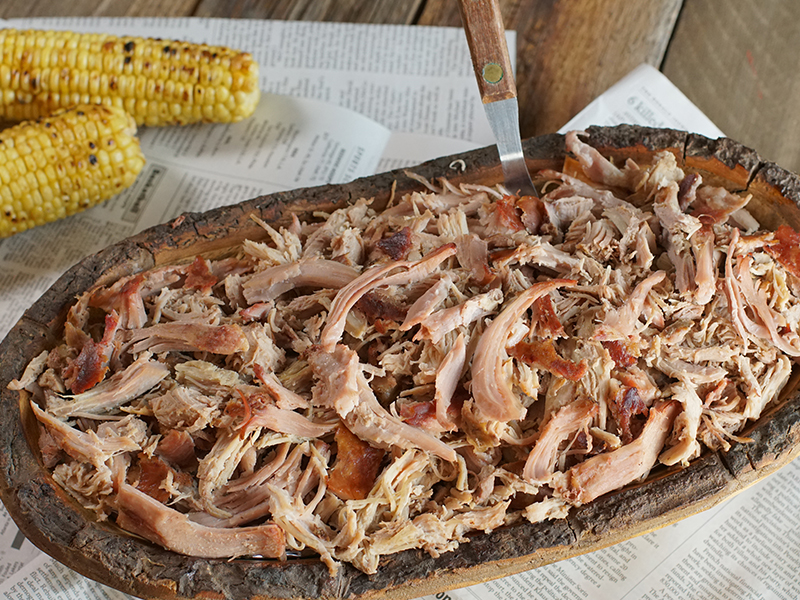 Our Double L Ranch Meats Pulled Pork (#1677) is a fully cooked, naturally hickory smoked pulled pork. It is free of the 8 common food allergens as defined by the FDA, with no added hormones ever, and certified GF. Oh, and it is the PERFECT staple for our Keto friends. There are so many ways to use pulled pork other than in BBQ sandwiches.
How to use our Pulled Pork for Low Carb Recipes
Lettuce Wraps. Prepare your pork as desired and season with our Fabulous Fajita Seasoning (#1017) or Baja Chili Lime Seasoning (#7664). Then, fill an Iceberg lettuce leaf with the pork and low carb toppings of your choice.
Taquitos Wrapped in Parmesan Folios (#1719). Simply heat up your Folios as instructed on package. Fill with warmed pulled pork, seasoned to your liking. Dip in salsa, sour cream, or guacamole.
Stuffed Peppers. For a Southwestern feel, try roasting some bell peppers and filling them with warmed pulled pork, gouda cheese, sugar-free BBQ sauce, and top with cilantro. Follow these instructions with these fillings for an easy low-carb meal.
Pulled Pork Pizza with low carb crust. There are a few ways to get a good low carb crust like this Cauliflower Pizza Crust, or making a Chicken Crust. However you decide to do the crust, try topping with our shredded pork, gouda cheese, red onion, bacon (#4835), and a sugar-free BBQ sauce.
Low-sugar, low-carb BBQ Sauce Pulled Pork. One of our favorite party foods that we miss out on while doing the Keto diet is BBQ Pulled Pork Sandwiches. But don't fret, we have found a solution! Try making the sandwiches using a low carb bread, like whole-wheat pita bread, with a low-carb, sugar-free BBQ sauce.
Avocado halves stuffed with shredded pork. If you have tried our Baked Avocado and Eggs recipe, this is another idea you will love. Prepare 2 large avocados by scooping out 1/2 of each avocado half, rub with avocado oil (3516), the place on the grill from about 1-2 minutes. Mix 1 cup (or more if desired) pork with lime juice, 1 chopped jalapeno, and chopped cilantro. Then, fill the grilled avocados with the mixture and a Keto-friendly Avocado Crema.
Easy Swaps for Keto Meals
One of our favorite swaps is using zucchini in place of noodles. The easiest way to do this is with a Spiralizer, but you can use a vegetable peeler to do this as well. An important step is to drain the excess water by sprinkling with salt 10 minutes before cooking, and soaking the water with a paper towel.
We have recently discovered how amazing Folios Parmesan Wraps (#1719) are. They are great to use in place of tortillas in burritos, fajitas, or any Southwestern fare.
A simple replacement is to use romaine or butterhead lettuce for bread in sandwiches or burgers.
We have seen this going around, and are dying to try using avocados for buns.
This is probably one of the most common Keto swaps, but using cauliflower (#6383) for carby favorites like potatoes or rice (#2743) is easy and surprisingly delicious.
One thing that we crave constantly is a nice potato chip, and there are a few suggestions on using veggies to create a chip like food, which is really great! But, a new product we are raving about is our Cello Cheese Crisps in place of chips. We are offering 2 flavors- Parmesan Cheese (#1746) and Asiago & Pepper Jack (#1747). They are perfect when you're craving that salty crunch.
Our Favorite Low Carb Recipes
Comments
Tips and Tricks for Pulled Pork - Alisons Pantry Delicious Living Blog - […] For Low Carb ideas, click here. […]