Wild Blueberry Pretzel Salad
Wild Blueberry Pretzel Salad is layered with crunchy sugared pretzels, a creamy filling, then topped with a sweet blueberry jello mixture. While this dish is called a salad, it's definitely more of a dessert. But, we don't wait until after dinner to dish up. It's too good to wait!
Can I make this ahead of time?
With the holidays just around the corner, we're trying to find every way to prep ahead of time, so we can enjoy the holidays without cooking all day. We recommend making this dish the morning of, with enough time for the Jell-O to set. But, it can be made at least 1 day in advance, keeping in mind the pretzel layer could get a little bit soggy.
Can I change this recipe?
Absolutely! There are two easy ways to change it to your liking: swap the fruit or swap the Jell-O flavor. As long as you follow the directions below, you can use really any flavor combination of your choosing.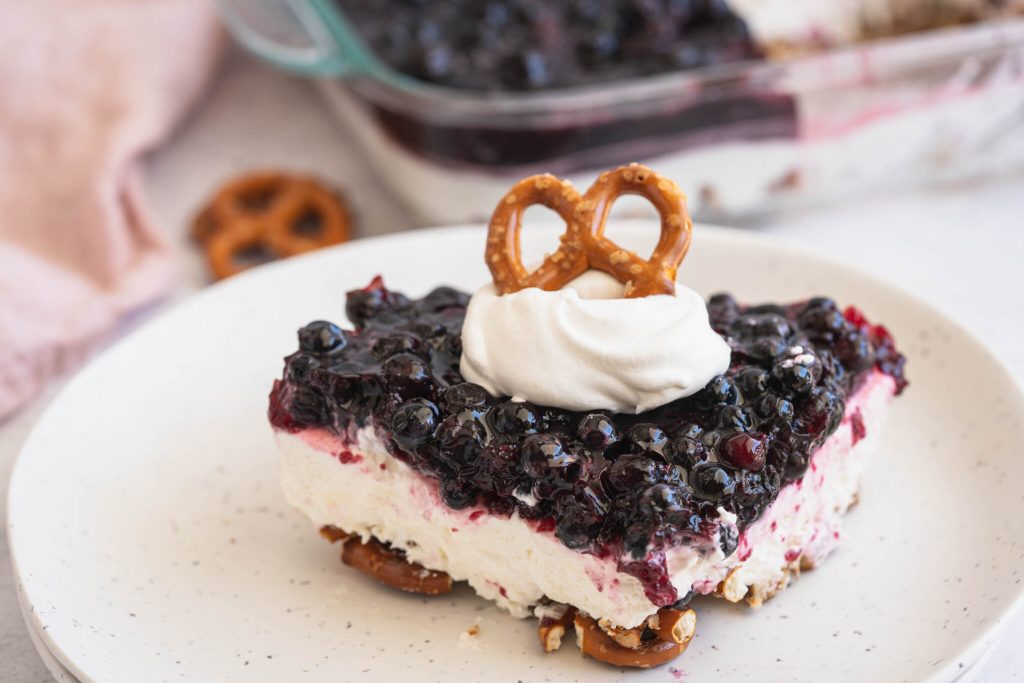 A delightful dish layered with crunchy sugared pretzels, a creamy filling, then topped with a sweet blueberry jello mixture.
Wild Blueberry Pretzel Salad
Ingredients:
Instructions:
Preheat oven to 400°F.
Crush pretzels, then mix with 3 tbsp sugar and melted butter.
Press the pretzel mixture evenly into the bottom of a 9"x13" baking dish. Bake 8-10 minutes until pretzels just start to darken. Remove from the oven and allow to cool completely.
Beat the cream cheese and remaining cup of sugar until light and fluffy. Gently fold in whipped topping. Spread cream cheese mixture over cooled pretzel base. Ensure cream cheese mixture fully and evenly covers the pretzels and is spread all the way to the edge. This will prevent the pretzels from becoming soggy during the next step.
Place pan in refrigerator while preparing final step. Dissolve the jello in the 2 cups of boiling water, then stir in the frozen blueberries. Gently pour mixture on top of the pretzel/cream cheese layers and gently but quickly spread evenly. Return to refrigerator until jello is fully set, approximately 2 hours.
*Any berry Jell-O will work well in the salad. We use raspberry when we can't find pomegranate.
From Catalog #11, 2021. Recipe by Jen Bates for Wyman's.
If you like this recipe, try these!
Comments
Fall Harvest Salad - Alisons Pantry Delicious Living Blog - […] Peach Salad Wild Blueberry Pretzel Salad Strawberry Spinach Salad SharePinTweet0 Shares 0Shares Share on Facebook […]