2 Delicious Ways to Enjoy Dessert Naan
Enjoy Naan bread with more than your favorite savory dishes. This soft bread makes for a perfect quick dessert on a busy night. It is great for the base of any favorite dessert pizza or replacement of another bread product.
How else can I make dessert Naan?
Cinnamon Sugar Naan. Simply butter your Naan bread and sprinkle with our Cinnamon Vanilla French Toast Sugar (#1536). Broil for 2-3 minutes.
Cinnamon Roll Naan with Dip. To take it up a notch, make a dip to go with your Cinnamon Sugar Naan (See above). For the dip, beat together 4 oz. whipped cream cheese, 3/4 cup powdered sugar (#1151), 2 tsp milk, 1/4 tsp vanilla extract (#6702), 2 Tbsp butter melted, 1/4 cup brown sugar (#1150), 1/2 tsp cinnamon (#1005).
Strawberry Naan Dessert Pizza. We found this delicious recipe from Teaspoons of Spice. Simply heat your Naan until warm. While that is heating, whip 1/4 cup Heavy Cream until you get stiff peaks. Gently fold in 1 cup Greek yogurt. Then, top your Naan with the whipped cream mixture and 1 cup Diced Strawberries (#2832). Drizzle with honey (#1149), and enjoy!
Looking for more creative desserts?
This fun summer treat is a fun twist on a classic S'mores dessert, and it's ready in under 10 minutes.
S'mores Pizza
Ingredients:
Instructions:
Set your broiler to high.
Spread 1/2 cup Nutella on each piece of Naan and evenly top with 1 1/2 cups marshmallows.
Place on a baking sheet (#) and let broil for 2-3 minutes, turning the tray so the marshmallows brown evenly.
Remove from the oven and top with graham cracker crumbles. Enjoy!
Adapted from: https://www.stonefire.com/recipes/smores-pizza/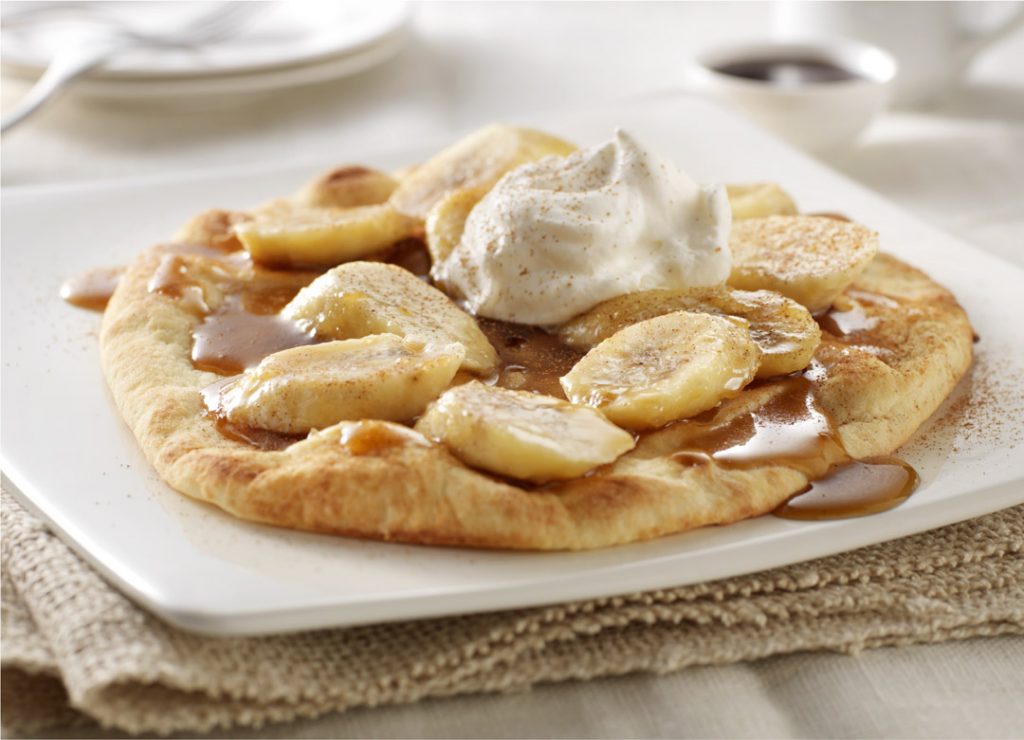 This unique twist on a classic recipe will hit the spot for any sweet tooth with its rich flavor.
Banana Foster Naan
Ingredients:
Instructions:
First, preheat your oven to 450°
Next, mix the sugar and ½ tbsp of cinnamon together in a small bowl, there will be more sugar than needed – use the extra cinnamon sugar to top the finished dessert.
Then, spread the melted butter over the bubbly side of the two pieces of Naan, sprinkle with the cinnamon sugar mixture and place on a baking tray. Set aside until ready to top with the banana mixture.
In a large skillet, melt the remaining butter over medium heat. Once melted, stir in the brown sugar until combined. Add the bananas and cook for about 5 minutes, turning halfway through. When the bananas feel tender sprinkle with ½ tsp cinnamon and a pinch of nutmeg, then remove pan from the heat.
Place the Naan on a baking tray and put in the oven for 3 minutes to warm them. Once warm, place the Naan on a plate used to serve.
Turn the heat back on under the banana skillet and pour in the rum. Shake the skillet to mix and distribute the liquid and ignite the rum with a long match. Using a long handled spoon, baste the bananas with the sauce until the flames disappear.
Remove from heat and spoon over portioned cinnamon sugar Naan. Top with vanilla ice cream and serve immediately.
Adapted from: https://www.stonefire.com/recipes/banana-foster-naan/
Comments
Tailgating Ideas using Naan Bread - Alisons Pantry Delicious Living Blog - […] S'mores Pizza […]