3 Asian Inspired Sides
Chinese Takeout is all the rage, but we have found a way to do it without the hassle of leaving your home! Don't get us wrong, it's good to get out, but some nights you just want to stay in! These easy sides are the perfect addition to any Alison's Pantry Asian Main Dish- find our Asian Favorites here.
Quick Appetizers for busy nights:
As much as we love homemade appetizers, sometimes we don't have time (or energy) to do it all! Don't worry, we offer a variety of delicious sides to go with your favorite Asian inspired dinners.
What main dishes go with these sides?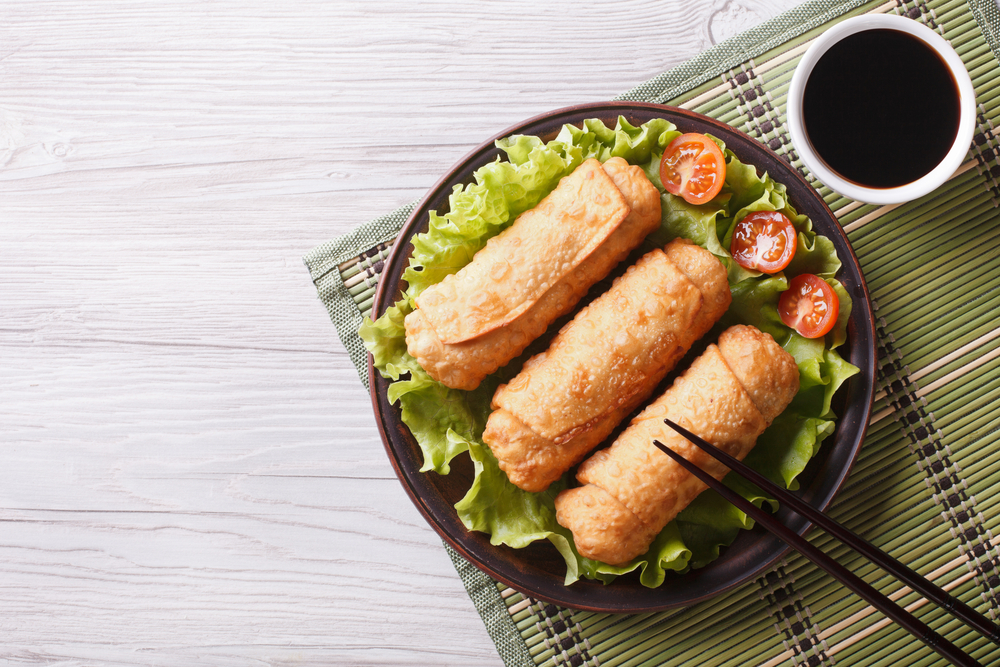 These Easy Egg Rolls are relatively simple to make and absolutely delicious. You'll be surprised if they aren't better than takeout!
Easy Egg Rolls
Ingredients:
Instructions:
First, heat a skillet over medium heat. Once heated, cook the pork, breaking it up as it cooks. Once it is halfway done, sprinkle the ground ginger and garlic powder over the meat and stir to coat everything evenly. Continue to cook until the pork is no longer pink. Set aside.
Then, in another large heavy pot, heat oil to 375ºF or medium-high heat. While this is heating, combine the flour and water in a bowl to form a paste. In a separate bowl, stir the coleslaw mix with your cooked pork mixture until well combined.
Next, lay out one egg roll skin with a corner pointed toward you. Place about 1/4 to 1/3 cup of the pork mixture on the egg roll paper and fold the corner up over the mixture. Fold left and right corners toward the center and continue to roll. Brush a bit of the flour paste on the final corner to help seal the egg roll.
Place the egg rolls into the heated oil and fry, turning occasionally, until golden brown. Remove from the oil and drain on paper towels or a rack.
Adapted from: https://www.tasteandtellblog.com/easy-egg-rolls/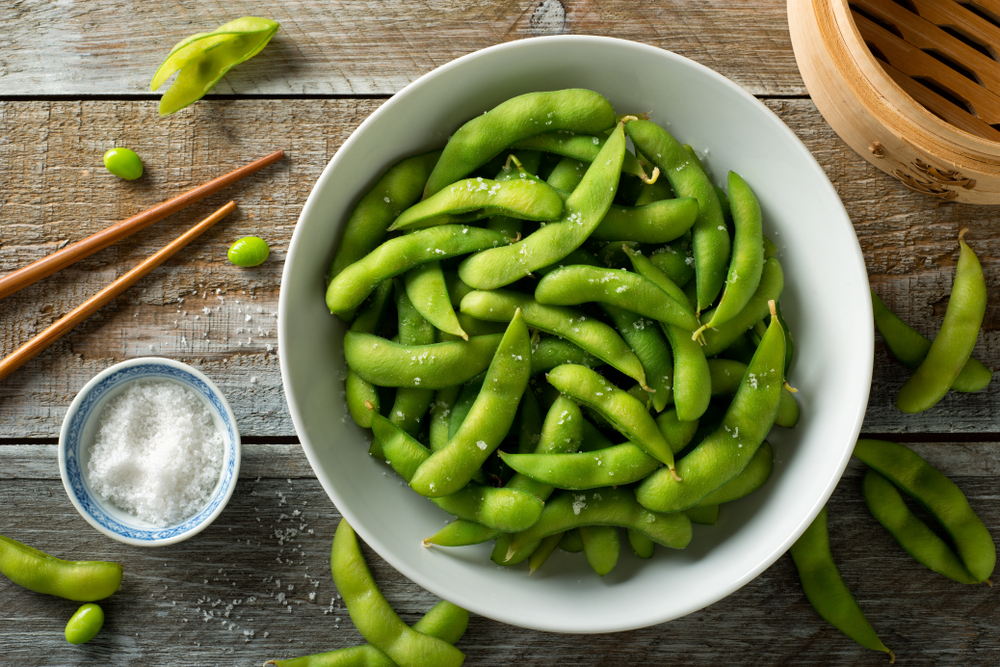 Not only is Edamame delicious, it is also full of fiber, antioxidants and vitamin K. It is the perfect thing to snack on before your meal.
Garlic Edamame
Ingredients:
Instructions:
To begin, boil the edamame as directed on package. Drain and set aside.
Then, in a large skillet, heat 2 tablespoons avocado oil. Toss the garlic into the skillet with the edamame and saute until the outsides of the edamame are just browning.
Simply serve in a large bowl with a bowl on the side for the edamame shells. You can serve this with soy sauce (if you use regular, you may want to water it down) and add a little wasabi paste if you have it.
Adapted from: https://pinchofyum.com/garlic-edamame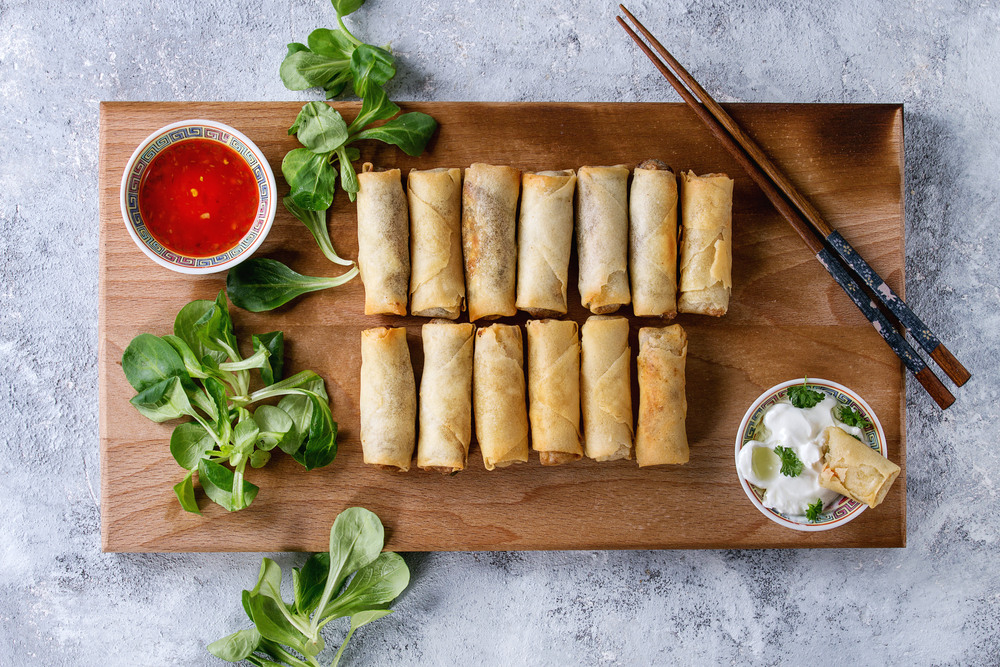 These Spring Rolls are the perfect side with a crisp outside and juicy filling.
Spring Rolls
Ingredients:
Filling:
1 tbsp oil (#3516)
1-2 tsp minced garlic (#1289)
13 oz ground pork, chicken, or turkey (#3568)
6 dried shiitake mushrooms soaked in boiling water OR 8 fresh
1 1/2 cups shredded carrot (1 large or 2 small), (heaped) bean sprouts, and (packed) shredded green cabbage (any type is fine)
1 tsp corn starch (#2849)
1 1/2 tbsp Oyster Sauce
2 tsp soy sauce
Spring Rolls:
15 – 20 spring roll wrappers, defrosted (21.5 cm / 8" squares) OR 35 – 40 small spring roll wrappers (Note 2), or Egg Roll wrappers to make Egg Rolls (Note 6)
2 tsp cornflour (for sealing rolls)
1 tbsp water (for sealing rolls)
Oil for frying (I use vegetable) OR oil spray for baking (I use canola)
Instructions:
To begin, heat oil in a skillet or wok over high heat. Add garlic, stir quickly, then add pork. Cook, breaking it up as you go, until it turns white.
Then, add carrot, bean sprouts, cabbage, and mushrooms. Cook for 3 minutes or until vegetables are wilted. Add cornflour, soy sauce and Oyster sauce, cook for 1 minute until the liquid is gone. You are looking for the filling to be sticky, if it is watery your spring rolls will get soggy.
Next, cool the filling by spreading on a cookie sheet (#5957) and placing in the fridge for about 5 minutes.
Spring Rolls:
First, mix cornflour and water in a small bowl. This will be used for sealing the rolls.
Now, carefully peel off one spring roll wrapper at a time while keeping the others covered under a damp tea towel.
Place the wrapper with the SMOOTH SIDE DOWN in a diamond position. Place a very heaped spoonful of filling in the center of your wrapper. Roll up halfway, fold sides in, then finish rolling. Use cornflour mixture to seal.
Then, pour enough oil in a wok or large saucepan so it is double the height of the spring rolls. Heat on medium-high until hot – stick a bamboo chopstick or wooden spoon handle in, if rapid bubbles appear, then it's hot enough.
Next, carefully place spring rolls in the oil, only about 4-5 at a time, and cook, turning occasionally, until deep golden – around 1 1/2 – 2 minutes. Once done, place on a plate with paper towels to rid of any excess oil.
Repeat with remaining spring rolls. Serve while hot with Sweet and Sour Sauce!
Adapted from: https://www.recipetineats.com/spring-rolls/
Comments