Black Bean Enchiladas
A quick and healthy way to make a nourishing after school meal for you and your family! This Mexican delight has a moderate amount of heat, but won't be too spicy for the kids. A garden salad makes a perfect accompaniment to this meal. 
Can I add to this recipe?
Absolutely! The easiest way to change this recipe is to add some protein like Chicken Strips (#2609), Beef Strips (#2604), or tofu. You can also add our Simplot Sweet Corn & Jalapeno Blend (#1984) in place of the corn to add a little more heat to the dish.
More vegetarian dinners to try: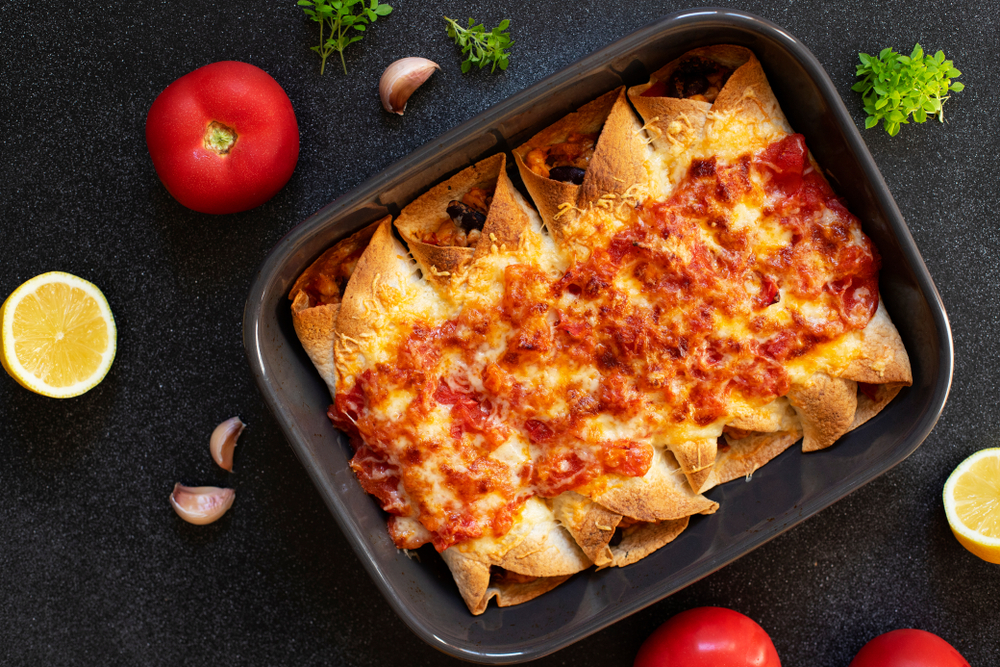 Black Bean Enchiladas
A quick and healthy way to make a nourishing after school meal for you and your family! This Mexican delight has a moderate amount of heat, but won't be too spicy for the kids.
Prep Time: 15 minutes
Cook Time: 15 minutes
Makes 8 servings.
Ingredients:
1 can (15 ounces) no salt added tomato sauce
1 1/2 cups water
1 can (15 ounces) black beans, drained and rinsed
1 can (11 ounces) corn, drained
8 corn tortillas, warmed
Instructions:
Preheat oven to 350 °F. Mix tomato sauce, water and enchilada seasoning in large skillet. Bring to boil; simmer 5 minutes. Set aside. Mix black beans, corn and 1/2 cup of the sauce in medium bowl.
Heat tortillas according to package directions. One at a time, dip each tortilla directly into the skillet, covering both sides with sauce. Transfer to a plate.
Spoon 1/4 cup bean mixture down the center. Fold over tortilla sides; place seam-side down in a 11×7-inch baking dish.
Spoon any remaining bean mixture into the sides of the dish. Pour remaining sauce over enchiladas. Top with cheese.
Bake 15 minutes or until heated through.
Comments
Ranchero Enchiladas - […] Black Bean Enchiladas […]