Butternut Squash and Black Bean Enchiladas
What are the benefits of Butternut Squash?
We know not everyone is a fan of squash, but give it a try! You may be pleasantly surprised.
First, Butternut Squash can aide in lowering and preventing high blood pressure.
Next, it can help your skin and hair because of the high vitamin A content. Who knew?!
Because Butternut Squash is low in fat, it provides a good amount of dietary fiber, which means it is great heart-friendly food.
Did you know?!
Although Butternut Squash is part of the gourd family, technically it is part of the fruit family because it contains seeds.
To pick a perfect Butternut Squash, choose one that feels heavy for its size and check out the skin. If it is matte, rather than glossy, that's a good sign! If it's shiny, that's a sign your squash was picked too early.
The color of a squash can indicate another important part of its benefits. It signals that the squash is full of carotenoids, which protect against heart disease.
Butternut Squash can last for up to 3 months! If you cut the squash, it will last for up to a week in the fridge.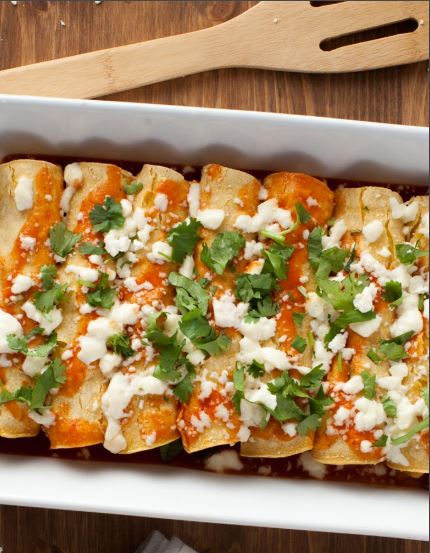 Have you ever done "Meatless Mondays"? Neither have we, we love meat too much. But, for those of you that do, this recipe is perfect! Our fellow meat lovers may be surprised with how much they enjoy this meal.
Butternut Squash and Black Bean Enchiladas
Makes 48 enchiladas
Ingredients:
Instructions:
To begin, heat oven to 375°F.
In a microwave safe bowl, measure out 1.5 lbs of Riced Butternut Squash.
Microwave on high, uncovered, for 10 minutes (stirring halfway through). Repeat with the remaining 1.5 lbs of Butternut Squash.
Next, spray 4 13×9-inch (3 quart) glass baking dishes with cooking spray.
Meanwhile, in large skillet, heat oil. Add onions; cook 2 to 3 minutes or until tender. In large bowl, mix Butternut Squash, onions, black beans, garlic salt, chipotle powder, chili powder and cumin until well mixed.
In same large skillet, heat corn tortillas 15 seconds or until soft.
Pour ½ cup enchilada sauce in bottom of each baking dish. Fill each tortilla with about ¼ cup squash mixture; roll up. Place seam side down in baking dish. Top with remaining enchilada sauce; sprinkle with cheese.
Bake 15 to 20 minutes or until cheese is melted and enchiladas are thoroughly heated. Sprinkle with cilantro.
Comments