Ground Turkey Stuffed Peppers
Can you prepare this recipe ahead of time?
So, if you know you're going to be crunched on time the night you'll be enjoying this dish, you can prep things to make it go quicker when you're ready to eat! Just bar bake the peppers and cook the filling ahead of time. Then, when you're ready to eat it, essentially all you're doing is warming it back up and melting the cheese.
To make it even easier, parbake the peppers, cook the filling, stuff the peppers, then keep them in the fridge until you're ready to cook them. If you do this, make sure you bring the peppers to room temp before baking. Otherwise, the center will still be cold.
Is this recipe gluten-free?
Yes! It is entirely gluten-free. In addition to being gluten-free, it is low carb and can be easily adjusted to be dairy-free and vegan.
How can I make this recipe dairy free? It's fairly simple, actually. All you have to do for this recipe to be dairy free is substitute the cheddar cheese with your favorite non-dairy alternative.
How can I make this recipe vegan? In addition to the changes that make this recipe dairy free (using a cheese substitute), you can replace the ground turkey with a trusted meat substitute. Another delicious option is to add black or refried beans in place of the meat.
Can these Stuffed Peppers be made in a crockpot?
You bet your bottom dollar they can be! All you have to do it place the stuffed peppers in the crockpot, and cook on LOW for 6 to 7 hours or on HIGH for 3 to 4. To make it even easier, prep the peppers and stuffing ahead of time so you can throw them in the crockpot when you're ready to cook 'em up.
First, you will place the stuffed peppers in your crockpot, Then, you will cover with the jar of crushed tomatoes (you could also use spaghetti sauce). Third, you will cook on LOW for 6 to 7 hours or on HIGH for 3 to 4- until the turkey is cooked through and the peppers are tender.
What sides should I put with my stuffed pepper?
It might be surprising to think of putting a side with this already filling meal, but don't let that stop you! Some sides we love are Slow Cooker Green Beans, Cauliflower Mash, or Cauliflower Breadsticks.
Looking for more ground turkey recipes?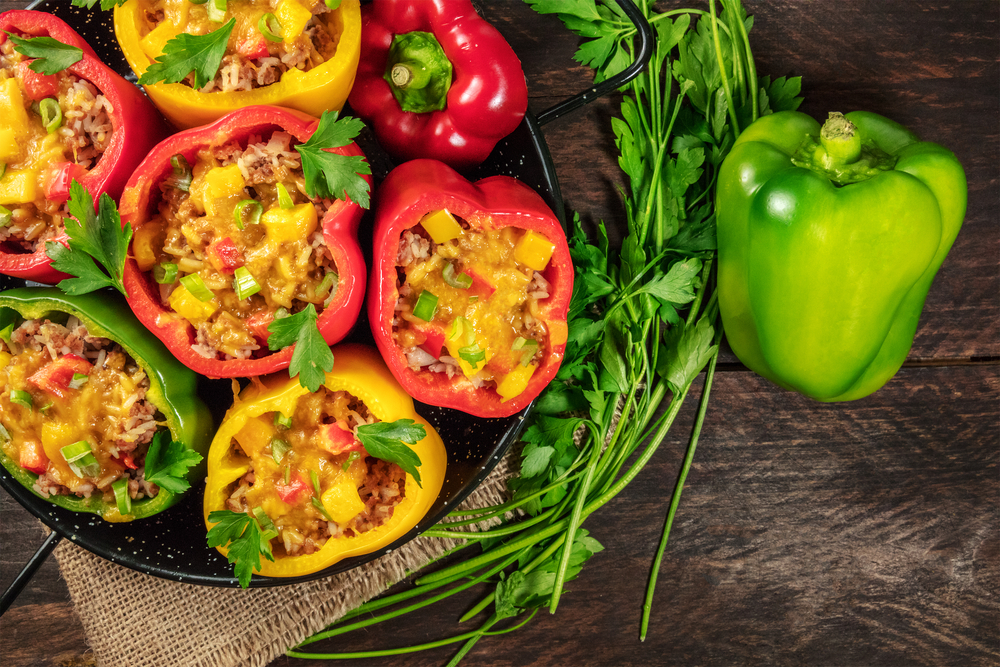 Stuffed Peppers are a delicious and pretty meal, and the aroma from the spices will leave your kitchen smelling delicious.
Ground Turkey Stuffed Peppers
Ingredients:
Instructions:
First, preheat oven to 350 degrees. Prepare your rice and set aside. You will need two cups of cooked rice.
Carefully slice off the top and bottom of the pepper, remove the seeds, and rinse thoroughly. Cutting the bottom help the pepper sit flat while cooking.
Boil the peppers in a large pan for 5 minutes, remove peppers and turn upside down on a paper towel to dry.
In a large skillet add the avocado oil, garlic, and onion, saute until tender. Add the ground turkey and brown until cooked.
Add the crushed tomatoes, rice, Italian 'N Pizza seasoning, salt, pepper and ½ cup of the shredded cheese and stir until well blended.
Then, generously load up the peppers with the mixture, set in a lightly greased baking dish. Bake uncovered for 25-30 minutes. Remove and top the peppers with the remaining cheese, and bake an additional 5 minutes or until cheese is melted.
Adapted from: https://dearcrissy.com/ground-turkey-stuffed-peppers-recipe/#_a5y_p=5700491
Comments
Cauliflower Pizza Crust - Alisons Pantry Delicious Living Blog - […] Ground Turkey Stuffed Peppers […]
Chicken Adobo and Peanut Quesadillas - Alisons Pantry Delicious Living Blog - […] we know not everyone around here is a fan of bell peppers, but for those of us that are, these…