Corn & Jalapeno Game Day Appetizers
Our NEW Simplot RoastWorks Flame-Roasted Sweet Corn & Jalapeno Blend (#1984) is great to just heat and serve with signature appetizers, salads, soups, wraps and more! This blend is full of perfectly flame-roasted sweet corn with white corn and a blend of jalapeno, green onion, garlic, cilantro, and seasoning making it the perfect addition to any Tex-Mex meal. These mouthwatering recipes for Flame Roasted Corn Jalapeno Queso and Elote Street Corn featuring our new blend are perfect for a Game Day appetizer.
Looking for more easy appetizers?
We're all about making your time in the kitchen easier, so check out these delicious recipes that will impress your guests.
Flame Roasted Corn Jalapeno Queso
Ingredients:
20 oz Rotel Diced Tomatoes & Green Chilies, drained
Ingredients:
First, combine the first 3 ingredients in a pan. Then, cook until everything is heated through. Next, transfer to a serving bowl and garnish with cilantro.
Serve with tortilla chips, Naan Bread (#1686) triangles, or your favorite dippers.
Adapted from: https://simplotfoods.com/Recipe/Flame-Roasted-Corn-Jalapeno-Queso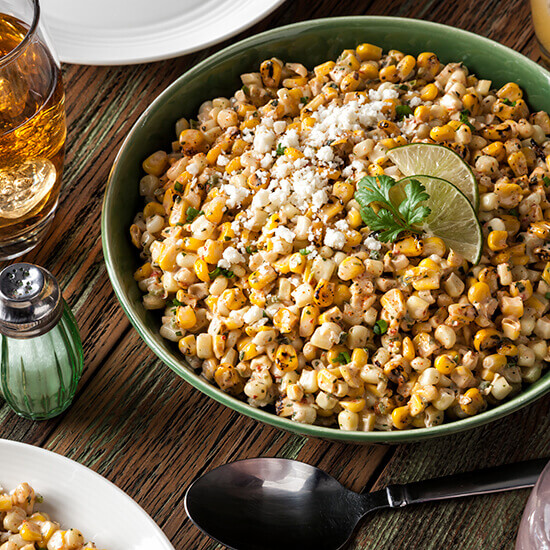 Elote Street Corn
Ingredients:
Instructions:
First, puree the chipotle in adobo with the mayo until smooth.
Next, prepare the flame-roasted corn & jalapeno blend. Simply heat 2 Tbsp Avocado Oil (#3516) in a large skillet on med-high heat. Add product and cover for 6-8 minutes, stirring frequently.
In a large bowl, combine corn blend, butter, lime juice, cumin, Baja seasoning, and mayo mixture. Sprinkle with queso fresco and serve.
Adapted from: https://simplotfoods.com/Recipe/Elote-Street-Corn
Comments