Creamy Spinach & Mushroom Gnocchi
How did we ever live without gnocchi? This pillowy soft pasta is now a frequent contender on our menus. And, it's so easy to prepare in a variety of dishes- skillets, casseroles, soups, salads…the list goes on! But, one of our favorite ways to enjoy it is in a savory sauce. Creamy Spinach & Mushroom Gnocchi is a hearty one-pan meal your family will gobble up! Enjoy tender potato gnocchi, chicken, mushrooms and spinach in a simple creamy sauce. Trust us, they'll be asking for seconds.
Cooking methods for gnocchi
Gnocchi is incredibly easy to prepare, as is most pasta. But, making sure it's cooked right is important- the texture of the pasta really makes this dish! There are a few cooking methods, depending on the recipe you're using it in:
Boil. Boiling is the most used cooking method for this pasta. Simply bring a pot of salted water to a boil and cook until it floats, approx. 2-3 minutes. Then, add to desired recipe.
Pan-Sear. This method is great if you're wanting a crispier exterior, while keeping the pillowy soft interior (and, it's our favorite way to do it). Simply melt Kirkland Salted Sweet Cream Butter (#1723) in a skillet, and cook until the gnocchi is golden brown.
Bake. This method takes the longest, so we recommend doing a whole sheet meal for the most effecient use of your time. Toss the pasta in BBF Avocado Oil (#3516), Regal Fine Sea Salt (#1146), and AP Table Grind Black Pepper (#1029). Bake at 425 F until golden brown, approx. 15-25 minutes.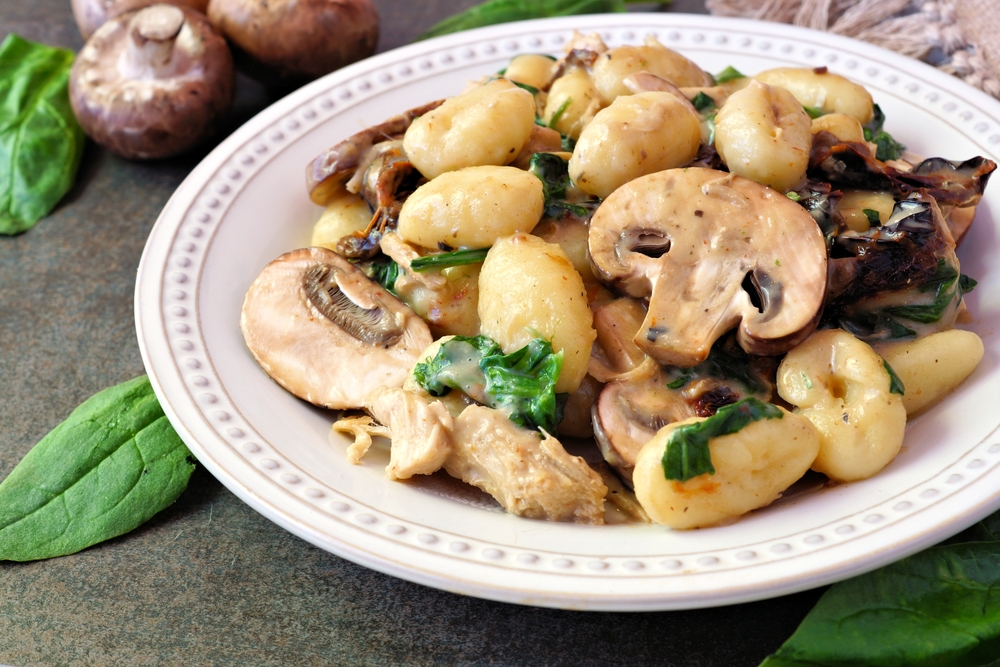 A one-pan meal of tender potato gnocchi, chicken, mushrooms and spinach in a simple creamy sauce.
Creamy Spinach & Mushroom Gnocchi
Ingredients:
Instructions:
First, in a skillet, heat 1 Tbsp of the avocado oil over medium heat. Season the chicken with salt, pepper, and Italian seasoning. Cook for a few minutes on each side until lightly golden brown, then add half the broth and cover. Allow to simmer for 6-7 minutes, then transfer to a Crestware Flexible Cutting Mat (#3840) and shred in large chunks with two forks.
Next, add the remaining oil and butter to the same skillet. Sautee the onions and mushroom until just tender, then add the garlic and cook until fragrant. Mix in the gnocchi, shredded chicken, remaining chicken broth, and cream then bring to a boil. Next, stir in the spinach and continue to cook until wilted, adding more salt and pepper as needed.
Before serving, top with parmesan cheese. Enjoy!
Adapted from: https://www.lecremedelacrumb.com/chicken-and-mushroom-gnocchi-skillet/
If you like this recipe, try these!
Comments
Cheesy Baked Gnocchi - Alisons Pantry Delicious Living Blog - […] Creamy Spinach & Mushroom Gnocchi Crock Pot Meatball Soup Sheet Pan Meatball, Gnocchi and Veggie Bake SharePinTweet0 Shares 0Shares…