Easy Camping Breakfast Ideas
The best thing about waking up in a cozy sleeping bag in the cool mountain air is knowing a hearty breakfast is next on the agenda. While enjoying nature's beauty, a camping trip offers a chance to slow down and smell the bacon with a meal that's much more indulgent than a protein shake on the go. We look forward to our camp menus almost as much as the change of scenery and schedule. In this post, we're sharing some of our favorite campout recipes and products that make it easy to cook away from your kitchen.
AP Products to make Camping Easy: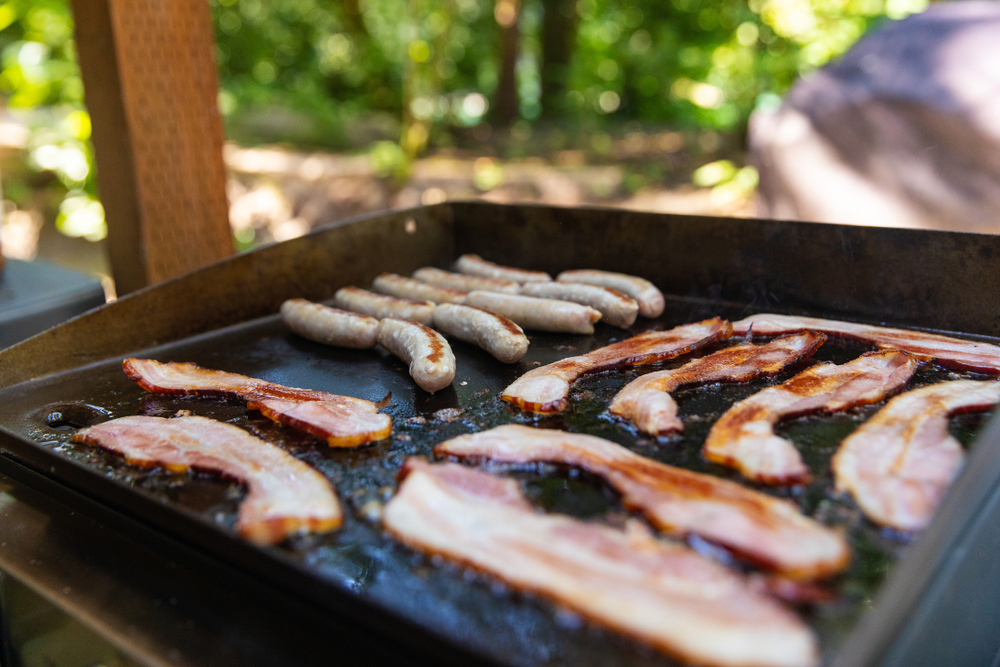 Enjoy a Classic American Breakfast of pancakes, eggs, bacon and sausage cooked over a campfire.
Classic American Breakfast
Ingredients:
Instructions:
To prepare the pancakes, add the mix to water, blending with a wire whisk. For light, fluffy pancakes, avoid over-mixing. For thinner pancakes, add more water. Pour batter onto lightly greased, preheated (365°-375°F) griddle. Cook pancakes 1-1¼ minutes per side. Turn only once.
Meanwhile, cook the sausages by placing the thawed links on a greased flat top grill. Grill, uncovered, for 12-16 minutes or until internal link temperature reaches 160°F and sausage is browned, turning links often.
For the bacon, grill over medium heat for 6-7 minutes per side. You'll love the smoky flavor that grilling brings to bacon!
Now, melt butter in a dutch oven pan. Add the whisked eggs, and gently stir until they are almost set. If desired, add Tillamook Medium Cheddar Shredded Cheese (#1866).
Then, divide the bacon, sausage, pancakes, and eggs between a few plates and enjoy.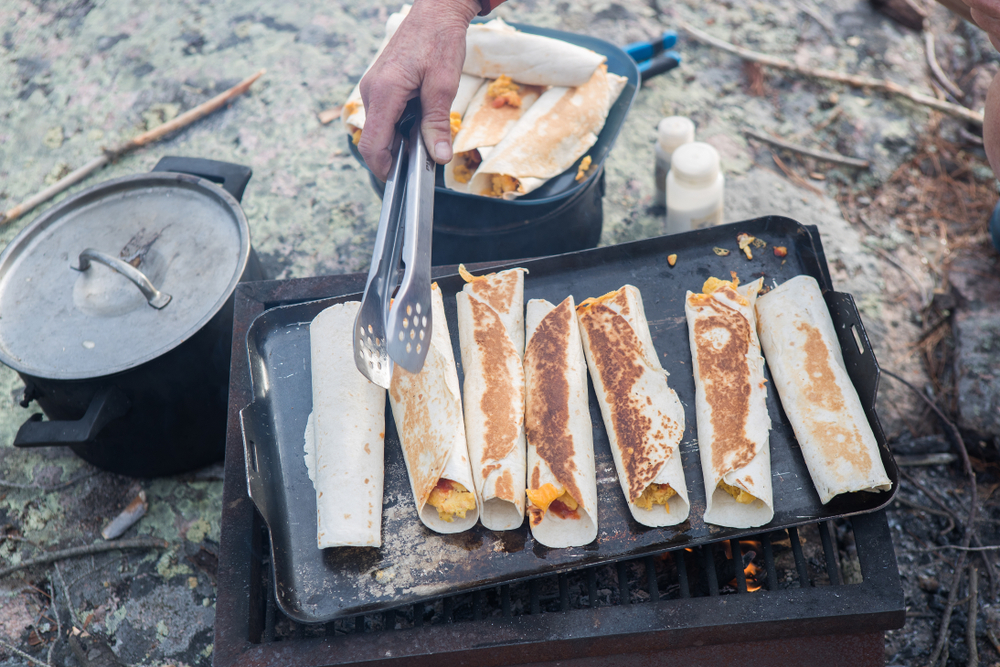 Filled with bacon, egg, potatoes and cheese- these burritos are a great way to start your day outdoors.
Campfire Breakfast Burritos
Ingredients:
Instructions:
First, add the chopped bacon to a skillet and cook until no longer raw. Then, add the potatoes and sautee for a few minutes until just tender. Now, add the whisked eggs, stirring frequently. Once the eggs are set, stir in the cheese until thoroughly mixed. Set aside.
Now, divide the egg mixture between each tortilla. Fold the ends in and roll tightly. Then, wrap each burrito in a Medallion Interfolded Foil Sheet (#2351), then into a Ziploc Gallon Bag (#1979). Store in a cooler with ice until ready to cook.
To cook, either place the foil-wrapped burritos in hot coals and cook until heated through about 10 to 15 minutes. Or, place on a camping skillet over a small fire or hot coals, cooking for a few minutes on each side until lightly browned and heated through.
Comments
Campfire Baked Brie - Alisons Pantry Delicious Living Blog - […] Camping Breakfast Burritos Campfire Queso with Naan Dippers Fire Banana Boats SharePinTweet0 Shares 0Shares Share on Facebook Share on…