Instant Pot Roast and Potatoes
With this Instant Pot Recipe, you don't have to have your Roast cooking all day- just about an hour! To us, this makes dinner more enjoyable.
Still New To The Instant Pot?
Don't worry, once you get the hang of it it will become your new favorite kitchen tool! Here are a few tips that have helped us get comfortable with our new friend. In addition, we found these Instant Pot Tips & Tricks really helpful!
Freezer meals will become your best friend. As if we didn't already love them enough, you can skip the thawing step and dump your freezer meal right into your Instant Pot to have dinner ready in no time! To go along with that, freeze your meals in round containers so they fit directly into your instant pot.
Get familiar with the different methods you can use. It can seem a little intimidating to see all the buttons and controls, but once you use it a couple times you'll feel like an expert!
Take advantage of the dishwasher safe parts. You Instant Pot comes with a few parts you'll want to get familiar with, plus some additional parts you can purchase down the road! Basically, everything but the base and lid can go straight to the dishwasher. This makes cooking AND clean up a breeze!
How long will this Pot Roast stay good?
Unfortunately, Pot Roast doesn't have a very long shelf life. It is recommended to keep it in the fridge for only up to 4 days, in an airtight container or wrapped in foil. After that, it's best to throw it out. But, if you plan ahead to save it for a later date, your roast can be stored in the freezer for 2-6 months. Keep in mind that the longer it's in the freezer, the more the flavor and texture deteriorate.
If you like this recipe, we think you'll like these: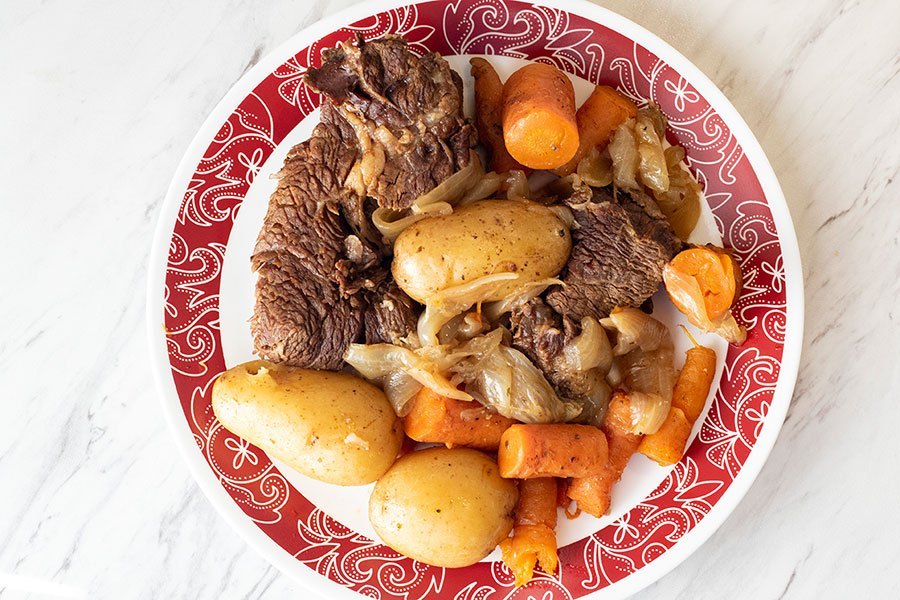 When we think of Pot Roast, instantly it takes us to Sunday dinners at grandma's house. With dinner cooking all day, you can't help but feel excited about dinner! But, with this Instant Pot Recipe, you don't have to have your Roast cooking all day- just about an hour! To us, this makes dinner more enjoyable.
Instant Pot Pot Roast and Potatoes
Ingredients:
Instructions:
Set Instant Pot to "SAUTE."
Stir together salt, pepper, and paprika. Season roast with mixture, rubbing it gently into the meat.
Allow Garlic Butter to melt in the bottom of the Instant Pot, then sear each side of the roast, cooking 2-3 minutes each.
Switch Instant Pot to "PRESSURE COOK" and add potatoes, carrots, onions, beef broth, Worcestershire, and Garlic Butter. Place lid on pot and turn to locked position. Set time for 60-80 minutes.
When done, allow to have natural release of the pressure.
Remove meat, potatoes, carrots, and onions.
Stir together water and cornstarch, then add to the liquid, and set to "SOUP." Cook until broth has thickened into a gravy.
Serve.
Adapted from: https://chefshamy.com/recipes/instant-pot-pot-roast-and-potatoes/
Comments
Kaylea's Mississippi Pot Roast - Alisons Pantry Delicious Living Blog - […] Instant Pot Pot Roast and Potatoes […]
True Lemon Spaghetti with Salmon & Basil - Alisons Pantry Delicious Living Blog - […] Instant Pot Roast and Potatoes […]