Meal of the Month: Chicken Fajitas & Rice in Foil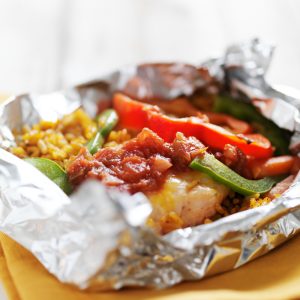 With summer heat arriving in full force, we're loving easy foil-packet meals that can be made on the grill. Not only can you avoid heating up the kitchen, but foil-packet meals make clean-up easy and can allow each person to customize their own dinner. With a few basic Alison's Pantry products from your freezer, this recipe is a snap to whip up and your dinner guests will be enjoying tender chicken with sweet peppers and savory rice in no time. These Chicken Fajita with Rice packets can be cooked in the oven or on the grill.
Find AP ingredients here: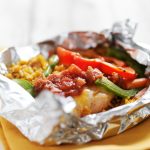 Chicken Fajitas & Rice in Foil
2018-05-29 16:52:22
Southwestern flavor all wrapped up in the convenience of foil!
Ingredients
• 4 large sheets of aluminum foil
• Vegalene
• 2 Tablespoons Fajita Seasoning Mix (#1017)
• 1 cup white Minute Rice (#1468)
• 1 cup warm water
• 4 boneless, skinless chicken breasts (#5513)
• salt and fresh ground pepper, to taste
• 2 cups Fajita Blend Vegetables (#2069)
• 1 tablespoons Olive Oil
• 1/4 cup shredded medium cheddar cheese (#1866)
• 1/4 cup shredded part skim mozzarella cheese
• lime juice
OPTIONAL GARNISHES
• sliced avocados
• sour cream
• cilantro
Instructions
Preheat oven to 400F. Spray foil sheets with cooking spray and set aside. Prepare the Fajita Seasoning Mix. Combine rice, water, and 1 tablespoon Fajita Seasoning Mix in a bowl; stir until well incorporated. Using a slotted spoon, divide the rice mixture evenly over each foil sheet. Season chicken breasts with salt, pepper, and rub with some of the Fajita Seasoning Mix. Place chicken over rice. Arrange peppers and onions on the sides of each chicken breast. Drizzle extra virgin olive oil over all the ingredients. Combine shredded cheeses and divide the cheese mixture evenly over each chicken breast. Fold the sides of the foil over the chicken, covering completely; seal the packets closed. Transfer the foil packets to a large baking sheet. Bake for 30 to 33 minutes, or until chicken's internal temperature reaches 165F. Remove from and carefully open up the foils; put the packets under the broiler for 3 to 4 minutes.Remove from broiler. Squeeze lime juice over food. Garnish and serve.
*Option- place on grill on medium-low heat for 30-45 min until chicken is cooked and vegetables are tender.
Alisons Pantry Nourish Blog http://blog.alisonspantry.com/
Comments