Mike's Hot Honey Ribs
Enjoy pork ribs with a tangy, sweet and spicy Mike's Hot Honey glaze baked to tender perfection. Finger lickin' good!
What is hot honey?
Mike's Hot Honey (#3087) is a new item in our catalogs, and boy are we glad we were introduced to it! This honey is made from 100% pure wildflower honey from American bees and infused with chilies to make an incomparable condiment. Add sweet heat to smoked meats, fried chicken and wings, sauces, baked beans, veggies, and more. It was originally crafted by a pizzeria for drizzling over pizza then sold by the bottle when it become so popular! Wondering how else to use it?
Drizzle it on pizza, fried chicken or BBQ. 
Pair with your favorite cheese and add to cocktails or tea.
Mix into dressings or marinades and even drizzle on ice cream!
Tips for the best ribs
To put it simply: low and slow is the way to go. As long as you follow this rule, you'll get tender, tear off-the-bone ribs every time.
If you want extra tender ribs, add 1/4 cup of vinegar to the water. Not only does this help tenderize, it also adds more flavor.
For moist ribs: add more sauce, cover in foil, and allow to rest before serving.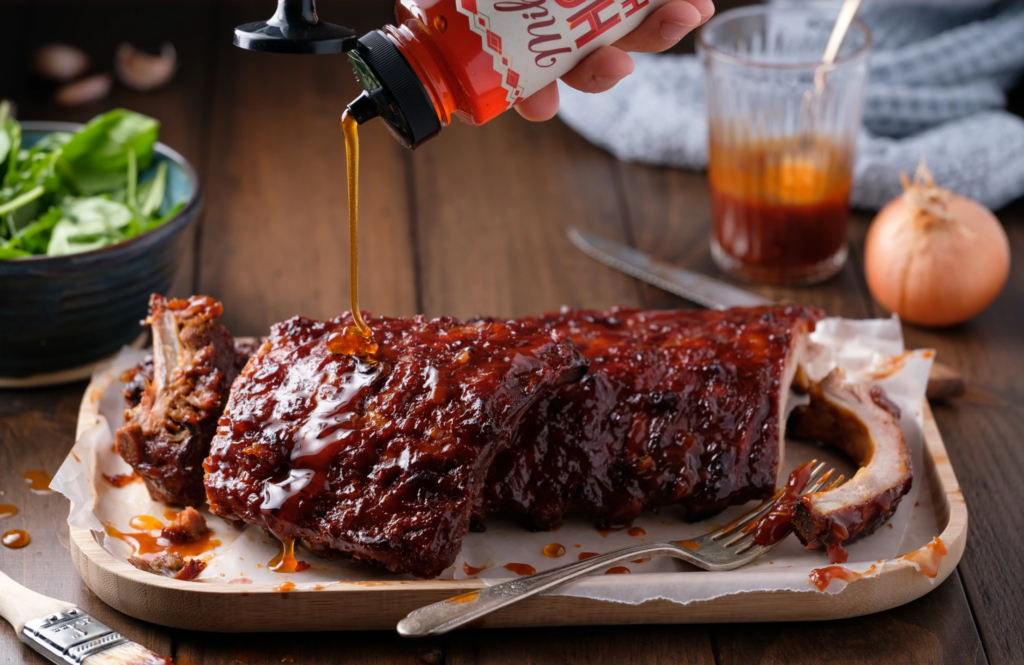 Pork ribs with a tangy, sweet and spicy Mike's Hot Honey glaze.
Mike's Hot Honey Ribs
2 lb. pork rib rack
2 tbsp vegetable oil
1 ½ cups ketchup
2/3 cups Mike's Hot Honey (#3087)
½ cup cider vinegar
½ cup Worcestershire sauce
6 tbsp fresh lemon juice
Instructions:
First, preheat oven to 350F. Put ribs in 6-8 quart pot and cover with water by 2 inches.
Bring to boil, reduce heat and simmer uncovered, skimming froth, 30 minutes.
Meanwhile, cook onion and garlic in oil over moderate heat, until onion is tender.
Next, stir in remaining ingredients and simmer sauce for 15 minutes, stirring occasionally.
Then, drain pork in colander and pat dry. Pour sauce over pork and cover dish tightly with foil. Cook for 1 hour. Then remove foil, turn pork over with tongs and cook, uncovered, until very tender, about 30 minutes. Skim fat from sauce if desired.
Remove from oven and finish with a generous drizzle of Mike's Hot Honey.
Recipe is featured in our July 2022 catalog.
If you like this recipe, try these!
Comments