Skillet Puff Pastry Chicken Pot Pie
Move over, Marie Callendar's! We've found a new way to enjoy pot pies. Skillet Puff Pastry Chicken Pot Pie uses only one pot, and is incredibly easy to assemble. Plus, with our Henry & Henry Puff Pastry Squares (#2443), you don't have to spend time making a homemade pie crust. This pot pie has diced chicken, potatoes, carrots, and peas swimming in a creamy chicken gravy topped with a flaky puff pastry crust. And, since it only uses one pan and has minimal prep work, clean up is extremely easy.
Can I change this recipe?
Absolutely! Here are a few variations to try:
Change the protein. Swap with Main St. Meats Stew Meat (#2607), chopped Golden Legacy Oven Roasted Turkey Breast (#9197), chopped Farmland Hickory Smoked Ham Steak (#5659) etc. Whatever you use instead, use the corresponding Custom Culinary Gravy.
Top with pie crust instead. Find an easy recipe here.
Use different vegetables. We suggest Flav-R-Pac 5-Way Mixed Vegetables (#1493), Flav-R-Pac Winter Mix (#6388), Simplot Flame-Roasted Corn & Jalapeno Blend (#1984), Flav-R-Pac Omelette Blend (#3216), and more. Find all options here.
Add cheese- Sartori Grated Parmesan (#2599), Tillamook Shredded Cheddar Cheese (#1866), or even a simple cheese sauce.
It would also be a great way to use Holiday leftovers- throw in chopped turkey, gravy, stuffing, green beans, etc.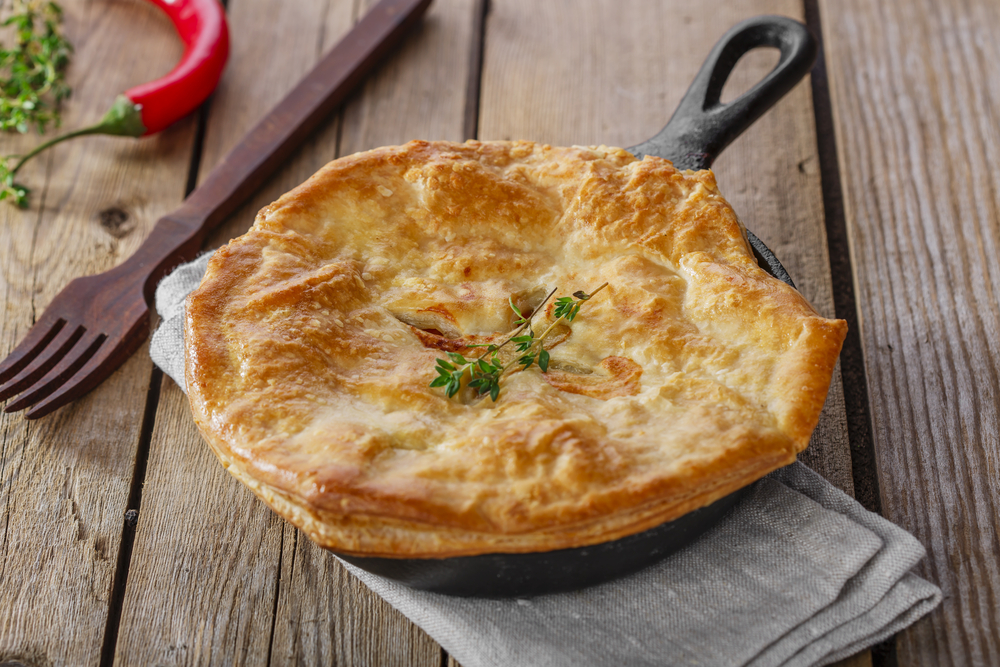 Skillet Puff Pastry Chicken Pot Pie has diced chicken and vegetables swimming in a creamy chicken gravy topped with a flaky puff pastry crust.
Skillet Puff Pastry Chicken Pot Pie
Ingredients:
Instructions:
First, preheat oven to 400F.
Then, melt the butter in the cast iron skillet over medium low heat and saute the onions, carrots, and potatoes until tender, and just browned. Add the garlic, rosemary, thyme, salt and pepper and cook for another couple of minutes. Transfer to a bowl.
Now, combine the water and gravy mix. Cook over medium heat, whisking until smooth and thickened. Add the vegetable blend back to the skillet, along with the heavy cream, peas, and chicken. And more salt and pepper as needed, and spread into a semi even layer.
Then, carefully roll the puff pastry on a floured surfaced. Place them over the filling to the edge of the skillets, using as many squares as needed to cover the top. Fold or cut any over hang, then brush with the whisked egg white. Use a fork to poke some venting holes.
Next, bake for 45-50 minutes or until golen brown. Place a Crestware Cookie Sheet (#5957) on the rack below to catch any drippings. Allow to cool slightly before serving.
Adapted from: https://www.smalltownwoman.com/skillet-puff-pastry-chicken-pot-pie/
Add these comfort food recipes to your menu!
Comments
Crock Pot Chicken Gnocchi Soup - Alisons Pantry Delicious Living Blog - […] Skillet Puff Pastry Chicken Pot Pie French Onion Pierogy Soup Crockpot Turkey Chili SharePinTweet0 Shares 0Shares Share on Facebook…