Crock Pot Chicken Gnocchi Soup
Tender potato gnocchi, chicken, carrots, celery, and spinach tossed into a crockpot with a simple creamy broth. If you're a fan of Olive Garden Gnocchi Soup or Chicken and Wild Rice Soup, this will quickly become a new favorite!
We didn't fully understand the hype with gnocchi before offering Rana Meals Solutions Potato Gnocchi (#2754) in our catalogs, and now…we totally get it! These fluffy, pillowy bites are delicious boiled for a traditional, softer bite or cooked in a skillet for a crispy texture on the outside, with a soft, tender center.
Recipe Variations
As with most recipes, there are a few variations to try:
Use fresh herbs like rosemary or thyme. Since this is cooked in a crockpot, you can leave the sprigs whole or dice it beforehand.
Swap the chicken with ground sausage for a Zuppa Toscana vibe.
Use a pre-chopped mirepoix blend to cut down on prep time.
Make it dairy free by swapping the half and half with coconut milk.
Bacon makes everything better! Chop up a few slices of Daily's Deep Applewood Smoked Precooked Bacon (#9137) and stir it in.
To make it vegetarian, simple use your favorite chicken or ground sausage meat alternative. Or, mix a firm tofu in at the end.
How long will this soup stay good?
This soup will keep for 3-4 days in your fridge, if stored in an airtight container. But, the gnocchi will get soft. So, if you're using it to meal prep, we recommend keeping the gnocchi in a separate container and mixing it together when you heat up each serving.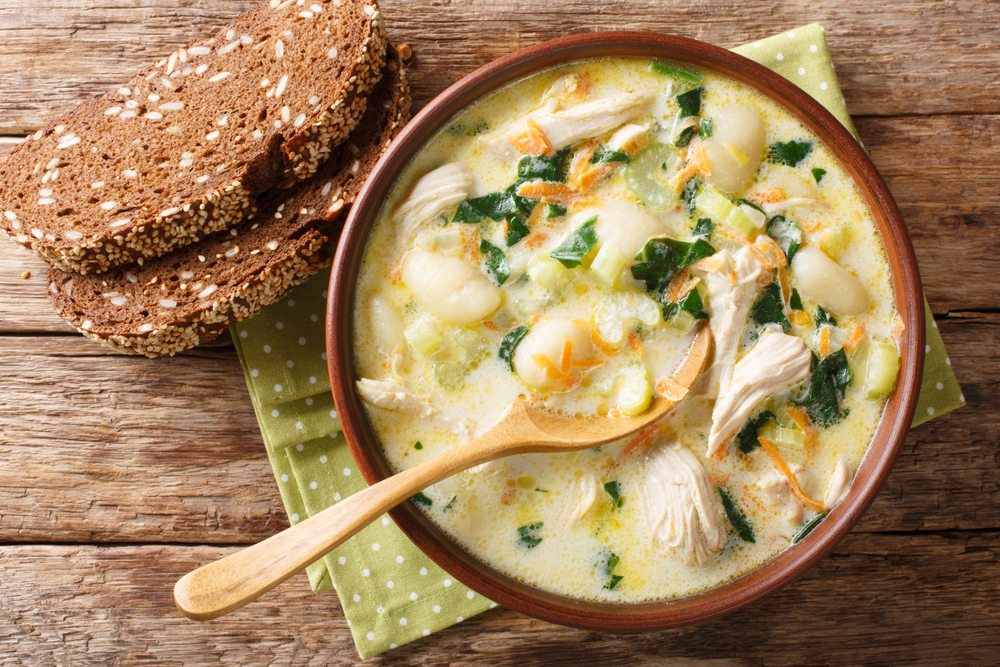 Tender potato gnocchi, chicken, carrots, celery, and spinach tossed into a crockpot with a simple creamy broth.
Crock Pot Chicken Gnocchi Soup
Ingredients:
Instructions:
First, line your crock pot with a PanSavers Slow Cooker Liner (#1089).
Next, add the chicken, carrots, onion, garlic and thyme to the pot. Season with salt and pepper, then add the chicken broth.
Now, cover and cook on low for 6 to 8 hours, or high for 3 to 4 hours, or until the chicken is tender and cooked through.
Then, remove the chicken and place on a Crestware Flexible Cutting Mat (#3840). Use two forks to shred into large bite sized pieces.
Now, whisk the cornstarch into the half and half the stir it into the soup. Add the chicken back to the pot, followed by the gnocchi. Turn head to high, stir everything together, and cover for 30 more minutes.
Then, just before serving, add the spinach and cook until just wilted. Add more salt and pepper as needed, and enjoy!
Warm up with these recipes
Comments
Detox Lemon Dill Chicken Soup - Alisons Pantry Delicious Living Blog - […] Wild Rice Soup Crock Pot Chicken Gnocchi Soup Creamy Loaded Baked Potato Soup SharePin1Tweet1 Shares 0Shares Share on Facebook…
Skillet Gnocchi with Tomatoes, Spinach & Parmesan - Alisons Pantry Delicious Living Blog - […] Crock Pot Chicken Gnocchi Soup Sheet Pan Meatball, Gnocchi and Veggie Bake Cheesy Baked Gnocchi SharePinTweet0 Shares 0Shares Share …