11 Baking Tips for More Success in the Kitchen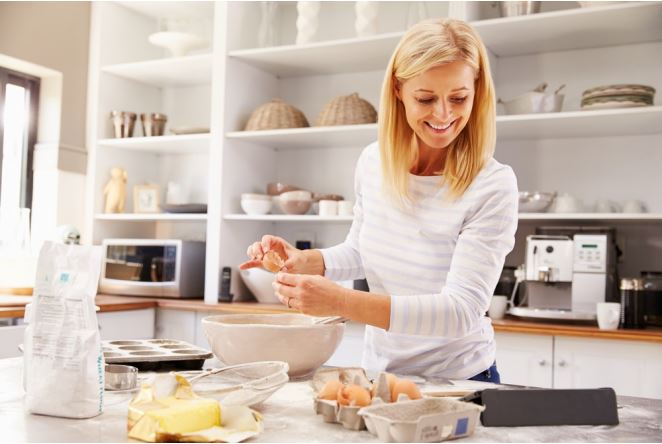 No need to hide the fact that sometimes we mess things up when we cook, too. You don't have to worry because we aren't always perfect at following recipes either, but when it comes to baking we like to play it safe!
11 Baking Tips for More Success in the Kitchen
Coat your cups and spoons with Vegalene before measuring sticky substances like honey, agave, and maple syrup.
A cookie scoop ensures even portioning, and the perfectly shaped cookie every time. Plus, it's less messy than any other dough-scooping method.
We all know the toothpick method to check if a cake is done, but we have found another way- a perfectly baked cake will spring back when pressed in the middle.
Brush biscuits, rolls, and crusts with egg wash just before baking to make them extra shiny.
Use good quality bakeware, like our USA Pans. This will help the heat conduct easier than flimsy pans, plus the nonstick coating makes for easier cleanup!
Put a marble in a cupcake pan next to the liner to make heart shaped cookies, perfect for Valentine's Day.
Soften brown sugar by microwaving it with a wet paper towel for 20-30 seconds and it will loosen right up.
For perfect cake slices; use a warm knife to cut the cake. The cake won't clump on a warm knife.
Do you love crispy on the outside, chewy on the inside cookies? Chill the dough before baking at least an hour or up to overnight. When the cookies come out of the oven, drop the pan down onto the counter. This helps the cookies flatten to the perfect thickness and settle faster.
Make sure your butter is at room temperature if that is what the recipe calls for. Having butter at the proper temperature ensures that your dough or batter, and thus your dessert, is the right texture. How do you know if it's at room temperature? It should dent easily when you press it, but shouldn't be liquid around the edges at all.
If you are using an electric hand mixer spin the bowl instead of moving the hand mixer. It takes less energy to turn the bowl than it does to move the mixer.
Our Favorite baking helps
If you like baking, try these recipes
Comments