Skillet Spinach Artichoke Dip
This gooey cheesy Skillet Spinach Artichoke Dip is perfect for entertaining, and you'll hardly be able to get it on the table before people dig in! It's an easy recipe that only takes about 30 minutes, and the best part is you won't have a sink full of dishes after!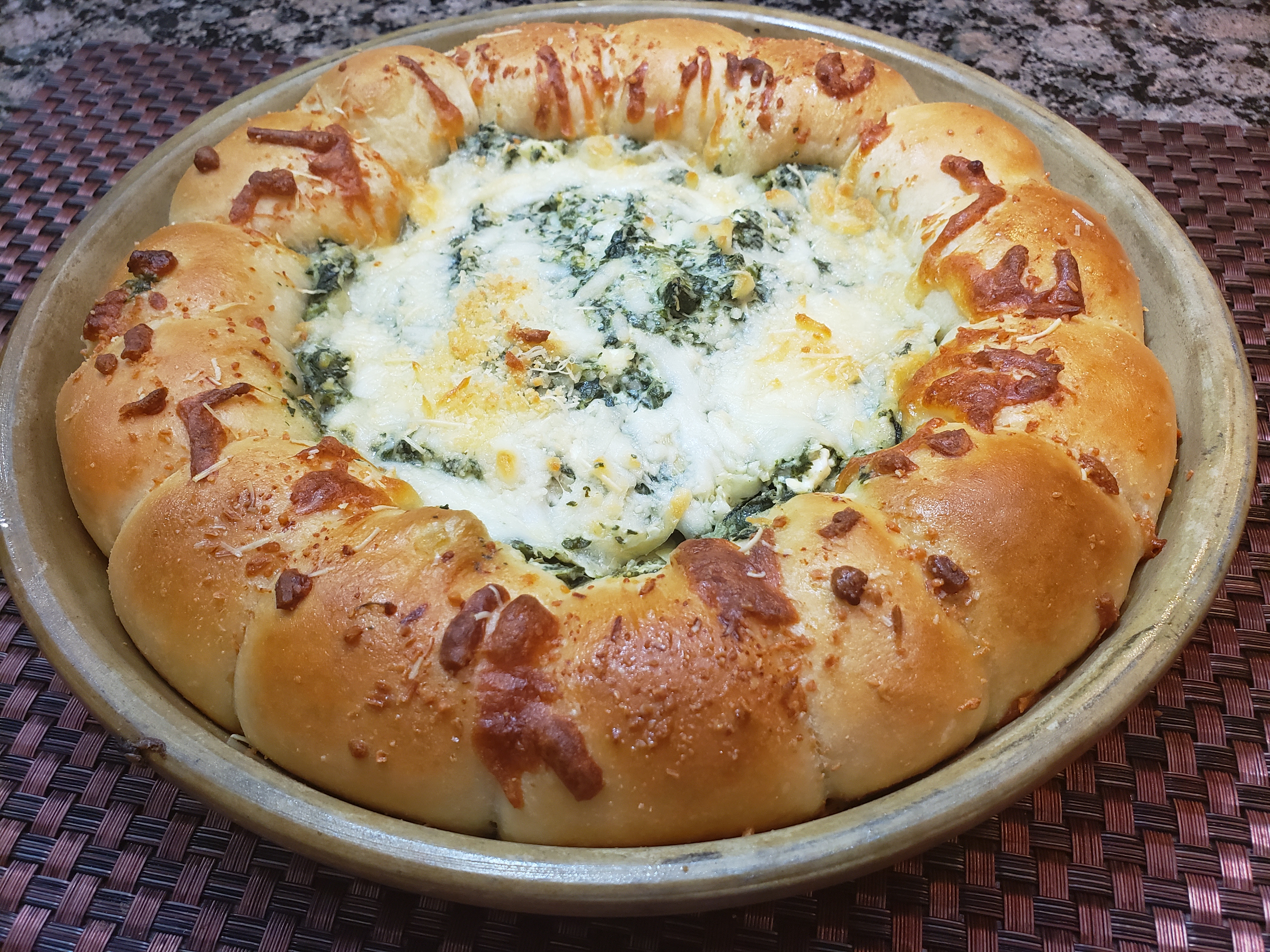 Skillet Spinach Artichoke Dip
Ingredients:
1/2 pkg (10oz) frozen Spinach (thawed and squeezed of excess moisture)
4 oz Cream Cheese at room temperature
1/2 cup Mayonnaise
1/2 Sour Cream
2 cloves Garlic, finely minced (#1289)
1 jar (5.75 oz) Marinated Artichokes, drained and chopped fine
1/4 cup Parmesan Cheese (#1683)
1/4 cup grated Romano cheese
1/2 cup grated Mozzarella Cheese
Instructions:
Grease an 8 inch cast iron skillet.
Place frozen dough pieces in a ring around the edge of skillet. Brush with melted butter and let rise in a warm area until dough pieces are puffy (the gaps should be filled in).
While the dough is rising, make dip: In a medium size bowl, mix together spinach, cream cheese, sour cream, mayonnaise, garlic, artichokes, and salt and pepper. In a smaller bowl, mix together cheeses. Add half of the cheese mixture to the spinach mixture; mix well.
Place spinach dip in the center of the risen dough ring, pushing into the edges of rolls.
Evenly sprinkle remaining cheese mixture over the dip and rolls.
Bake in a 375* preheated oven for about 30 minutes or until rolls are golden brown and the dip is bubbly.
Remove from oven and let cool until warm.
Adapted from: http://www.bridgford.com/bread/recipes/skillet-spinach-artichoke-dip/
If you love this recipe, try these appetizers…
Comments