10 Essential Spices for Every Cupboard
Whether you are still learning your way around the kitchen or you are experienced, there are a few essential spices that everyone needs to have on hand. We offer a variety of spices and blends that are restaurant quality and give you the best bang for your buck by offering HUGE savings for bulk spices.
What is the best way to store my spices?
Spices add a great flavor to our dishes, but only if they are kept fresh. It is best to store your spices in a dry and dark space so they aren't exposed to heat or moisture. Don't forget to use airtight containers! You can find our spice jars here. If you have a larger supply of spices, you can store them in the fridge or freezer for up to three years if whole, and six months if ground. Just make sure you return right after use.
How long do spices last?
So, now you have some really great basic spices in your possession. But, the major question you have is- how long will these last? Let's be honest, it's rare to be on top of throwing out spices once they go bad, unless you are a super mom. Our go-to guide for spices is smelling them. If they lose their potency, it is time to replace them. Typically, this will happen after a year or two.
Try these spices out: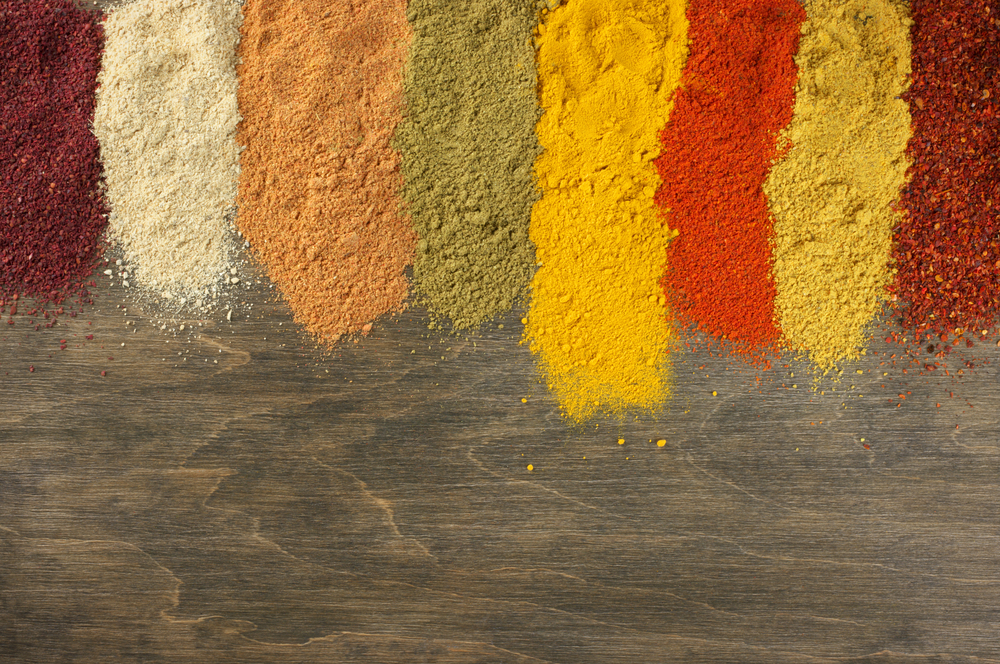 10 Essential Spices for Every Cupboard
We had a hard time coming up with this list because we use so many spices and blends, but these are our most used, most essential spices to have at all times.
Thanks to the versatility of this sea salt, it can be used for almost any cooking or baking applications. Add it to salad dressings, sauces, soups, and stir frys, or mix it into brownie, cake, and cookie batters. You can even sprinkle it on top of soups, salads, and other entrees.
Table black pepper brings a robust flavor to your soups, appetizers, sides, and entrees. In addition to being highly aromatic and flavorful, this seasoning also pairs perfectly with garlic and table salt.
Garlic powder is made from garlic cloves that have been dehydrated and ground into fine particles. The flavor is garlicky but vastly different than fresh-chopped garlic. It tastes sweeter and much less assertive than fresh garlic, but also without the caramel undertones that you get from roasted or sauteed garlic.
The powdery texture of this item makes it perfect for bread, marinades, or with your favorite vegetables. Substitute 1 tsp. of onion powder per every small onion or 1/3 cup of chopped onion a recipe calls for.
Celery is an essential ingredient of soup stocks and of the mirepoix blend of celery, carrot, and onion that is the key flavor of so many savory dishes. Rehydrate for best results.
Shake paprika over soups and salads, and of course on traditional deviled eggs. Paprika also adds milder flavor and color to chilis, soups, and stews.
Dried chopped onion is so versatile in so many recipes and no tears during prep! 1 tablespoon dried onion is equivalent to 1/4 cup minced fresh onion.
Flavor increases upon standing so remove Bay Leaves from food when cooking is completed. You can use in your favorite recipes for chowders, soups and stews, long-simmering sauces and slow cooker recipes. When preparing mashed potatoes, add 2 Bay Leaves to the cooking water. Remove before mashing potatoes.
We love cumin's rich, smoky flavor in Mexican and Indian recipes, especially on meats and beans. It also provides multiple health benefits:
-1 tsp. provides 4 milligrams of iron
-Improves blood pressure
-Kills bacteria in foods
-Store in the freezer to maintain potency.
A mild peppery blend of ground chili pepper, salt, cumin, oregano and garlic; great on meat and veggies. Brush ears of corn with a mixture of ½ c. lime juice and 1 Tbsp. chili powder before grilling. So flavorful, there's no need for butter!
Comments