Easy Keto Cashew Chicken
All the delicious flavors of Cashew Chicken, without the carbs.
Looking for More Low Carb Options?
Killing two birds with one stone, these Cauliflower Medley Meatballs would be perfect topped on our Cauliflower Mash. Serve with your favorite side of veggies, and you have a meal full of color and flavor!
So, since we love breakfast around here, this savory Sweet Potato Bacon Hash speaks to us on so many levels. A lot of the ingredients can be swapped out, so don't feel limited to the ingredient list provided.
Now, if you're craving Taco Tuesday, not on Tuesday, don't fret- these Butternut Squash and Black Bean Enchiladas will satisfy your cravings.
Not sure how to serve it?
Don't worry, we're here to help! There are plenty of delicious ways to serve this Keto Cashew Chicken. First, try serving it over your choice of riced veggies. But, if you want to take it up a notch, try turning your riced veggie into fried rice! Another option we love is to serve this chicken over zoodles. Veggies galore! Now, if you aren't on the low carb train, simply serve this dish over rice (#1468) or yakisoba noodles.
How long will this meal last?
Typically, cooked chicken lasts about 3-4 days in the fridge. But, if you want to save some for a not-so-future date, just put the left over Cashew Chicken into an air-tight freezer container to dig into later.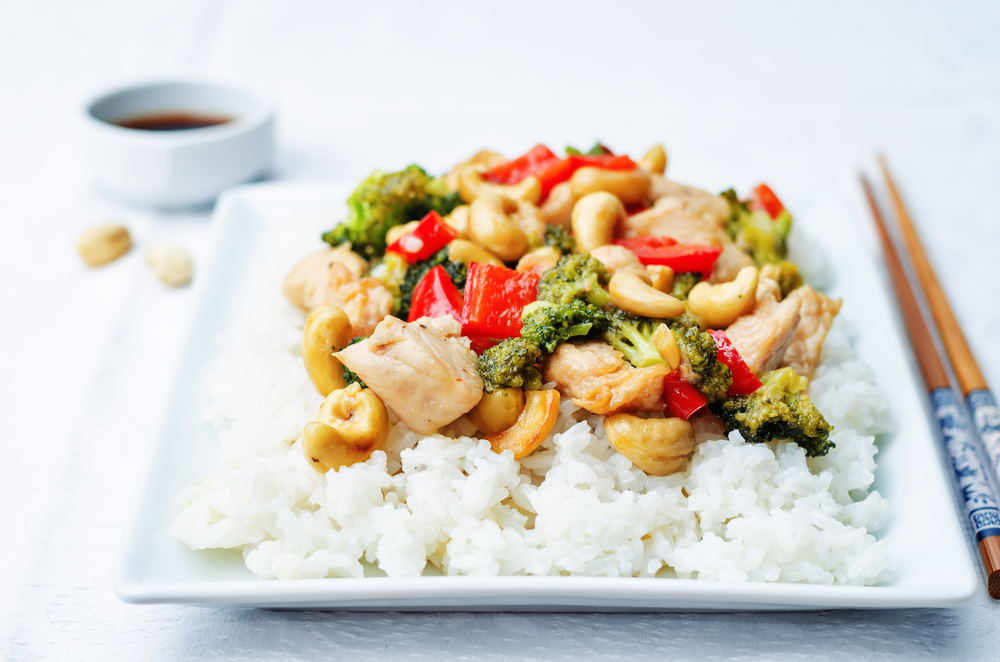 All the delicious flavors of Cashew Chicken, without the carbs. Just serve over your choice of riced veggies, or zoodles to stay low carb.
Easy Keto Cashew Chicken
Ingredients:
Instructions:
Heat a pan over low heat and toast the cashews for 8 minutes or until they start to lightly brown and become fragrant. Remove and set aside.
Dice chicken thighs into 1 inch chunks. Cut onion and pepper into equally large chunks. (Ignore this step if using our precut products)
Increase heat to high and add coconut oil to pan.
Once oil is up to temperature, add in the chicken and allow them to cook through(about 5 minutes).
Once the chicken is fully cooked. Add in the pepper, onions, garlic, chili garlic sauce and seasonings (ginger, salt, pepper). Cook on high for 2-3 minutes.
Add liquid aminos, rice wine vinegar, and cashews. Cook on high and allow the liquid to reduce down until it is a sticky consistency, There should not be excess liquid in the pan upon completing cooking.
Serve in a bowl, top with sesame seeds and drizzle with sesame oil. Enjoy!
You can serve over Cauliflower Rice (#2743) or Uncle Ben's Jasmine Rice (#1152)
Adapted from: https://www.ketoconnect.net/easy-cashew-chicken/
Comments