Chocolate Chip Blondies
So, what exactly are blondies? They are pretty similar to brownies, but use brown sugar rather than cocoa. Blondies have a sweet caramel or butterscotch flavor that is to die for.
Additional add ins:
If desired, add 1/2 to 1 cup of any of the following to your mix:
How long does this recipe last?
To be honest, this recipe doesn't last more than a day at our house. Wait, that isn't what you wanted to know? Oh..Well, in that case, they will be good for 3 to 4 days. Simply cover with plastic wrap (#6127) to prevent from drying out. In addition, you can freeze for up to 4 to 6 months. Just wrap tightly in foil (#1963) or place in a freezer bag (#1979).
Satisfy your sweet tooth with these recipes: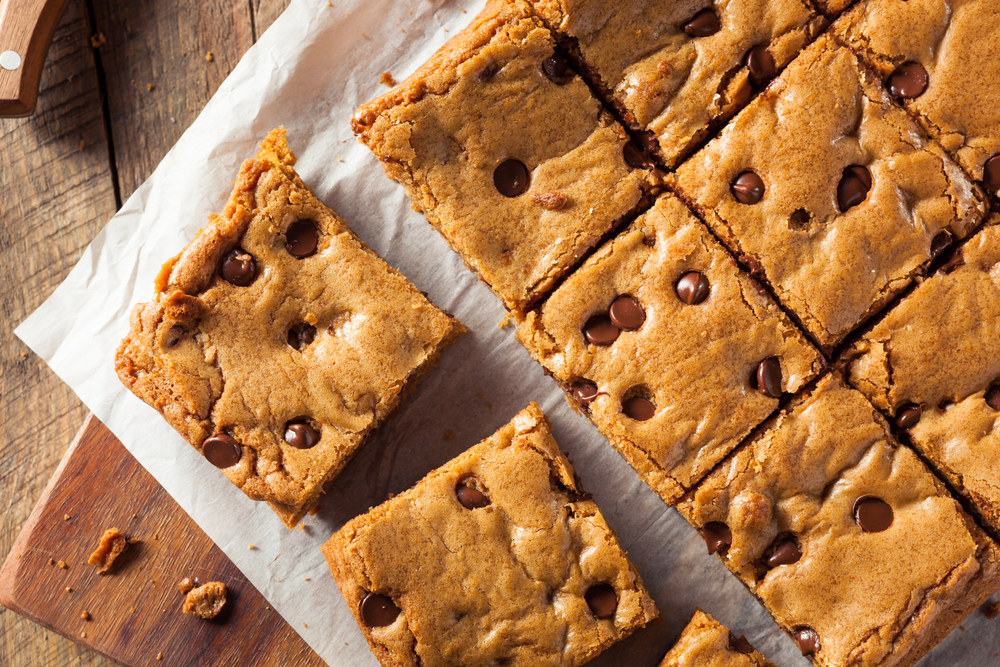 These Chocolate Chip Blondies will become a favorite for any movie binging weekend. They are rich and chocolaty and delicious.
Chocolate Chip Blondies
Ingredients:
Instructions:
First, heat oven to 350 degrees Fahrenheit. Line an 8″x8″ baking pan with aluminum foil (#1963) or parchment paper (#1153).
In a medium bowl, stir melted butter and brown sugar until blended. Add the egg, vanilla, almond extract (optional) and salt then stir vigorously until smooth.
Then, when the batter looks well blended, add the flour and stir until fully incorporated, then beat with the wooden spoon or spatula for 40 to 50 strokes. (The batter will be quite thick). Beat vigorously here. You want to see the batter pulling away from the sides of the bowl.
Next, fold in the chocolate chip, nuts or dried fruit (if using). Spread the batter evenly in lined pan and bake 20 to 25 minutes until the edges look browned, but the middle looks slightly underdone (the middle will continue to cook while it cools). Place the pan on a wire rack and let the blondies cool in the pan. Cut into 16 squares.
Adapted from: https://www.inspiredtaste.net/23801/no-fail-blondies-recipe
Comments