Dirty Mashed Potatoes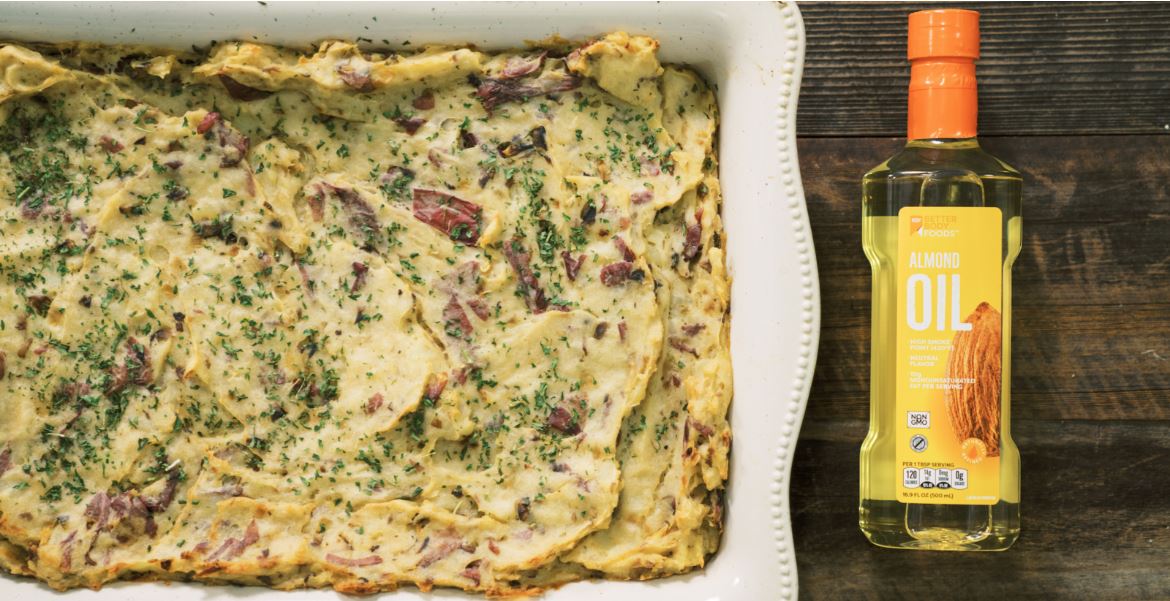 What can Almond Oil be used for?
Almond Oil is great for mixing with just about whatever you want to eat. It is a clean, neutral-flavored oil to use in high heat (up to 420 degrees F) for frying, baking, and marinades. In addition, Almond Oil can also be used in frozen treats, or for your homemade face masks for a night in. Because it is non-GMO and gluten-free, all of our friends can enjoy it!
What To Pair Mashed Potatoes With
We love to pair our mashed potatoes with a side of Brussels Sprouts, Sourdough bread with Garlic Supreme Butter, and a nice Ribeye Steak or salmon. In addition to that, leftover mashed potatoes can be used to make Shepherd's Pie, Quiche with a Potato Crust, and many other casserole dishes.
Tips for the Best Mashed Potatoes
First, be aware of what kind of potatoes you use. Yukon Gold Potatoes are one of our favorites to use, but we don't always have them on hand.
An important part is to taste frequently. Check the taste after every ingredient and make sure you use plenty of salt and fats to get the flavor you want.
So, what's next? Another great tip is to use a potato masher, and not a food processor. Starchy foods don't like to be handled too much, and no one like gooey mashed potatoes.
Last, mashed potatoes are best fresh. Be sure to plan the rest of your meal accordingly. It is helpful to prep the ingredients so you can whip up those delicious potatoes without stress.
These seasoned mashed redskin potatoes have healthy ingredient swaps yet still keep their rich, creamy results that we all love.
Dirty Mashed Potatoes
Ingredients:
Instructions:
Preheat oven to 350°F.
Fill a large pot halfway with water and bring to a boil. Add potatoes and boil until soft, about 20 minutes.
While the potatoes are cooking, heat almond oil in a sauté pan. Add onion and cook on high heat for a few minutes. Add garlic and mushrooms. Saute for about 5 – 7 minutes, stirring frequently.
Drain potatoes and add to a large mixing bowl. Add vegan butter and milk and beat for 1-2 minutes.
Add onion and mushroom mixture and beat until combined. Place in a large casserole dish, cover and bake for 30 minutes. Uncover and bake for an additional 15 minutes.
CALORIES 304 – FAT 8G – PROTEIN 7G – CARBS 55G – FIBER 5G – SERVES 10
Adapted from: https://www.betterbodyfoods.com/recipes/dirty-mashed-potatoes/
Comments