Feta and Herb Crusted Salmon
How long does it last?
Sadly, this delicious salmon doesn't last for very long. To be safe, keep in an airtight container the fridge only 1 to 2 days after cooking. You'll be surprised to have any leftovers of this delicious meal!
Detectable Sides
Feta and Herb Crusted salmon is definitely the main attraction in this meal, but don't let that stop you from enjoying other dishes to complete the meal!
More Fishy Meals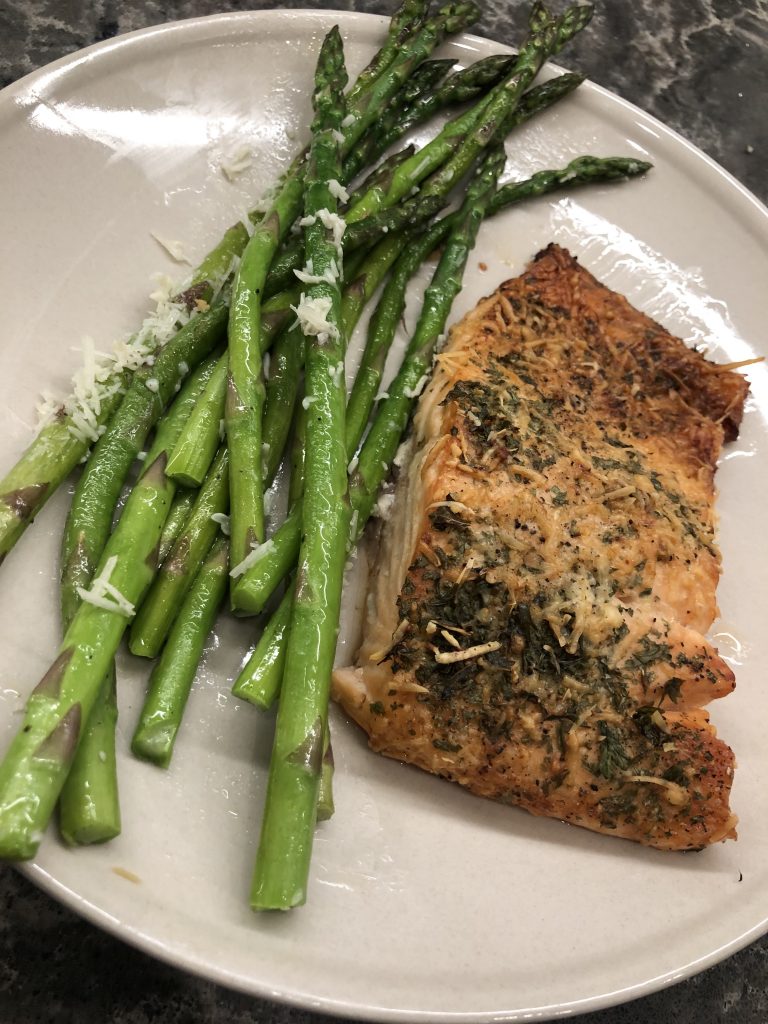 This Feta and Herb Crusted Salmon uses ingredients we always have on hand, and is a mess-free meal ready in under 30 minutes!
Feta and Herb Crusted Salmon
Ingredients:
1/2 cup *Feta Cheese
1/4 cup chopped fresh parsley – rough chopped you will finish chopping with Feta
2 tbsp chopped fresh chives – rough chopped you will finish chopping with Feta
Juice from half a lemon
1/8 tsp salt (#1146)
Instructions:
Preheat oven to 400 degrees.
Line baking sheet with parchment (#1153) or foil (#1963) for easy clean up.
Combine parsley, chives, Feta, lemon, salt and pepper on cutting board.
Run knife through it several times, chopping up all ingredients to mix.
Spread on fillet.
Bake for 20 minutes or until cooked through.
Serve!
Recipe notes:
Thaw the salmon if it is frozen
If you're looking for an easier option, try using our Chef Shamy Lemon Dill Finishing Butter (#8879) in place of the herbs and lemon juice. Depending on what flavor you like, you can still add some fresh lemon juice as well.
While this recipe calls for Feta, we used Fresh Parmesan and it turned out great!
Adapted from: https://laughingspatula.com/feta-and-herb-crusted-salmon/
Comments