English Muffin Breakfast Sandwich
English Muffin Breakfast Sandwiches are a family favorite. These sandwiches are stacked with egg, cheese, and Canadian bacon on a toasted English muffin. They're great for a quick breakfast, or stocking up the freezer for busy school mornings.
Turn it into a freezer meal!
Once you have your English Muffin Breakfast Sandwiches assembled, wrap each sandwich in AP Parchment Paper (#1153) or Medallion Interfolded Foil Sheets (#2351) and place in a freezer safe container or a Ziploc Gallon Freezer Bag (#1979). They can be frozen for about a month. To reheat, simply microwave for 1 minute, flip, and microwave for 30 seconds or until heated through.
*If you plan on freezing, we recommend cooking the eggs for less time than you would if eating right away. Otherwise, when they're heated up, the egg will be overcooked.
Change up the fillings!
The easiest way to change this recipe is by changing the protein. Try stacking these in addition to what's in the recipe, or swap toppings out.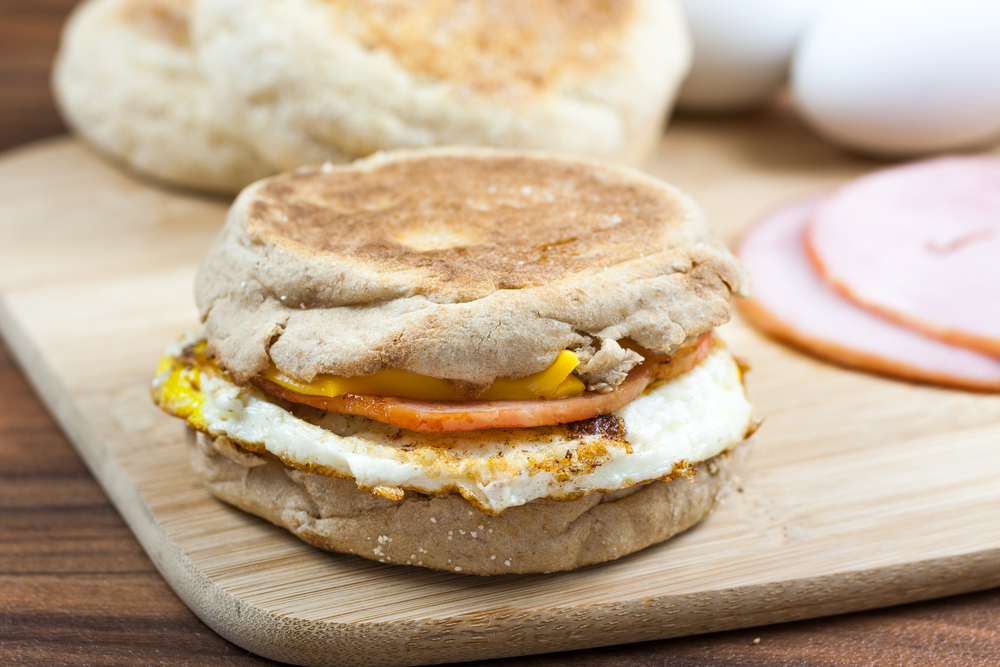 Breakfast sandwiches stacked with egg, cheese, and Canadian bacon on a toasted English muffin.
English Muffin Breakfast Sandwich
Ingredients:
Instructions:
First, preheat oven to 350F. Then, butter the inside of the english muffins. Place on a Crestware Cookie Sheet (#4020) lined with a Crestware Silicone Baking Mat (#8436) and bake until golden brown. Flip, and cook a few more minutes.
Meanwhile, preheat a skillet over medium heat. Add butter, then crack an egg into an egg ring (a silicone cookie cutter, mason jar lid, etc. will also work). Season with salt and pepper, pour a bit of water around the egg, and cover with a lid. Allow to steam cook for about three minutes or until it is cooked to your liking. Carefully remove the egg and place onto prepared english muffin, and repeat.
Now, cook the canadian bacon for a minute on each side, until lightly browned, and place on top of the egg. Then, top with a slide of cheese and the top half of the english muffin, and dig in!
Try these for freezer meals!
Comments