Keto-Friendly Thanksgiving Sides
If you are planning on sticking to your Keto diet during the Holidays, here are some recipes to try including Cauliflower Mash and Bacon Brussel Sprouts. You will hardly feel like you are missing out with these delicious low-carb sides.
Keto-Friendly Thanksgiving Sides
We promise these Bacon Wrapped Brussel Sprouts with Balsamic Mayo Dip will be one of the best appetizers you will ever have.
This delicious low carb Cauliflower "Mac" and Cheese is ready under 30 minutes and is great for Keto, Gluten-Free, or Vegetarian friends.
Puff Pastry Wrapped Asparagus– just take out the pastry!
Garlic and Bacon Green Beans (see recipe below!)
You'll hardly feel like you're missing out with our light and fluffy Cauliflower Mash.
This easy Keto Gravy will be delicious poured over your turkey, potatoes, and keto stuffing.
No one has to know these delicious Deviled Eggs are Keto!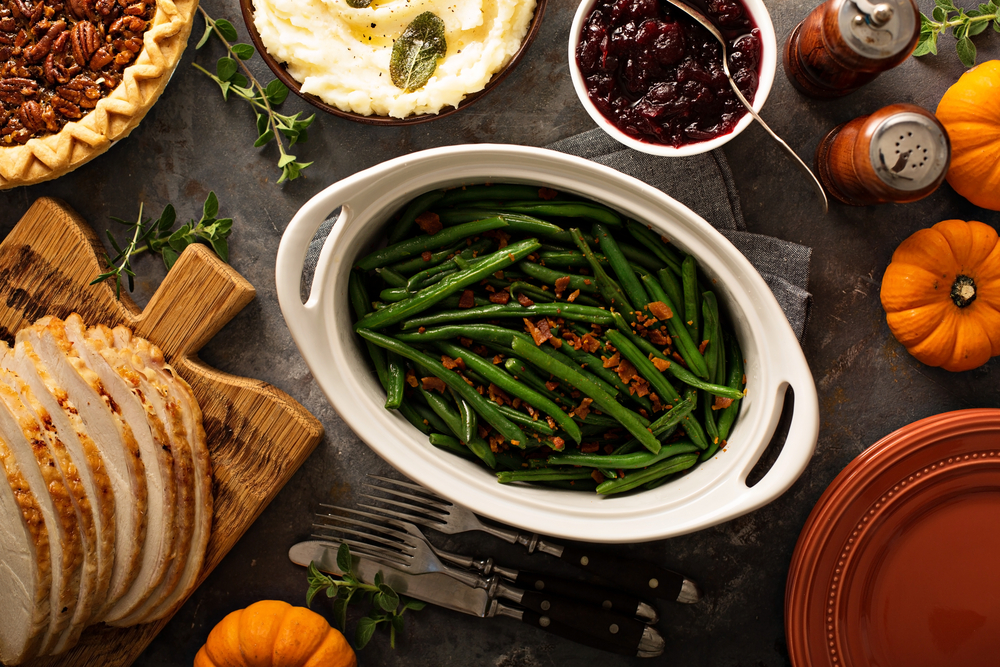 Although Garlic and Bacon Green Beans aren't your traditional "casserole", they are still delicious! We love that this dish is allergen-friendly, and are a great option for our Keto friends, too. Plus, it's ready in less than 10 minutes!
Garlic and Bacon Green Beans
Ingredients:
Instructions:
To begin, bring a large pot of water to a boil and add the green beans. Season with the salt. Allow to cook on medium-low for 5 minutes before draining the beans.
Then, heat the olive oil and butter in a large pan. Saute the minced garlic for about 30 seconds, then add the chopped bacon and green beans. Saute for about 1 minute and stir together the ingredients, then remove from heat to serve.
Adapted from: https://juliasalbum.com/garlic-and-bacon-green-beans/
Comments
Thanksgiving Recipe Roundup - Alisons Pantry Delicious Living Blog - […] Garlic and Bacon Green Beans aren't your traditional "casserole", they are still delicious! We love that this dish is…