Mini Hasselback Potatoes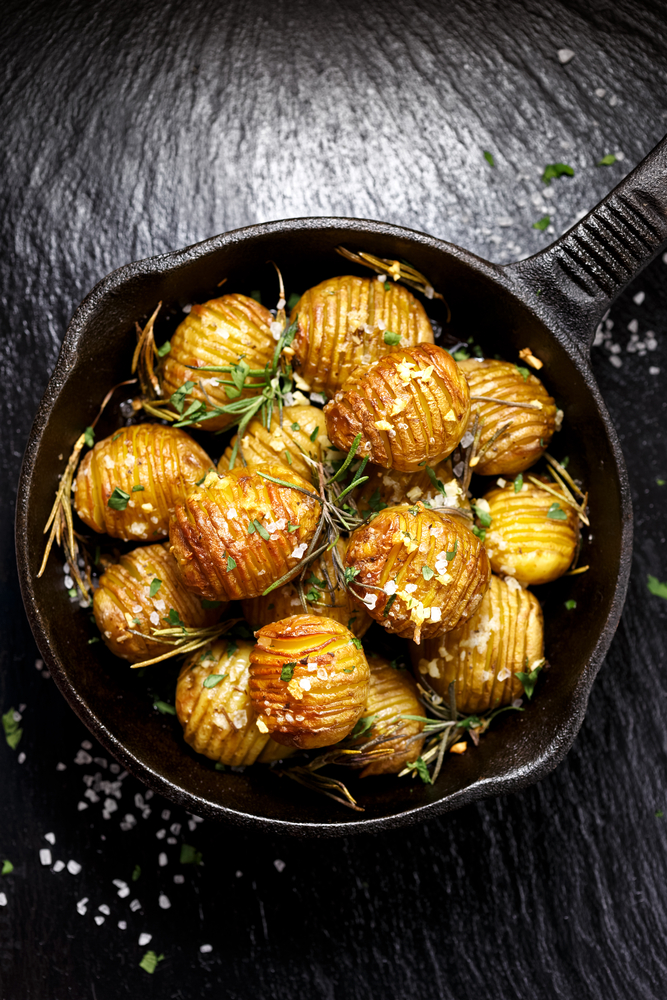 These Mini Hasselback Potatoes are perfect for any side dish or appetizers, and will always leave your guests begging for more!
Side or Appetizer?
We love Mini Hasselback Potatoes as a side AND an appetizer! Some other spice variations we love for a side dish are Garlic Parmesan or Crispy Loaded Hasselback Potato Bites. In addition to that, any of our spice blends would be delicious! Some of our favorites include Garlic Supreme, Rosie's Ranch Dressing, and Italian Seasoning. As far as an appetizer, we love dipping them in our favorite dips! Whether it be Popeye's Dip or Onion Dip, these Mini Hasselback Potatoes are delicious.
More Appetizers We Love
Mini Hasselback Potatoes
Ingredients:
For the potatoes:
For the dip:
Instructions:
Preheat oven to 425 degrees F.
Set two chopsticks (or any thin piece of wood) on both sides of the potato. Cut slits into the potatoes that are approximately 1/8 of an inch apart, but make sure you do not cut all the way through. The chopsticks will help with this.
Place sliced potatoes in a bowl. Mix with olive oil and a generous amount of salt and pepper.
Place cut side up onto a parchment (#1153) covered cookie sheet (#4020).
Roast for approximately 60 minutes, or until potatoes are tender and golden brown on the outside.
Meanwhile, make the dip by mixing the Dilly dip seasoning, sour cream, and mayo together.
Serve the potatoes warm with the dip on the side or on top.
If you want a crispier, more decadent potato: halfway through baking, you can brush them with more olive oil or even some melted butter, so it seeps into the crevices a bit more
Adapted from: https://www.bowlofdelicious.com/mini-hasselback-potatoes/
Comments
The Pioneer Woman Holiday Bacon Appetizers - Alisons Pantry Delicious Living Blog - […] we love these Mini Hasselback Potatoes because they are super tasty, and can be served as an appetizer or a…
Bacon Wrapped Brussels Sprouts with Balsamic Mayo Dip - Alisons Pantry Delicious Living Blog - […] Mini Hasselback Potatoes […]