Cauliflower Breadsticks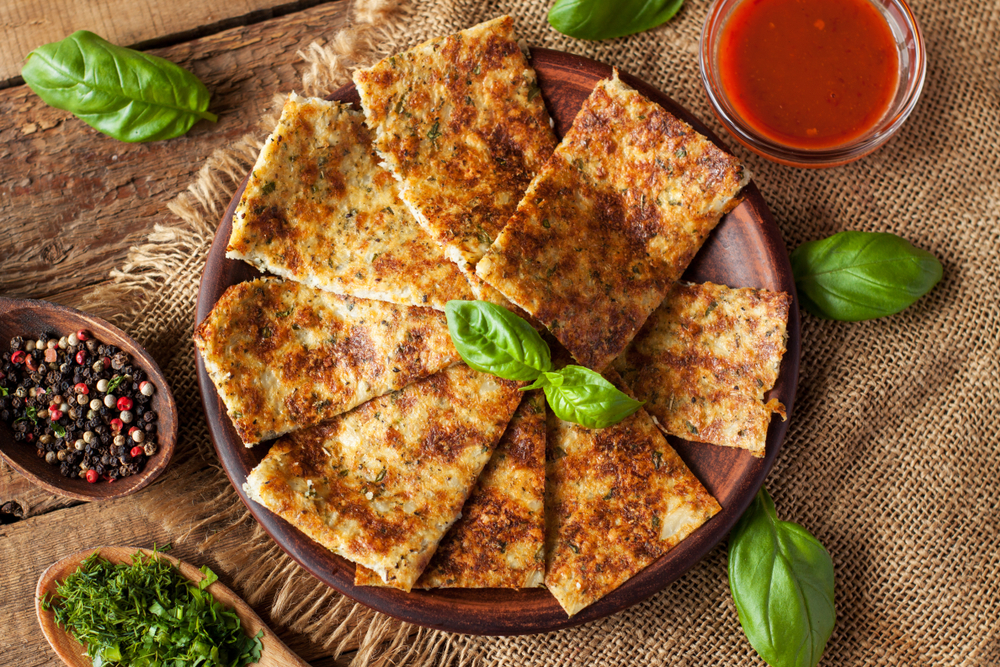 Looking for a healthy alternative to carbs to pair with your Italian meals? It's hard to give up chewy breadsticks to mop up the leftover marinara sauce from a spaghetti dinner. This Cauliflower Breadsticks recipe offers a delicious, healthier substitute with riced cauliflower as the base.
Cauliflower Breadsticks
Ingredients:
Instructions
1. Preheat oven to 425°F and line a baking sheet with parchment paper or a silicone baking mat.
2. To rice the cauliflower I cored it and broke it into florets. Then I placed it in the bowl of my food processor and pulsed until it was the texture of rice.*
3. In a large bowl, mix the riced cauliflower, 1/2 cup shredded Mozzarella cheese, 1/2 cup Parmesan cheese, 1 egg, 1/2 tablespoon garlic, 1/2 tablespoon fresh basil, 1/2 tablespoon fresh parsley, 1 teaspoon salt, and 1/2 teaspoon black pepper until combined and holds together. Place the mixture onto the lined baking sheet and spread out into a rectangle about 9×7″ and 1/4″ thick.
4. Bake in the preheated oven for 10-12 minutes. Remove from oven and top with 3/4 cup shredded Mozzarella cheese and return to oven to continue baking until the cheese is melted and starting to brown. Cool about 10 minutes and cut into 'breadsticks'. Garnish with fresh herbs and Parmesan cheese. Serve with your favorite Red Sauce and enjoy!
*If you are using the Riced Cauliflower rather than making your own, Step 2 does not apply.
Adapted from: https://realhousemoms.com/low-carb-cauliflower-breadsticks/
Comments