Pumpkin Chocolate Chip Cookies
Can this recipe be made gluten-free?
Yes! As it stands, the only adaptation you would need to make for this recipe to be gluten-free is to swap the flour for our Bob's Red Mill Gluten Free 1 to 1 Baking Flour. In fact, it is easy to make this recipe vegan (dairy-free)! Simply sub your butter with a dairy-free alternative, and use semi-sweet chocolate chips (#1305) rather than milk chocolate.
How long do these cookies last?
If you added any dairy products to your cookies, it is best to store them in the fridge to prevent food poisoning or other bacterial problems. If you aren't planning on eating all the cookies within a few days, then store them in the freezer for 3-6 weeks if it is a moist cookie (rather than crisp).
Have you tried our Pumpkin Chocolate Chip Cookie Mix?
Trust us, you won't regret it. Everyone will think you slaved away for hours making these delicious Pumpkin Chocolate Chip Cookies, but really- it's a quick treat! Just mix 2 1/2 cups mix (#1966), 1 cup canned pumpkin, and 1/3 cup oil. Then bake as directed on the package.
For another great recipe using this product, try this Easy Banana Bread with the Pumpkin Chocolate Chip Cookie Mix. First, purée 4-5 ripe bananas, about 2 cups. Second, add to 2 cups mix, then add 1/2 chopped nuts- if desired. Then, mix all together. Third, spoon into two mini loaf pans. Bake at 350° for 40-50 min. or until a toothpick comes out clean. Your family will eat them up. Chocolate gives a different twist to an old favorite.
If you like this recipe, check these out: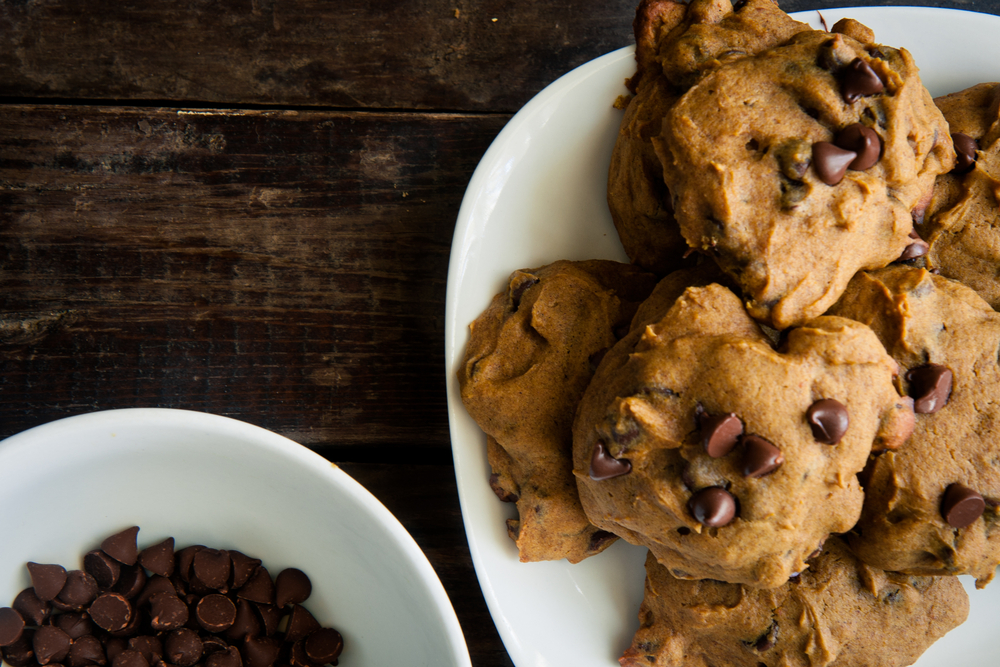 The traditional chocolate chip cookie gets a boost with the addition of pumpkin – making these Pumpkin Chocolate Chip cookies the perfect anytime treat!
Pumpkin Chocolate Chip Cookies
Ingredients:
Instructions:
First, preheat oven to 375° F
Combine flour, baking soda and salt in a medium bowl. Beat butter, brown sugar, granulated sugar and pumpkin spice. Add pumpkin, egg and vanilla extract. Stir in flour mixture. Stir in chips and nuts.
Then, drop dough by #40 scoop or spoon onto cookie sheet lined with AP Parchment Paper (#1153).
Bake at 375° F for 10-12 minutes. Don't over bake.
Makes approx. 30 cookies. Good frosted with cream cheese frosting.
Adapted from: https://www.verybestbaking.com/recipes/146208/pumpkin-chocolate-chip-cookies
Comments
Pumpkin Nut'n Chocolate Chip Bread - Alisons Pantry Delicious Living Blog - […] Pumpkin Chocolate Chip Cookies […]