Shrimp Alfredo
Whether it's a warm summer afternoon or cool autumn evening, alfredo hits the spot. This dish is made up of fettuccine and shrimp smothered in a creamy homemade alfredo sauce. But, you can swap out the shrimp for another protein like Main St. Meats Chicken Breast Strips (#2609) or Pacific Seafood Atlantic Salmon Portions (#8669).
Serve easy sides!
Shrimp Alfredo is a relatively easy dish to make, so keep the whole meal simple with these sides.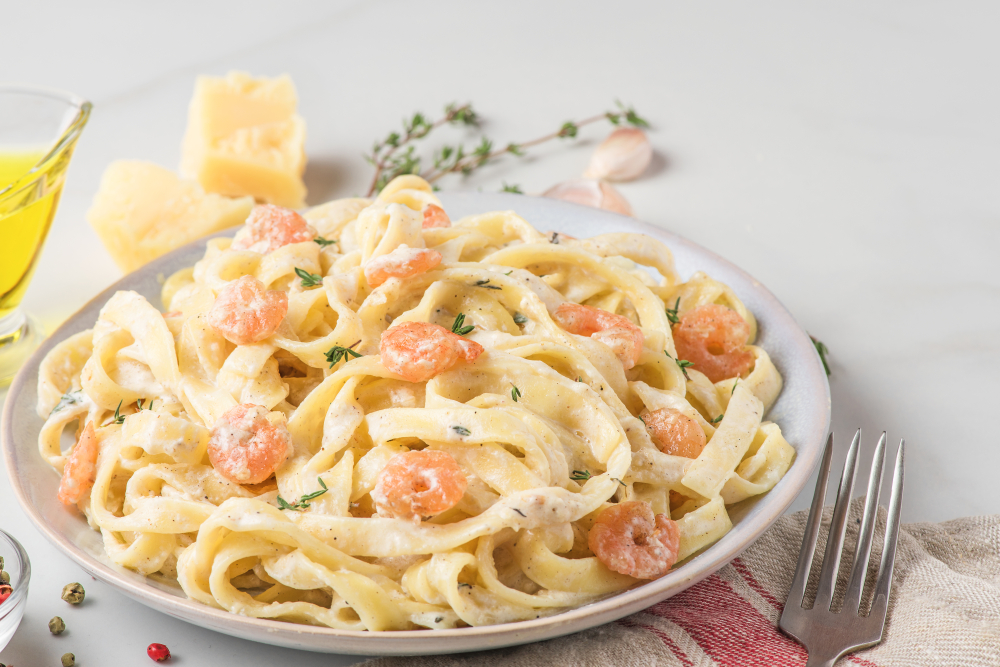 Fettuccine and shrimp smothered in a creamy homemade alfredo sauce.
Shrimp Alfredo
Ingredients:
Alfredo Sauce:
Instructions:
First, melt the butter in a deep frying pan over medium heat. Add the shrimp, salt and pepper and cook for two minutes, stirring occassionaly. Then, add the garlic and cook an additional two minutes, or until the shrimp is pink and opaque. Transfer to a bowl and set aside.
Now, start the sauce by mixing the butter and whipping cream in the same deep pan. Allow to simmer for 2 minutes, then whisk in the seasoning. Add the parmesan cheese and mix until completely melted.
Meanwhile, bring salted water to a boil. Add the fettucine and cook until done to your liking. Drain the noodles and rinse with cold water.
Next, toss the noodles and shrimp in the alfredo sauce. If desired, top with fresh thyme. Enjoy!
More pasta recipes you'll love
Comments