Homemade Hamburger Helper
We can feel the start of fall with crisp mornings, which makes us crave all the comfort food. Enter Homemade Hamburger Helper: ground beef, sauteed onions, and precooked macaroni in a delicious sauce. A hearty meal ready in under 20 minutes!
Easy side dishes:
Since this is a hearty meal, we like to keep the sides simple- if we even serve any! Just serve with a side of sauteed veggies and a slice of bread or a fresh roll. Here are a few of our go-to veggie blends that are wonderful sauteed in Chef Shamy Garlic Butter (#8124):
Looking for more skillet meals?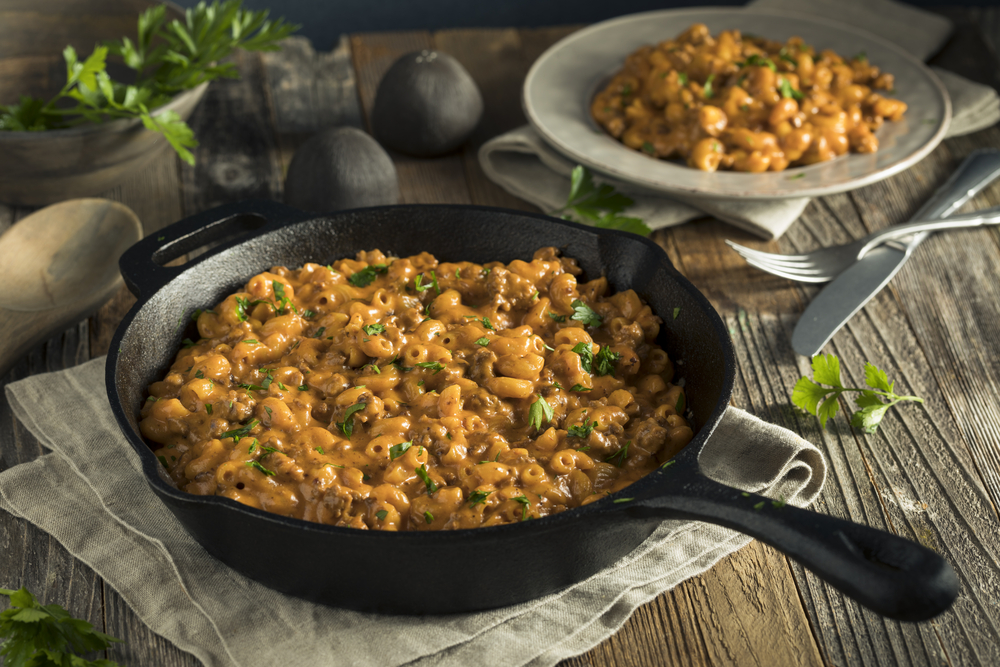 A hearty Homemade Hamburger Helper Skillet ready in under 20 minutes! Serve with a side of veggies and bread.
Homemade Hamburger Helper Skillet
Ingredients:
Instructions:
First, saute the ground beef and onions. Drain any excess grease, then add the seasonings.
Now, mix in the milk, broth and tomato paste. Bring to a boil, then reduce to a simmer. Cook until the pasta is heated through, about 10 to 30 seconds.
Then, add the cheese and mix until melted. Serve hot.
*If using Beef Crumbles, simply heat through with the onions, then follow the directions as listed above.
Adapted from: https://www.countrysidecravings.com/homemade-hamburger-helper/
Comments
Risotto w/Peas, Carrots & Chicken - Alisons Pantry Delicious Living Blog - […] Homemade Hamburger Helper […]