Snow, Sweaters, and Soup: Cozy Meals in a Mug
Nothing cures the winter blahs like curling up in a warm sweater with a delicious mug of soup in your hands while watching the snow fall. Warm up on the chilliest of winter nights with these cozy meals in a mug.
Broccoli Cheddar Soup Loaded with Vegetables
Ingredients
Instructions:
In a large heavy pot over medium heat, fry the bacon until chewy-crisp. Set bacon on a paper towel-lined plate to cool, and then crumble or chop into small pieces.
While bacon is frying, place a medium saucepan on another burner. Add 3 cups of the chicken broth and bring to a boil over high heat. Turn heat down to medium-high. Carefully add potatoes and cook for 10 minutes. Then add the cauliflower and cook for 5 minutes more. When both the potatoes and cauliflower are fork tender, remove saucepan from heat. Let sit for 10 to 15 minutes, to cool just a bit. Then transfer to the container of a powerful blender and puree until silky smooth. Pour mixture back into saucepan. No need to wash the blender container – you'll use it one more time yet!
Remove all but two tablespoons of bacon fat from the large pot, and then add the butter. Return the pot to medium heat. Once butter is melted, add onion and garlic, stirring occasionally until onion is nicely softened. Stir in flour and cook for 3 to 4 minutes, stirring occasionally. Then slowly whisk in the half and half until smooth. Add the remaining 2 cups of chicken broth and bay leaf, and bring to a simmer. Reduce heat to medium-low and cook until slightly thickened. This should take 10 minutes or so.
Add broccoli and carrots to the broth mixture in the large pot. Simmer for about 15 to 20 minutes, or until broccoli and carrots are tender. Remove bay leaf. Ladle half of the soup mixture into blender container and blend until smooth. Add blended mixture back to the large pot, along with the pureed potatoes and cauliflower mixture. Add cheese and black pepper, and stir until cheese is completely melted. Now taste the soup and add kosher salt as you like.
Serve in bowls, garnished with bacon pieces and a sprinkling of grated sharp cheddar.
https://www.afarmgirlsdabbles.com/broccoli-cheddar-soup/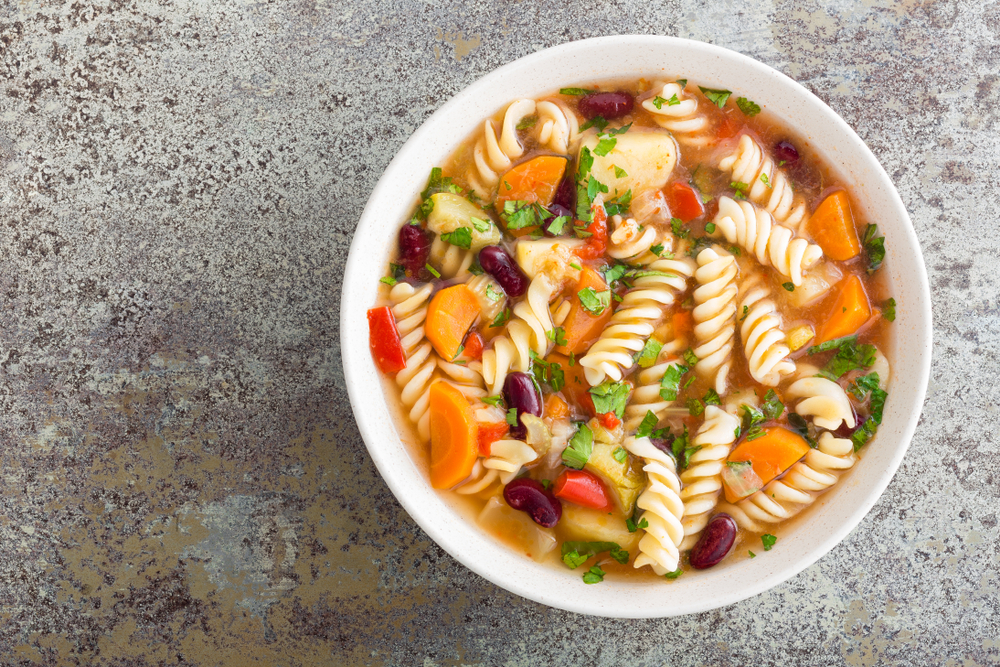 Vegetarian Minestrone Soup
Yield: 6
Ingredients
Instructions:
First, cook 8 ounces of noodles until al dente and set aside.
Next, heat a large pot over medium/high heat. Add olive oil.
Then, add onion, carrot, and celery to heated olive and cook for 3-5 minutes.
Add garlic and cook together for another minute.
Then, add the rest of the ingredients to the pot (except for noodles and peas) and bring soup to a boil.
Turn heat to low/medium heat and let simmer for 15-20 minutes.
Finally, add peas and let simmer for an additional 5 minutes.
Serve over shell noodles and salt + pepper to taste.
Enjoy.
Adapted from: https://fitfoodiefinds.com/vegetable-minestrone-soup/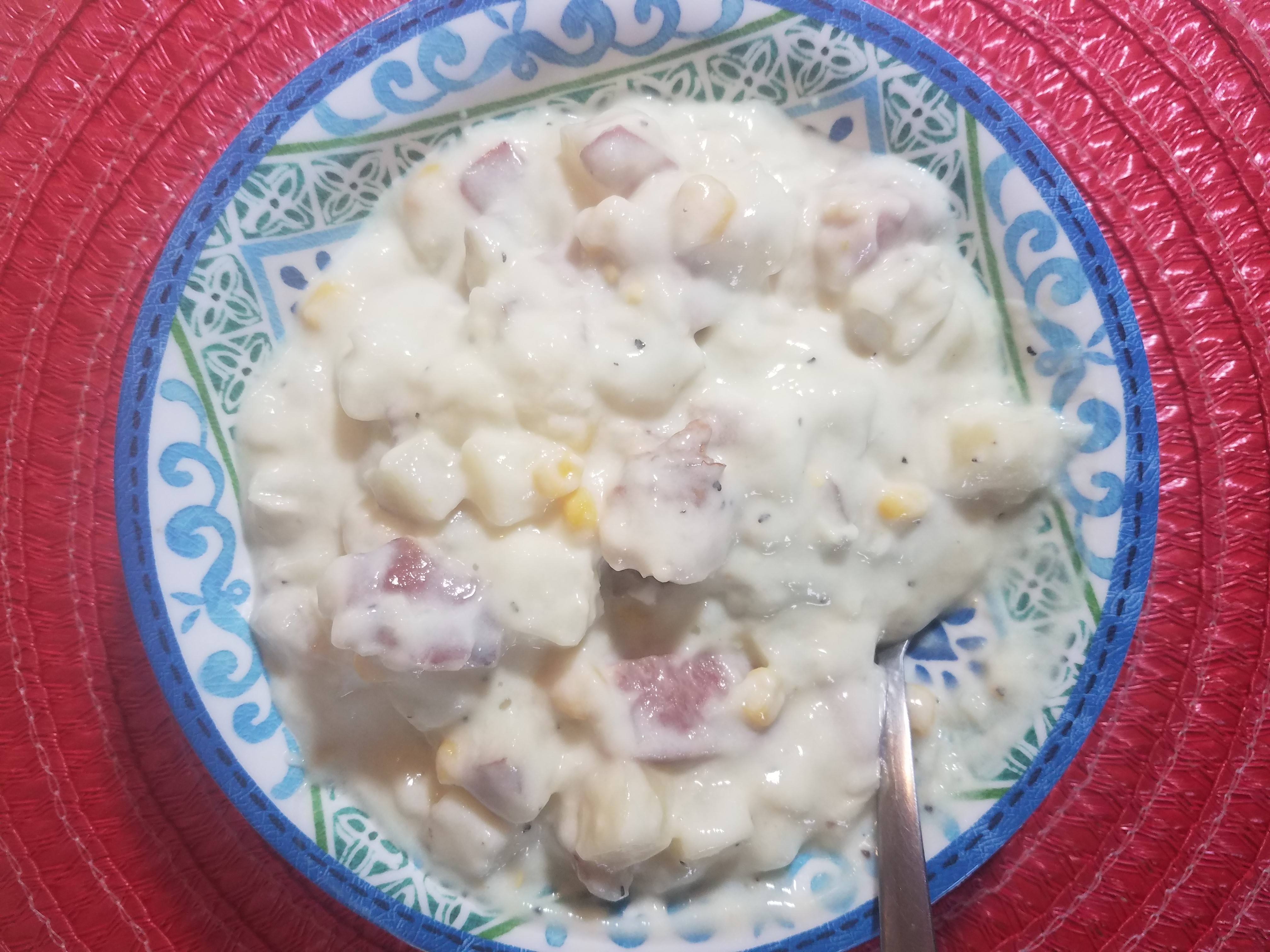 Ham and Corn Chowder with Potato
Servings: 3
Ingredients
Instructions
Melt butter in a large saucepan over medium heat.
Add the onion and garlic and sauté for 5 minutes until translucent. Do not let the onion brown.
Add the flour and whisk until mixed through the butter. Pour 1 cup of milk in and whisk until it starts to thicken (around 1 1/2 minutes), then pour the remaining cup of milk in. Whisk until it thickens – around 1 to 1 1/2 minutes. Then add the chicken stock, and 1 1/2 cups of water and whisk until combined.
Increase heat to medium-high and add the potatoes into the soup. Cook for 10 to 12 minutes, whisking fairly regularly to ensure the soup doesn't stick to the bottom of the saucepan. The soup will thicken as it cooks. Use the remaining 1/2 cup of water if the soup gets too thick before the potato has finished cooking.
Just before the potato has finished cooking, add the corn in (just to heat it through).
While the potato is cooking, heat olive oil in a small fry pan over high heat. Add the ham and saut̩ for 1 Р2 minutes until nicely browned. Remove frypan from the heat and set aside.
When the potato is cooked (tender but still holding its shape), remove the soup from the stove and stir through most of the thyme and ham (reserve a bit for garnish).
If the soup is too thick for your liking, use water (or milk) to get the soup to your desired consistency. Add the salt and 5 grinds of black pepper, then do a taste test and adjust the saltiness if required.
Serve, garnished with remaining thyme leaves and ham.
From <https://www.recipetineats.com/ham-potato-corn-chowder/>
Comments
Instant Pot Creamy Chicken And Wild Rice Soup - Alisons Pantry Delicious Living Blog - […] we have Broccoli Cheddar Soup Loaded With Vegetables. Did we mention this soup has bacon? That was the selling…
Tortellini and Sausage Soup - Alisons Pantry Delicious Living Blog - […] Broccoli Cheddar Soup Loaded with Vegetables […]
Dumpling Soup - Alisons Pantry Delicious Living Blog - […] Vegetarian Minestrone Soup […]