Instant Pot Creamy Chicken And Wild Rice Soup
What kind of rice is best to use?
Like the title say, Wild Rice is the absolute best to use for this soup. We know it can be hard (and sometimes pricey) to find Wild Rice that isn't a Wild Rice Blend, but we promise- it will turn out so much better if you use straight wild rice.
Do I have to add chicken?
Absolutely not! Adding chicken is entirely up to you. Obviously, since when we made this recipe for our post we didn't add chicken. It is entirely personal preference, and is divine either way you do it. But, if you do decide to add chicken, we highly recommend using our Pierces Diced Chicken Breasts to make this dinner just that much easier for you. Not only is this chicken already seasoned, but it is also fully cooked! This means you can just throw it in the instant pot and not have to worry about cooking or seasoning your chicken. Can it get easier than that?!
Looking for more soup recipes?
First, if you are looking for a cheesy soup (Yum!) we recommend this Homemade Creamy Tomato Tortellini Soup. It is delicious served on its own, or in out Sour Dough Bread bowls (#1508).
Next, for a more hearty soup, we have Lazy Day Beef & Vegetable Soup. This one is perfect for a day you just need to clean the veggies out of your fridge. It would be great paired with Tuscan Mini Loaves, slathered in delicious Garlic Supreme butter.
Third, we have Broccoli Cheddar Soup Loaded With Vegetables. Did we mention this soup has bacon? That was the selling point for us, too.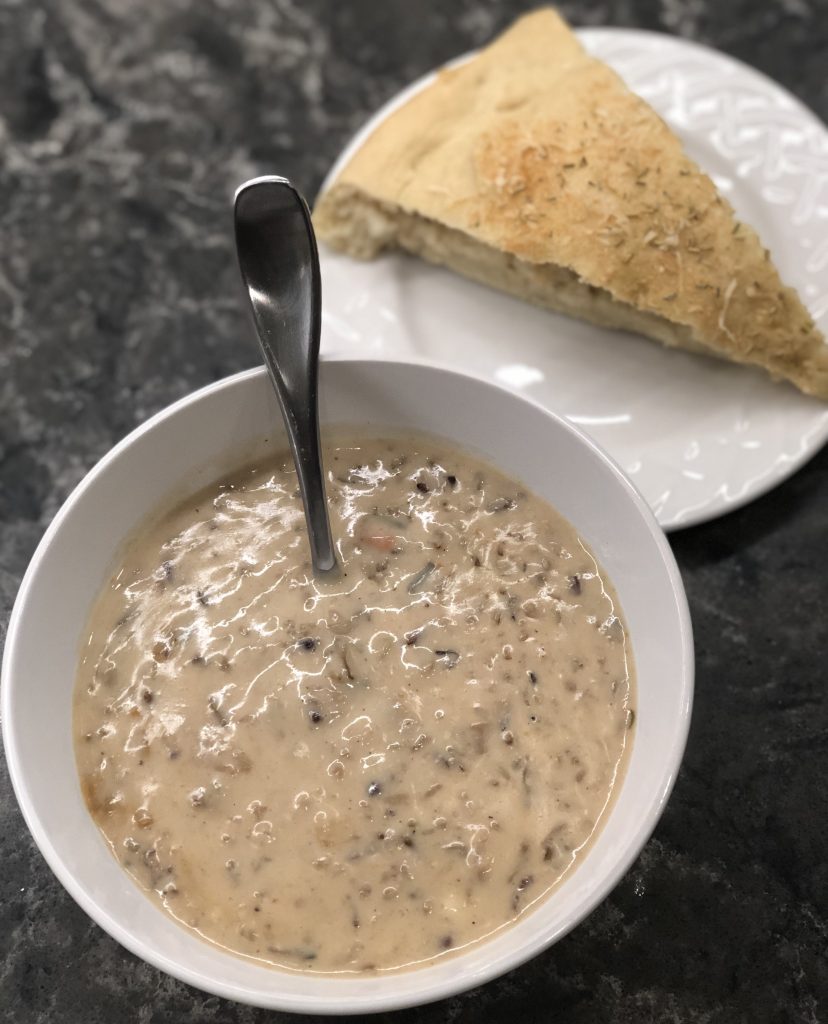 Without a doubt, Wild Rice Soup is an all-time favorite of ours. We love it when it's creamy, brothy, with chicken, without chicken, with mushrooms, etc… You get the idea. But, this dinner suite for a cozy night is made easier than ever using your beloved Instant Pot! As if it wasn't easy enough before! You're welcome. Basically, just throw everything in the Instant Pot and let it do its thang. This soup will be ready in a flash! It's creamy delicious flavor will leave you wishing for more. (Psst. You can double the recipe and have it throughout the week, or freeze for a future dinner.)
Instant Pot Creamy Chicken and Wild Rice Soup
Ingredients:
Instructions:
In your Instant Pot, select the Sauté feature and add the butter, onions, carrots, and mushrooms.
Sauté for about 5 minutes until onions are translucent and soft, add the minced garlic at the very end.
Add the cubed chicken and seasoning, and stir to combine.
Add the wild rice, and the 2 cans of chicken broth.
Select Manual on the Instant Pot and set the time for 5 minutes.
After the cooking time ends, allow it to stay on keep warm for 5 minutes and then quick release the pressure.
Remove the lid, change the setting to the Sauté function again, and add the milk, half-and-half, and cream cheese.
In a small bowl mix the corn starch with a little bit of water to dissolve then add to the soup to thicken.
Adapted from: http://www.everydayjenny.com/instant-pot-creamy-chicken-and-wild-rice-soup/#more-1149
Comments