Spinach Cheese & Walnut Puffs
Crispy puff pastry enveloping a feta cheese, dilly dill seasoning, and spinach filling, garnished with walnuts and sesame seeds. While it seems like a fancy recipe, we promise- it is incredibly easy! It's sure to be a hit at holiday parties. And, to make this recipe even easier, try whipping up a batch of Popeye's Spinach Dip (#1423) to use for the filling instead, adding extra spinach as desired. Once the pastries are assembled, we just set them out on a cookie sheet to bake. But, you could easily form them into a muffin pan well. If you use a muffin pan, we recommend spraying it first with Vegelene (#1212) so nothing sticks.
Can I change this recipe?
Other than using Popeye's Spinach Dip instead, here are a few other variations to try:
Add chopped Daily's Precooked Bacon (#4835) to the filling.
Use cream cheese instead of feta or blue cheese.
Mix in chopped, marinated artichoke hearts
Add chunks of brie cheese.
Add grated parmesan on top.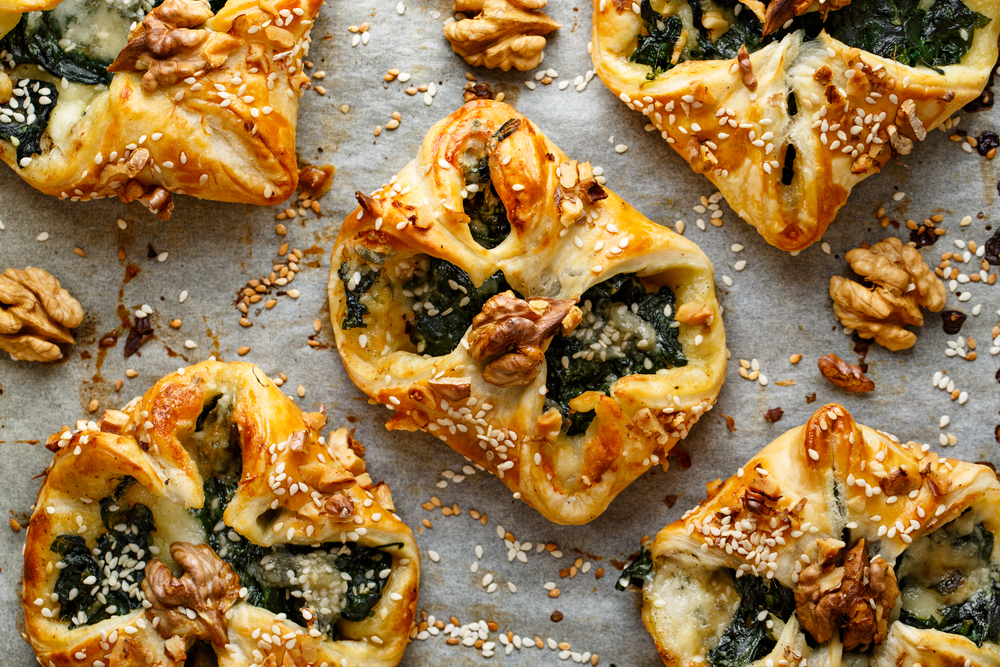 Crispy puff pastry enveloping a spinach filling with cheese and dilly dill seasoning, garnished with walnuts and sesame seeds.
Spinach Cheese & Walnut Puffs
Ingredients:
Instructions:
First, preheat oven to 499F.
Then, thaw the puff pastry at room temperature for 20-30 minutes. Cover with a piece of AP Parchment Paper (#1153) to prevent drying.
Meanwhile, start on the filling by squeezing as much excess liquid out of the spinach as you can. Add it to a bowl along with cheese, onion, olive oil, dilly dill mix, and garlic to a bowl. Add salt and pepper, then stir to combine. Mix one egg into the mixture.
Now, to assemble, divide the spinach filling between each square. Fold each of the corners into the center, gently pressing together. Set a larger walnuts piece in the center, to "seal". Beat the remaining egg, and use a pastry brush to egg wash the pastries. Srinkle sesame seeds and smaller walnut pieces on top, if desired.
Place the pastries onto a Crestware Cookie Sheet (#4020) lined with AP Parchment Paper (#1153), and bake for 25 minutes or until golden brown and puffed.
Allow to cool before serving.
Adapted from: https://hillstreetgrocer.com/recipes/vegetarian/spinach-blue-cheese-and-walnut-puffs
If you're a fan of puff pastry, give these a try
Comments
Christmas Side Dishes - Alisons Pantry Delicious Living Blog - […] Spinach Cheese & Walnut Puffs Tips for a Holiday Charcuterie Board Pomegranate & Pear Salad SharePinTweet0 Shares 0Shares Share …
3 New Year's Eve Appetizers - Alisons Pantry Delicious Living Blog - […] Spinach Cheese & Walnut Puffs […]