Strawberries & Cream Pops
If your kids are anything like ours, they ask for popsicles about 5 times a day during the summer. These pops have no sugar added, so we feel great about giving them to our kids as an afternoon treat on a hot day. These Strawberries & Cream Pops are made with yogurt, honey, lemon juice, strawberries, and milk. They're a healthy snack that feel like an indulgent treat.
If you don't have a popsicle mold, have no fear!
Listen, we know not everyone owns a popsicle mold. Here are a few ways for you to still make this treat this summer:
Small paper cups
Muffin tins
Ice cube tray
Silicone molds
How long do these last in the freezer?
As long as they are stored in an airtight, freezer-safe container, these pops can be frozen for up to three months. But, we doubt they will last that long!
To transfer from the mold to the freezer, simply run warm water over the bottom of the mold to loosen the pops. Carefully remove them from the mold and onto a Crestware Cookie Sheet (#4020) lined with AP Parchment Paper (#1153). Freeze back up for 30 minutes, then transfer into a freezer-safe dish or Ziploc Gallon Freezer Bag (#1979).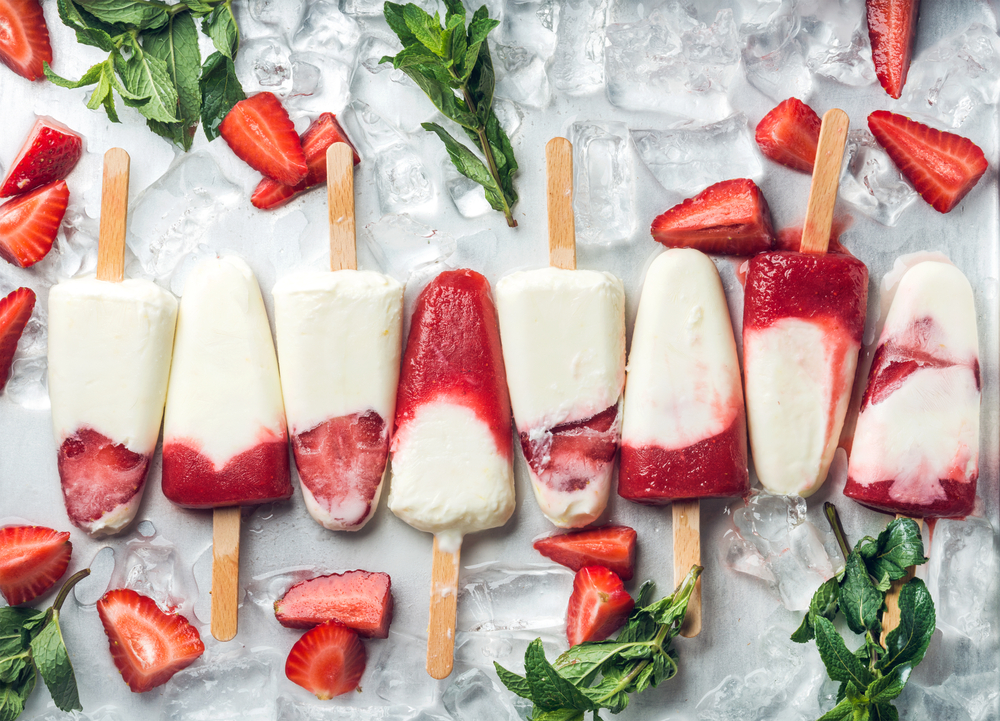 Treat yourself to naturally sweetened, creamy, refreshing Strawberries & Cream Pops.
Strawberries & Cream Pops
Ingredients:
Instructions:
First, stir together the honey and yogurt until there are no lumps.
Then, add most of the strawberries, lemon juice, and half the honey to a food processor until fully combined.
Now, to half the popsicle molds, first add the puree followed by the yogurt mixture. To the other half, add the yogurt followed by the puree. Add remaining strawberry chunks as desired. Then, if you want a swirly pattern, tap the mold a few times on the counter.
Add the popsicle sticks, and freeze for at least 3 hours. Enjoy!
Looking for more popsicle recipes?
Comments