Peaches 'n Cream Pops
If you're like us, then you probably stock your freezer full of delicious frozen treats during the summer. We love having them on hand for those warm summer days. But, sometimes, we're craving something a little different from what we offer in catalogs (although, there's a pretty good selection!)… Enter Peaches 'n Cream Pops- they're incredibly easy to make, and only require four ingredients! Plus, we can't think of a better way to celebrate National Peach Ice Cream Day tomorrow.
These pops are extremely easy to make with this popsicle mold found on Amazon. It has 10 wells and comes with 50 popsicle sticks, so you can easily make 5 batches throughout the summer.
How long do these last in the freezer?
As long as they are stored in an airtight, freezer-safe container, these pops can be frozen for up to three months. But, we doubt they will last that long!
To transfer from the mold to the freezer, simply run warm water over the bottom of the mold to loosen the pops. Carefully remove them from the mold and onto a Crestware Cookie Sheet (#4020) lined with AP Parchment Paper (#1153). Freeze back up for 30 minutes, then transfer into a freezer-safe dish or Ziploc Gallon Freezer Bag (#1979).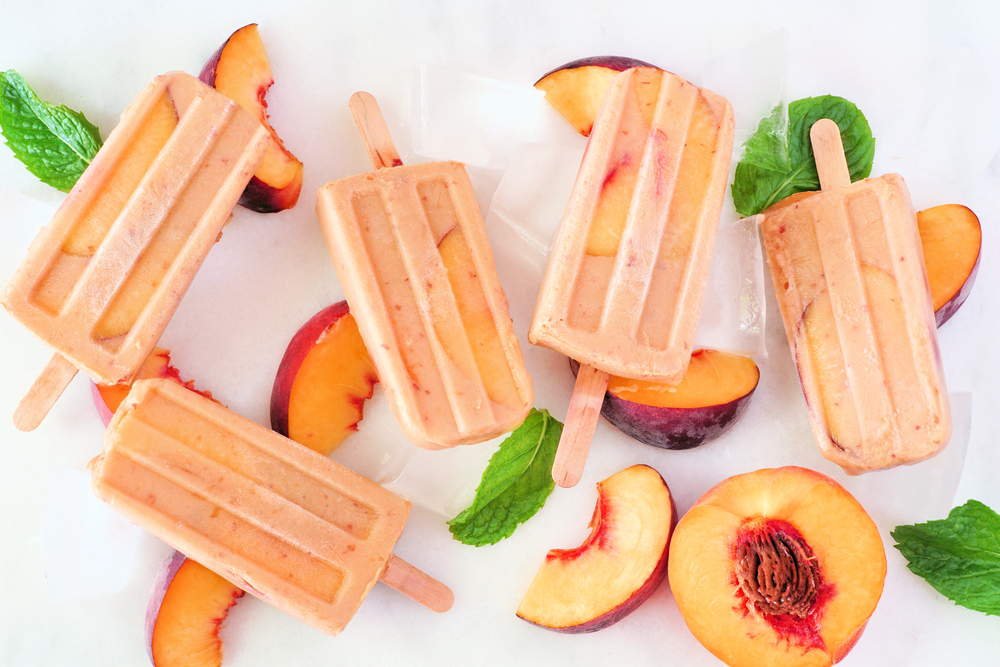 Peaches 'n Cream Pops using only four ingredients! Frozen peaches, whipping cream, vanilla bean paste, and brown sugar.
Peaches 'n Cream Pops
Ingredients:
Instructions:
First, add all the ingredients to a blender, reserving about 1/2 cup of sliced peaches for later. Blend until smooth, then stir in the reserved peach slices.
Now, pour into popsicle mold and add wooden popsicle sticks.
Place in the freezer until fully set, about 6 to 8 hours. Enjoy!
Cool down with these refreshing treats:
Comments
Classic Root Beer Floats - Alisons Pantry Delicious Living Blog - […] Peaches 'n Cream Pops Ice Cream Sundae Bar Mint Cheesecake Mousse […]
Strawberries & Cream Pops - Alisons Pantry Delicious Living Blog - […] Peaches 'n Cream Pops Raspberry Lemonade Ice Pops Blueberry Cheesecake Pops SharePinTweet0 Shares 0Shares Share on Facebook Share on…