Campfire Dishes
There's something delicious about cooking food over a fire. Whether it's dessert, breakfast, or dinner – you really can't go wrong. The key to cooking food evenly is to use hot coals or a mostly burned down fire. This will spread heat evenly through the dish,
There are a few things to remember when cooking over a fire:
Build it in a safe place. If there are designated pits, don't stray from them.
Use the proper equipment. Grilling tools work great in a pinch!
Keep plastic out of the fire. It's tempting to throw it in but just keep a garbage bag nearby.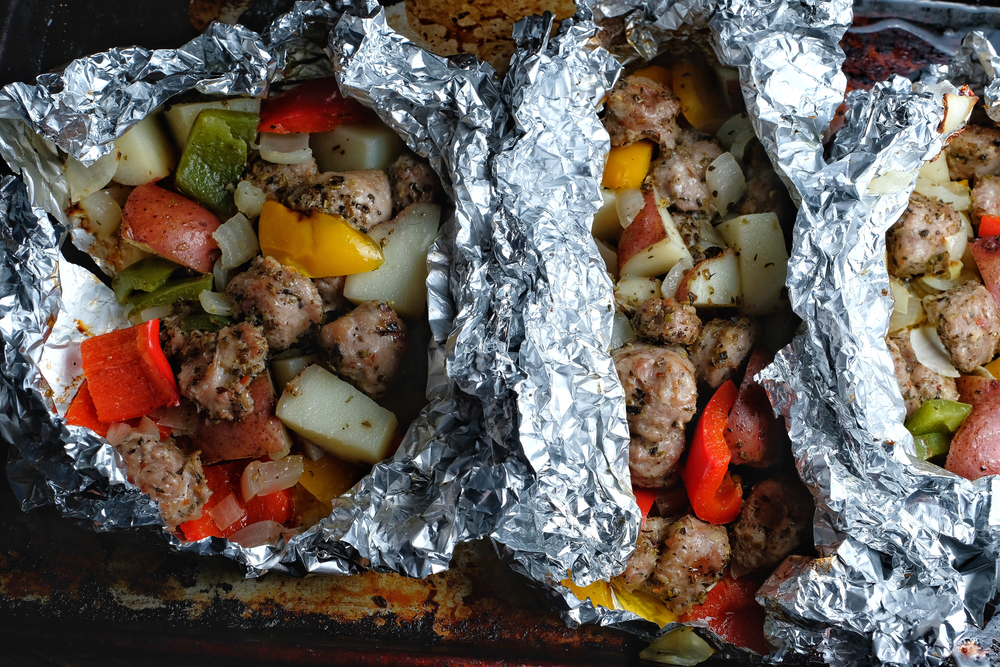 We really don't think you can go wrong with a classic hobo tin foil dinner, but we've added a fun twist by using our new Johnsonville Smoked Sausage Links instead of hamburger. Complete with parmesan potatoes, fajita vegetables, and spices, you'll be licking your fingers after this!
Hobo Tin Foil Dinner
Ingredients:
Instructions:
To assemble, either keep the ingredients separate in their bowls, or toss together in one large bowl. Add a slab of butter to a sheet of Kirkland Premium Quality Foodservice Foil (#1963). Then, top with the desired amount of ingredients, layered with more butter and spices. Fold the foil tightly.
Place on the hot coals of a fire and cook for *20-30 minutes, or until the vegetables are tender.
Carefully remove from fire, and open the foil pack. Steam will be released. Add more seasoning or butter if needed, and dig in!
*This can take up to 40-45 minutes, depending on how hot the coals are, how big veggies are, etc.
Creamy queso with a kick! This Campfire Queso pairs perfectly with our naan dippers. We like placing the naan on a griddle over the fire for smokiness and toasting slightly. This recipe is easy to prepare ahead of time, so once you're ready to cook, just place it in a fire or coals. Yum!
Campfire Queso with Naan Dippers
Ingredients:
Instructions:
For camping, ahead of time:
Prepare ground beef by mixing beef with Ole Taco Seasoning, per package directions cooking stovetop until brown.
Measure Omelette Blend
Cube Velveeta cheese
Add all ingredients to a tin pan with lid and place in your camping cooler.
Campfire Cooking:
Remove lid from tin pan, cover with aluminum foil and place on grate over the fire or in the coals for 10 minutes. Stir together to evenly mix all ingredients.
Optional: Top with fresh jalepeno and cilantro
Place Naan Dippers® on grate over the fire for 1 minute on each side until soft and golden.
*This recipe can also be cooked on the grill (at 375 degrees for 10 minutes), camp stove or oven (at 375 degrees for 10 minutes).
Recipe from Stonefire, featured in our July 2022 catalog.
Looking for more camp-friendly dishes?
Comments