Tailgating Ideas using Naan Bread
Stonefire Naan bread is perfect for a quick game day recipe whether you use it for pizza, dippers, or dessert. However you use it, you'll have an appetizer ready to go in under 15 minutes. Plus, with our 64 ct. case, you'll have more than enough to feed a crowd for game day.
Tailgaiting Ideas using Naan Bread
Spinach and Artichoke Dip with warmed naan cut into chips. Make a batch of this delicious All Natural Artichoke Dip and pair with some
Flatbread Tacos. Warm your naan bread in the oven and top with your favorite taco essentials- perfect for ground beef or street tacos using our Main St. Meats Carne Asada Steak (#1755), Shredded Pork Cubes (#1756), or Sliced Beef Ranchera (#1758).
Make an easy game day dessert by spreading Nutella (#7338) on your warmed Naan. Then, top with fruit of your choice and powdered sugar (#1151) for a drool-worthy treat similar to crepes. Cut these into breadsticks to get more servings out of it.
We love making an easy Pizza dip and pairing with flatbread dippers. To make the dippers, simply cut the naan into strips and top with Vegalene Buttery Delight (#1576) and Garlic Supreme (#2592). Place in the oven until crispy.
Naan Chips with hummus are great for game day or an everyday snack. Pair with your favorite storebought or homemade hummus, and place the naan into the oven until warmed or crispy.
For another game day treat, make up some Cinnamon Sugar Naan. To do this, butter the naan and top with our Cinnamon-Vanilla French Toast Sugar (#1536) and place in the oven until warm and slightly crispy. For game day, we like to add a with cream cheese frosting drizzle to make football yarn design.
Naan ideas fit for a party: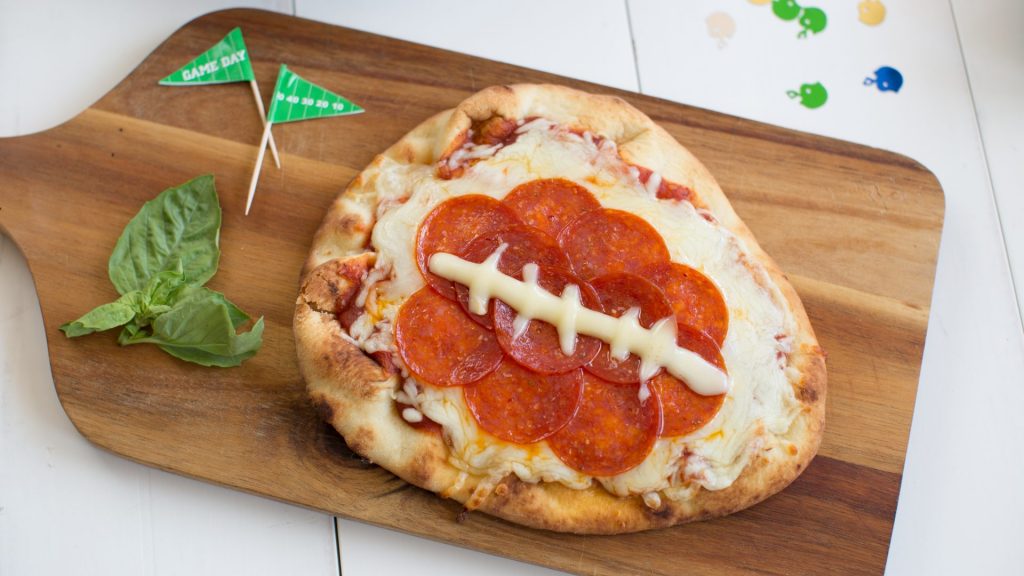 Since our Naan bread slightly resembles the shape of a football, why not turn it into a Football Pizza?! Pop a few in the oven or individual pizzas for the perfect (and easy) game day food.
Mini Naan Football Pizza
Ingredients:
Instructions:
Preheat oven to 375F.
Then, place Naan on a baking sheet (#5957) lined with a silicone mat (#8436).
Spread the desired amount of pizza sauce on the bread, then top with both mozzarella and parmesan cheeses. Save some mozzarella to do to laces.
Now, layer pepperoni in the middle of the naan, leaving space around the edges.
To do the strips, lay strips of mozzarella in a line along the center of the naan, then place shorter strips horizontally over the long strip. (see photo)
Next, bake until the cheese is melted, about 8-10 minutes.
Adapted from: https://www.stonefire.com/recipes/naan-football-pizza/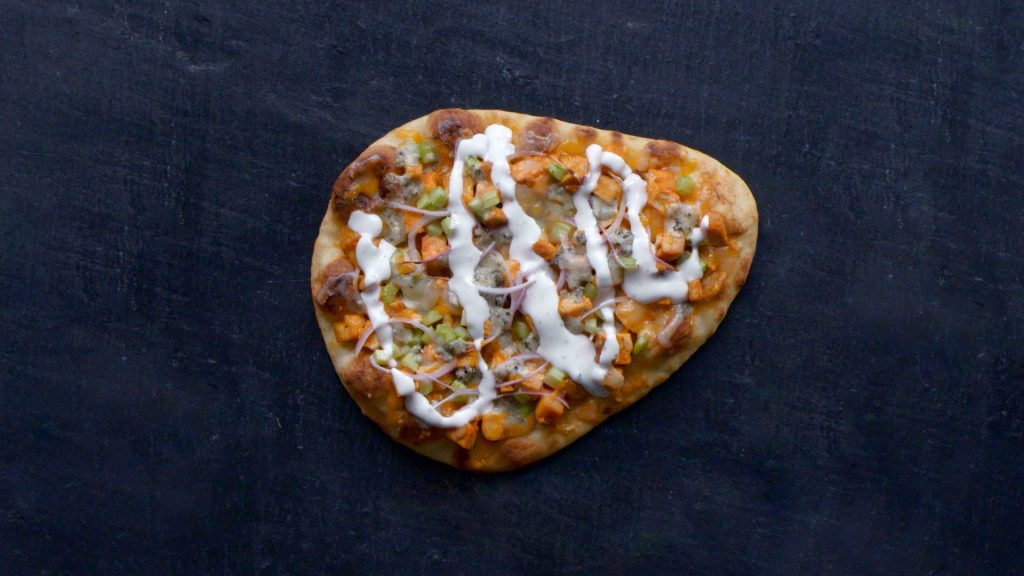 Since Buffalo Wings are a popular game day food, why not turn it into pizza?! All your favorite flavors from buffalo chicken on a delicious individual-sized pizza. You can also cut these into strips for more of a breadstick vibe.
Buffalo Chicken Naan Pizza
Ingredients:
Instructions:
Preheat oven to 400F.
First, mix the precooked chicken and hot sauce together, then set aside.
Place Naan on a baking sheet (#5957) lined with a silicone mat (#8436). Then, top each with 1 cup cheese, 1 cup of hot sauce + chicken mixture, celery, onion, and bleu cheese crumbles.
Next, place in the oven and bake for about 6-8 minute, until the cheese has started to melt.
Remove from the oven and drizzle prepared ranch dressing over the naan. Remove from baking sheet and serve*!
*You can cut this Naan Pizza into strips to serve as "breadsticks" for a crowd.
Adapted from: https://www.stonefire.com/recipes/buffalo-chicken-naan-pizza/
Comments