2 Blueberry Favorites
What makes Wyman's Berries so special? They are packed with nutrients that are vital for your health. The blueberries are packed with antioxidants, in addition to being a great source of fiber and manganese.
Can I use other berries for these recipes?
Although these recipes call for blueberries, with a few simple adaptations you can try other berry favorites. For the loaf, try using raspberries (#1219) in place of the blueberries. This will still pair well with the lemon glaze! In addition, you can try using blackberries (#1221), raspberries (#1219), or a berry blend for either recipe. It's all about personal preference!
A few of our baking essentials:
More bread recipes: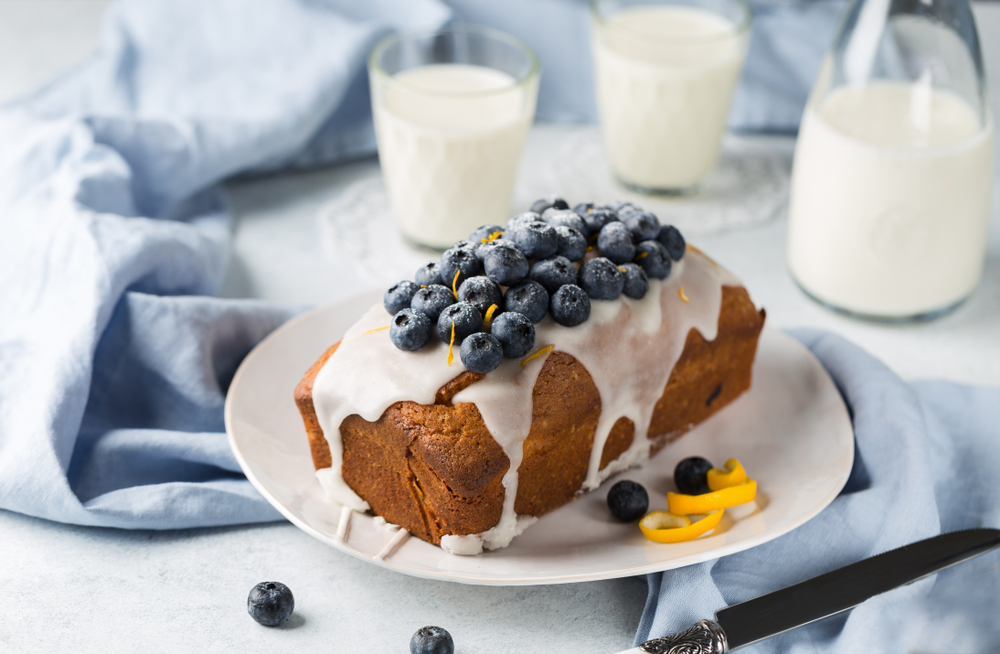 What's not to love about this divine Blueberry Lemon Bread?! From the soft loaf to the tart glaze, this will become a summer favorite.
Blueberry Lemon Bread
Ingredients:
Bread:
Lemon Glaze:
Instructions:
First, preheat oven to 350F and spray a 9″x5″ loaf pan with Vegalene (#1212).
In a medium bowl, whisk the flour, baking powder, and salt then set aside.
Using an electric mixer, blend together the melted butter, sugar, eggs, vanilla, lemon zest, and lemon juice. Mix until well combined.
While slowly mixing, alternately add flour mixture and milk in two batches until just combined.
Then, toss the blueberries and 1 Tbsp flour (This prevents the blueberries from sinking to the bottom of your loaf while baking). Now, add the flour coated blueberries to the batter and gently but quickly fold to combine.
Next, pour batter into prepared pan and bake for 55-65 minutes, or until a toothpick inserted in the center of the loaf comes out clean.
Cool bread in the pan for about 30 minutes, then move to a wire cooling rack (#1145) with a baking sheet (#5957) below (this is to catch the glaze you're about to add).
Whisk together melted butter, powdered sugar, lemon juice, and vanilla, then pour glaze over the loaf. Top with additional blueberries, if desired. Serve and enjoy!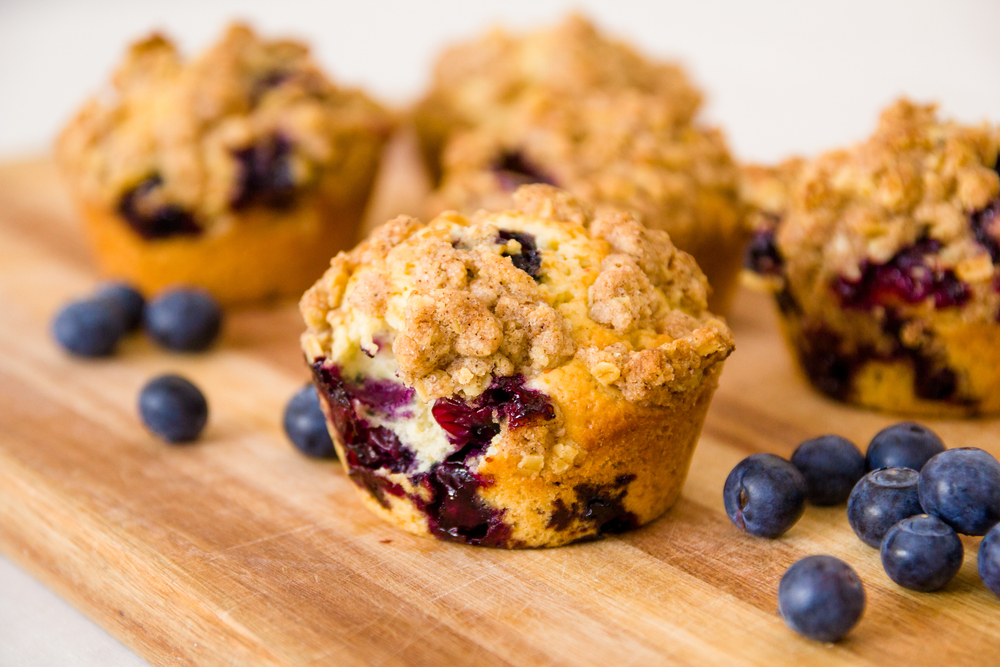 These delightful Blueberry Streusel Muffins have a nice pop of flavor when you bite into the blueberry, perfectly paired with the crisp streusel topping.
Best Blueberry Streusel Muffins
Ingredients:
For the muffins:
For the streusel topping:
Instructions:
To begin, preheat oven to 425F.
Spray a muffin tin with Vegalene (#1212) or line with baking cups (#1646).
Whisk the 2 1/2 cup flour, baking powder, and salt together in a large bowl. Set aside.
Then, toss blueberries in 1 Tbsp flour and set aside.
In a medium bowl, whisk together 1 1/8 cups sugar and eggs until thick and well combined, about 45 seconds. Slowly whisk the milk and vanilla until combined.
Next, fold the egg mixture into the flour mixture until just moistened. The batter will be very lumpy with a few spots of dry flour; do not over mix. Fold in the blueberries.
Fill muffin cups completely with batter until slightly mounded
Make the streusel topping: Mix together flour, sugar, and cinnamon. Add melted butter and stir with a fork until crumbly.
Now, spoon streusel over muffins.
Bake until the tops of the muffins are golden and just firm, 17-18 minutes, rotating the muffins halfway through.
Cool the muffins in the muffin tin for 5 minutes before removing to a wire rack (#1145). Cool an additional 5 minutes before serving.
Yield: 12 muffins.
Comments
PB Coconut Bliss Nice Cream - Alisons Pantry Delicious Living Blog - […] 2 Blueberry Favorites […]
Red, White and Berry Trifle - Alisons Pantry Delicious Living Blog - […] 2 Blueberry Favorites […]
Essential Spices for Every Baker - Alisons Pantry Delicious Living Blog - […] Best Blueberry Streusel Muffins […]