2 Breakfast Ideas Using Vanee Corned Beef Hash
Our Vanee Corned Beef Hash (#1955) is a breakfast classic made from lightly seasoned ground corned beef and diced potatoes. Perfect grilled up as patties, or on the side of any breakfast item, your family will love this new product. If they don't, this product is eligible for our Double Your Money Back Guarantee! Plus, each can comes with 12 servings, so you will be able to get more than one meal out of it. Yes, please! 
Keep reading for 2 deliciously easy recipes using this Vanee product below.
More mouthwatering breakfast ideas:
Start your day off right with a mouthwatering Rueben skillet featuring our new Vanee Corned Beef Hash, eggs, saurkraut, swiss cheese, and Thousand Island Dressing.
Reuben Skillet
Ingredients:
Instructions:
First, grill the Corned Beef Hash until crispy.
Then, cut 1 slice of Swiss cheese into triangles and lay over the hash, then top with 5 tablespoons Saurkraut. Drizzle with Thousand Island, and serve alongside eggs and toast.
Adapted from: http://vaneefoodservice.com/menu-ideas/breakfast/reuben-skillet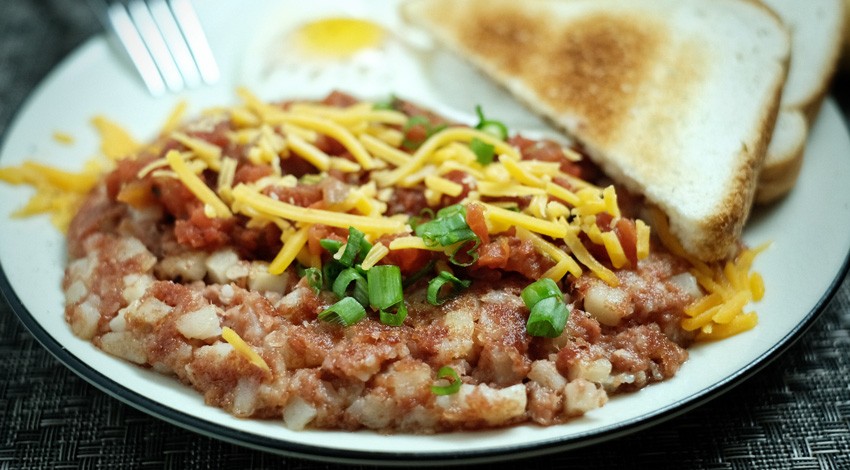 A simple Southwest Hash for breakfast is made easy with our Vanee Corned Beef Hash, Tillamook Shredded Cheese, Quincy Gold Hashbrowns, and Picante sauce.
Southwest Hash
Instructions:
Fry hash browns in a skillet until just crispy.
In a baking dish, add the prepared hash browns and top with the Corned Beef Hash. Bake at 350F for 30 minutes.
Remove from oven and top with Picante sauce and cheese. Serve with eggs and toast.
Adapted from: http://vaneefoodservice.com/menu-ideas/breakfast/southwest-hash
Comments