25 Ways to Use Flame-Roasted Fuji Apple
It's no secret- the combination of tender apples and cinnamon is amazing! It brings us back to childhood days making apple crisp with grandpa, using homemade apple pie filling. Now, with Simplot RoastWorks Flame-Roasted Fuji Apples (#2905) we can enjoy the same delicious flavors with ease.
This blend is full of beautiful Fuji apples seasoned with cinnamon and brown sugar and flame-roasted. They are ready to eat, or you can serve them with everything from pork chops to pancakes to ice cream. Today, we've rounded up 25 ways to use Flame-Roasted Fuji Apples – all of which come straight from the Simplot Foods website.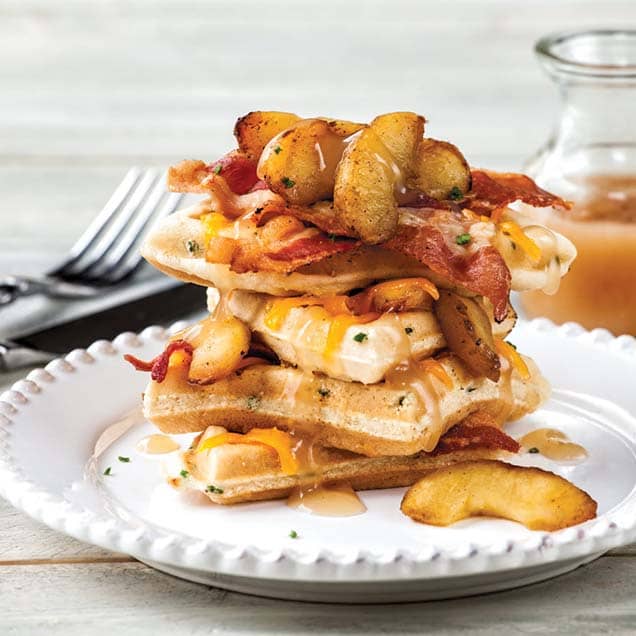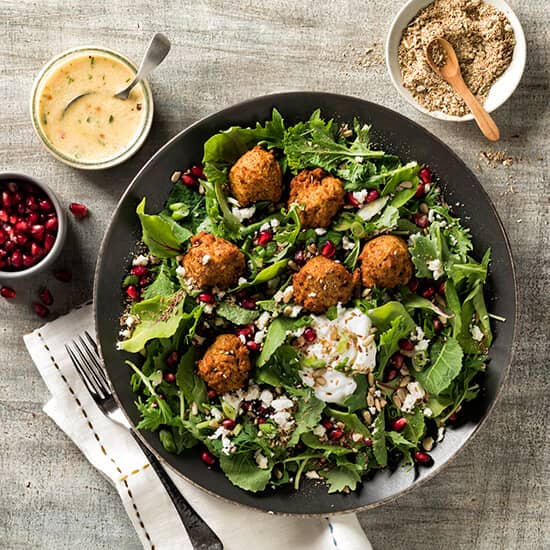 25 Ways to Use Flame-Roasted Fuji Apple
Appetizers
Breakfast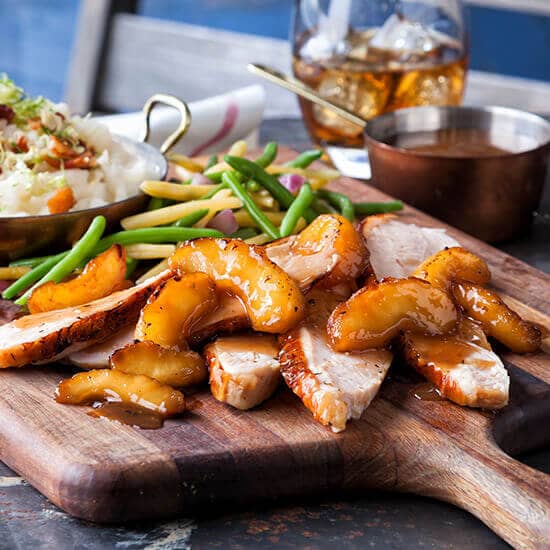 Lunch
Fuji Apple and Bacon Grilled Cheese. Adults can enjoy grilled cheese, too! This recipe features Daily's Honey Cured Thick Cut Bacon (#8463), red onion, arugula, white cheddar and roasted apple slices on bakery style bread. Add a layer of Chef Shamy Garlic Butter (#8124) and throw it in a panini press. Yum!
Roasted Apple Caramelized Bacon Flatbread. Thin pizza crust or Stonefire Mini Naan Bread (#1686) topped with Daily's Applewood Smoked Bacon (#8464), a cream cheese spread, almonds, apples, caramel sauce, and a struesel topping. Your taste buds will be begging for more.
Oktoberfest Loaded Potato Strips. All of your favorites from a pulled pork sandwhices, on top of potato wedges! This recipe features Double L Smoke Craft Pulled Pork (#1677), flame roasted apples, apple slaw, and a simple honey mustard dressing. It's great for lunch or even game day snacking.
Dinner
Dessert
Flame-Roasted Apple Roll-up. Tender roasted apple slices wrapped up in a flour tortilla, then fried in Salted Sweet Cream Butter (#1723) until crisp.
Sea Salted Caramel Apple Parfait. Dessert in a jar! Enjoy flame-roasted apples topped with Kirkland Pecan Halves (#1292), whipped cream and caramel sauce with a sprinkle of Regal Coarse Sea Salt (#1147).
Deep-Dish Homemade Roasted Apple Pie. A deep dish apple pie that will taste like you have been baking all day. No one has to know you took some shortcuts!
Flame-Roasted Fuji Apple and Cherry Bread Pudding. Enjoy a simple bread pudding with apples and cranberries mixed in, with a cream sauce drizzled on top.
Salted Caramel Apple Poutine. A poutine so good you'll be left licking your fingers! Enjoy a mix of sweet potato and McCain Waffle Fries (#2416) topped with apples, salted caramel sauce, chocolate sauce, and peanuts.
Puff Pastry and Fuji Apples with Honey and Lavender. A refreshing dessert on top of a crispy puff pastry, topped with tender apples, honey and lavender.
Salted Dutch Apple Caramel Crisp. Classic apple crisp with a twist! This recipe features apple slices on top a layer of tender potato chips, finished off with a simple crumble topping.
Roasted Apple and Almond Pizza. With marcarpone cheese, cranberries, apples, this dessert will leave you feeling like you've just left a 5-star restaraunt. Add almonds and off with a struesel topping and caramel sauce.
Caramel Apple Tater Sticks Dessert. A bed of cinnamon sugar tater sticks and roasted apples with a scoop of vanilla ice cream. Add a drizzle of caramel sauce and toasted Diamond Medium Pecan Pieces (#2812), and enjoy!
Comments