3 Easy Appetizers for Any Party
These finger-food appetizers are perfect for any gathering, big or small. Plus, our AP Dip Mixes make them easier than ever to prepare. But, if you don't have the time (or energy, let's be real!) to prepare these apps, we have got your back- we offer some really great ready-to-make finger foods you will love.
Minimal Effort Appetizers
We love being able to offer Restaurant Quality Foods to our customers, and if you know anything about restaurants- they tend to have some really great, really easy appetizers. Here are a few of our favorite options.
A favorite appetizer to get when going out is french fries or onion rings. We have a really hard time deciding which we like better! So, why not do both? A French Fry Bar is perfect for a no-hassle party food. Simply prepare your french fries and Onion Rings (#1269), and include your favorite dipping sauces. We like fry sauce (mayo + ketchup), ketchup, honey mustard, and more. Our favorite fries are Piccadilly Style Fries (#6761), Sweet Potato Fries (#1211), Waffle Fries (#2416), and Cracked Peppered Fries (#1299).
If you are entertaining during the cold fall and winter months, a Soup Bar is a great option. Simply prepare 2-5 of our Soup Supreme soups (you won't need to full bag, depending on the size of the crowd), and set them out buffet style. Don't forget the garlic bread using our Tuscan Dinner Loaves (#8196), Garlic Supreme (#2592) and loooots of butter!
We love doing a Soft Pretzel Bar for a more laid-back get-together, and our J&J Fully Baked Soft Pretzels (#1472) are perfect for this kind of party. You can serve them with mustard or cheese sauce, or turn them into a sweet treat. To do this, simply lather in butter and top with our Cinnamon Vanilla French Toast Sugar (#1536). We like offering both kinds to please everyone in the crowd.
Looking for more easy appetizers?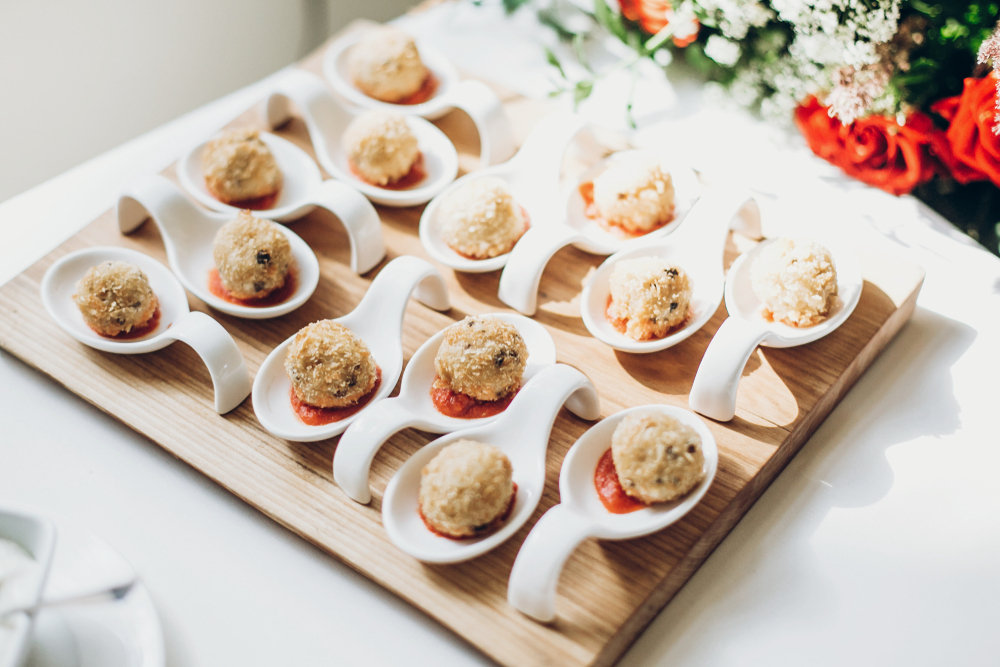 If you love Spaghetti and Meatballs, you will love this deliciously easy appetizer that is full of flavor. It is great for holidays or an easy wedding side. This recipe can easily be adapted for a bigger or smaller crowd.
Meatball in Marinara Sauce
Ingredients:
Instructions:
First, preheat your oven to 350F. Then, place frozen meatballs in a single layer on a shallow baking pan. Bake for 20-25 minutes or until hot.
For the sauce, add the mix, tomato paste, water, and butter to a small heated pot. Then, cover and simmer sauce 15 minutes, stirring occasionally.
Once both the sauce and meatballs are done, add a spoonful of sauce to an individual sized serving dish. Then, top with the cooked meatball and parmesan cheese. Serve immediately for best results.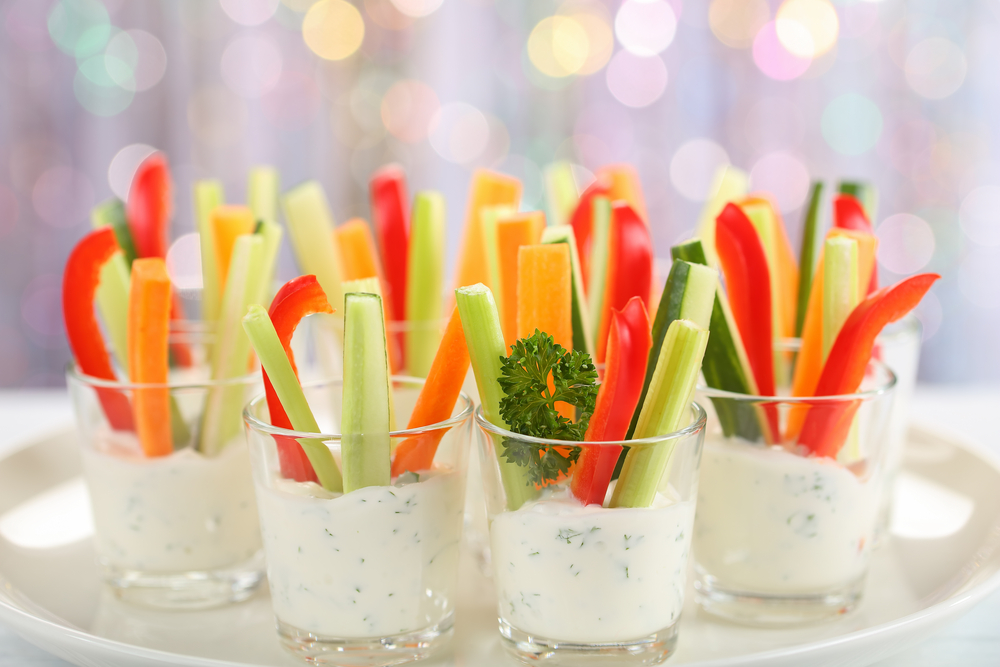 One of our go-to party foods is a veggie platter, so we wanted to change things up with these simple Veggie Dip Cups. They still have all the flavors you love, without having to worry about a bunch of hands touching the platter of food. Plus, it prevents the dressing from touching other food- which is honestly a pet peeve of ours. Try it with our Rosie's Ranch Dip (#1032) or Popeye's Spinach Dip (#1423).
Veggie Dip Cups
Ingredients:
Veggie Sticks- celery, bell peppers, carrots, cherry tomatoes, broccoli
Rosie's Ranch Dressing:
Popeye's Spinach Dip:
Instructions:
First, start by preparing your dip of choice.
For Rosie's Ranch Dressing, combine ingredients. Let set in refrigerator about 30 min to 1 hour. The dressing will thicken as it sits. For an even thicker consistency, reduce the milk measurement.
For the Popeye's Spinach Dip, blend together the ingredients and refrigerate overnight for best flavor.
While your dip is in the fridge, prepare your veggies by cutting them into sticks. We suggest using fresh produce for best results.
Next, simply add a spoonful of your dip to the bottom of a small plastic cup. Then, add your veggies and serve.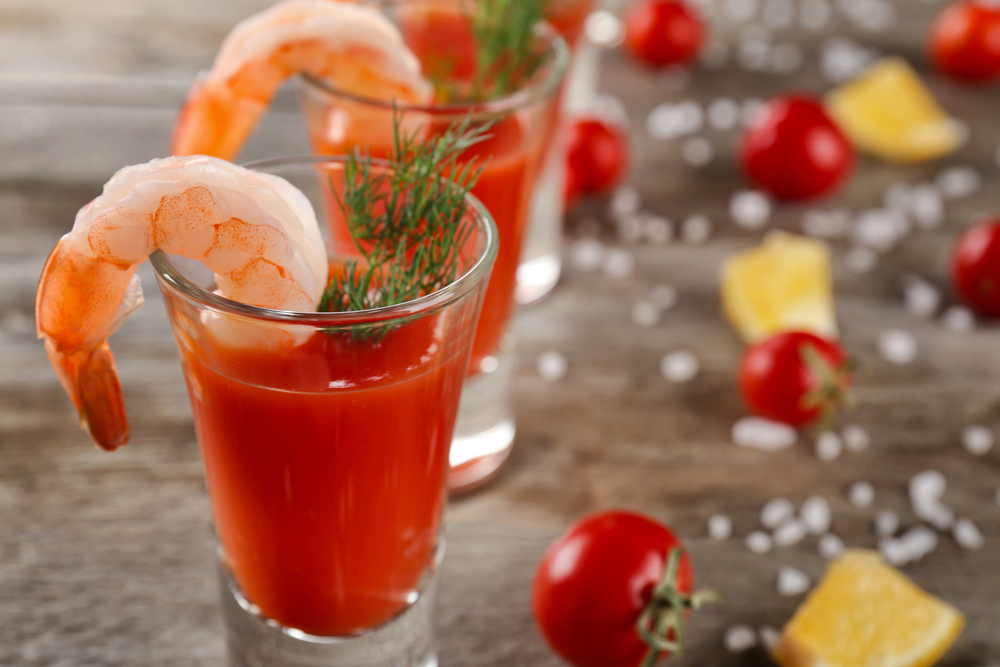 Shrimp Cocktail
Ingredients:
Medium lemon, cut in quarters
1 tsp salt (#1146)
12 smaller shot-style glasses
Cocktail Sauce:
1/2 cup ketchup
2 Tbsp horseradish
1 tsp Worcestershire sauce
Instructions:
First, thaw your shrimp under cold water.
Fill a large pot with water. Add lemon quarters, bay leave, and salt, then bring to a boil over high heat. Reduce heat to medium and simmer for 5-8 minutes.
Next, add the shrimp and cook until pink and opaque in color- about 2 minutes. Do not overcook.
Remove from heat and run under cold water until cooled. Cover and set in the fridge until you are ready to use- your shrimp can be made the day ahead.
Then, prepare your cocktail sauce by whisking the ingredients together until well mixed. If you want a smooth consistency, use a food processor.
Fill your shot glass halfway with prepared cocktail sauce. Place a piece of shrimp on the edge of the glass with the tail end hanging over the edge. If desired, place a lemon slice on the rim of the glass. Serve immediately.
Comments
Garlicky Ultimate Fish Sticks & Frites - Alisons Pantry Delicious Living Blog - […] 3 Easy Appetizers for Any Party […]